Support Wildlife Conservation in Maine
Maine Department of Inland Fisheries and Wildlife (MDIFW) is the agency responsible for the stewardship of the State's inland fisheries and wildlife resources. This legislative mandate is extended to all the state's wildlife - moose to mayflies, charismatic and unpopular, predators and pollinators, species at the edge of their range, or species naturally dispersing into the state. As the responsibilities of the MDIFW (and the Wildlife Division) have evolved over time so has the method of funding wildlife conservation and management activities.
Funding Maine's Wildlife Programs
Funding Maine's wildlife programs comes from many different sources. Most of our work with game animals and furbearers, many of the salaries, and most of the administrative costs of the Wildlife Division, are funded by hunting license and permit revenues, which are matched by federal Pittman-Robertson Funds (based on an 11% excise tax on sporting arms, ammunition, and archery equipment, and a 10% excise tax on handguns). These funds have been critical to conserving game species and their habitat and have provided numerous secondary benefits to nongame species as well.
Revenues generated from the sales of state waterfowl hunting stamps (duck stamps) have been dedicated to acquisition and development of wetland habitat.
Unfortunately, stable and secure financial support for nongame and endangered and threatened wildlife has not developed. At the state level, several funding initiatives support nongame and endangered and threatened wildlife programs; some of these funds are used as match to obtain federal funds.
Initiatives you can participate in to help fund Maine's Wildlife Programs: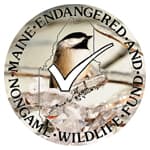 Voluntary Income Tax Donation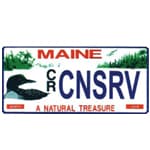 Conservation Registration Plate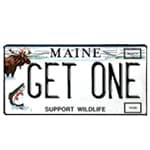 Maine's newest Plate supporting Conservation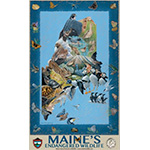 Purchase Set to show Support for Recovery and Conservation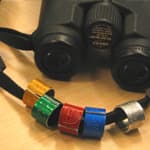 Proudly worn on a Binocular Strap to show Support for Bird Conservation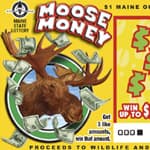 A special Lottery Ticket
Funding from these initiatives has been inconsistent and in many instances has declined because of placement on tax forms or competing check-offs, license plates, and lottery tickets. Revenue generated from the Chickadee Check-off and the Loon Plate has declined nearly 75% and 50% respectively from historic highs.
Support the Recovering America's Wildlife Act
A stable, dedicated source of funding is necessary to enable MDIFW and conservation partners to implement a wide variety of conservation actions identified in the state's Wildlife Action Plan to help sustain Maine's at-risk wildlife and habitats. Learn more about Recovering America's Wildlife Act and how this proposed legislation would advance wildlife conservation in Maine.
We THANK all of you who purchase a license or permit, Loon Plate, Sportsman Plate, contribute to the Chickadee Check-off on your income tax return, or purchase a Birder Band or Maine Outdoor Heritage Fund lottery ticket or support the Recovering America's Wildlife Act. Your support and generosity are greatly appreciated!