Migratory Waterfowl Stamp Program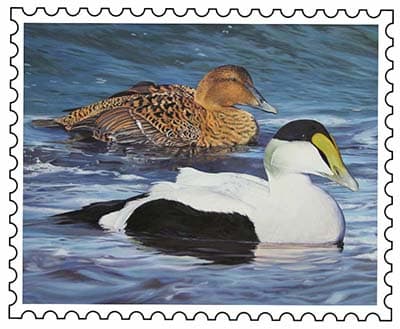 2017 Maine Migratory Waterfowl Stamp
In 2017 the Maine Department of Inland Fisheries & Wildlife continued to have just one species of migratory waterfowl to submit. The species was Common Eider.
Congratulations to the winners:
1st Place: Rebekah Lowell, Biddeford, Maine
2nd Place: Olga Wing, Byron, Maine
3rd Place: Janine Folsom, Skowhegan, Maine
Honorable Mention: Georgette Kanach, Gray, Maine
Honorable Mention: Michael Boardman, North Yarmouth, Maine
We know these projects can be time consuming, and the time and effort that goes into each piece we receive does not go unnoticed. The species for 2018 will be Northern Pintail. The contest will be held on March 30, 2018 at 5:00 p.m. at the Augusta Civic Center. Please read Entry Requirements for the 2018 Maine Migratory Waterfowl Stamp Art Contest (PDF) carefully for more details!
In 1984, the Maine Department of Inland Fisheries and Wildlife [MDIFW] instituted a state duck stamp program modeled loosely after the federal duck stamp program: the stamp was required by hunters 16 years and older, and all revenues from the sale of ducks stamps (about $13,000 - $16,000 annually) are dedicated to the conservation and management of waterfowl in Maine.
In 2002, MDIFW discontinued the duck stamp requirement of hunters, but instead required the purchase of a waterfowl hunting permit on the hunting license.
Duck stamps still are available for purchase by collectors, and revenues from the sales of both the stamp and the waterfowl hunting authority are dedicated to waterfowl conservation programs in Maine.
The 2018 contest will continue to feature only one species of duck; the selected subject is Northern Pintail. In 2018, judging will take place on Friday, March 30 at 5:00 pm at the Augusta Civic Center.
Maine Migratory Waterfowl Stamps from Previous Years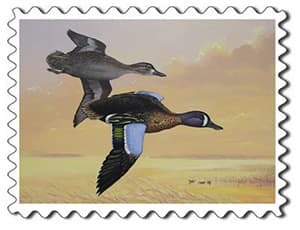 2016
| | | | | | |
| --- | --- | --- | --- | --- | --- |
| 2015 Duck Stamp | 2014 Duck Stamp | 2013 Duck Stamp | 2012 Duck Stamp | 2011 Duck Stamp | 2010 Duck Stamp |
| 2009 Duck Stamp | 2008 Duck Stamp | 2007 Duck Stamp | 2006 Duck Stamp | 2005 Duck Stamp | 2004 Duck Stamp |
| 2003 Duck Stamp | 2002 Duck Stamp | 2001 Duck Stamp | 2000 Duck Stamp | 1999 Duck Stamp | 1998 Duck Stamp |