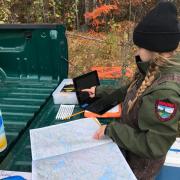 February 2, 2022 at 3:22 pm
When MDIFW Moose Biologist Lee Kantar was organizing the adaptive unit moose hunt, I offered to staff one of the registration stations placed around the western half of Wildlife Management District 4. While discussing this work with my Californian parents, my father, a science teacher, thought that sounded like too much fun– he found a substitute teacher for the week, received his COVID-19 booster shot, and booked a flight to Maine to volunteer with me.
Keep In Touch!
Enter your email or mobile number to receive the latest news from MDIFW.