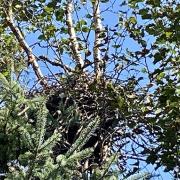 September 15, 2022 at 2:30 pm
We visited the island where our GPS-tagged great blue heron, Mariner, nested this past summer. Even without any herons still using the nests, we used other clues to determine which nests were active.
Keep In Touch!
Enter your email or mobile number to receive the latest news from MDIFW.