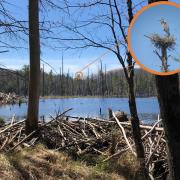 July 20, 2021 at 10:10 am
Have you heard of Cornelia, an adult female great blue heron tagged with a GPS transmitter, who nests in Maine and migrates to the Bahamas for the winter? She is one of ten other herons who've been equipped with GPS transmitters by Maine Department of Inland Fisheries and Wildlife (MDIFW) to learn more about heron movements, habits, and habitats in Maine and beyond. The project began with the help of a Maine Outdoor Heritage Fund grant and many partnering schools, and is part of MDIFW's ongoing efforts to understand the status of great blue herons in the state – especially along the coast where their population has declined by 89% since the 1980s.
Keep In Touch!
Enter your email or mobile number to receive the latest news from MDIFW.