April 1, 2022 at 1:07 pm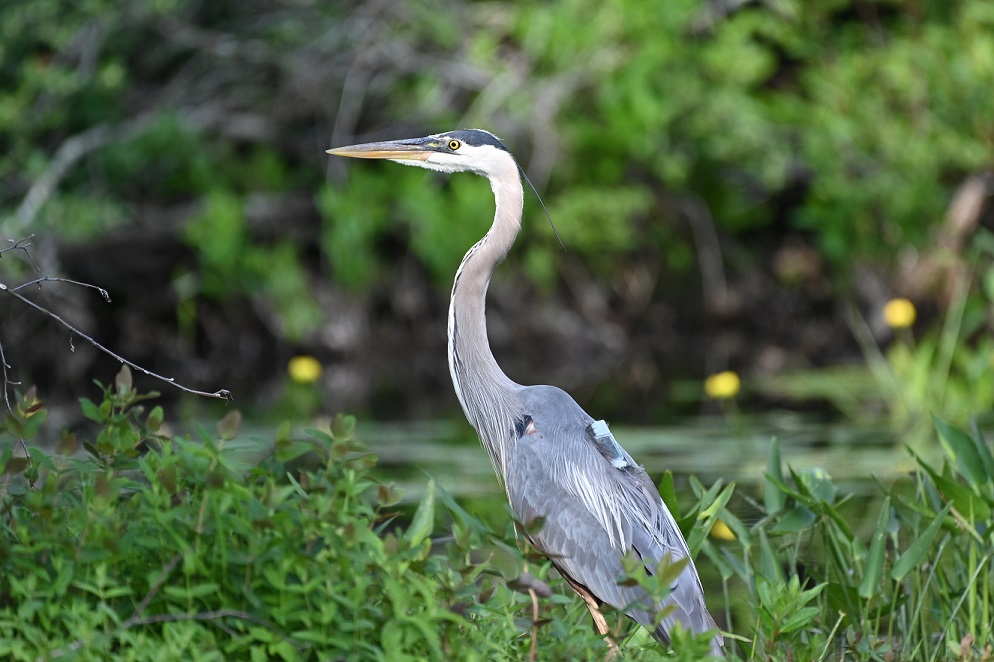 Spring is here, and typically we are beginning to welcome the arrival of our tagged herons who have journeyed great distances to return to the state of Maine for the summer months. While we are witnessing the arrival of others, this year is a harsh reminder of nature's reality. We are sad to report that one of our beloved tagged great blue herons, Ragged Richard, has died. His transmitter reveals he died in Haiti on January 27th.  The area where he died, a remote-looking wetland near Trou Caiman, is apparently not safe for people so we will not be asking any locals to investigate his death or find the transmitter.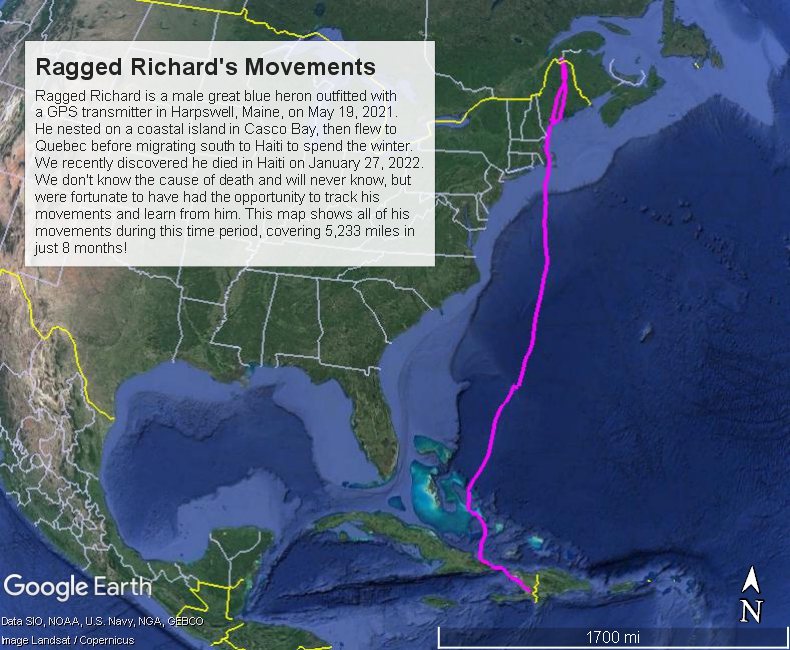 Additionally, our two other tagged herons – Cornelia and Harper – seem to be having transmitter issues, and thus have stopped sending data, making their current where-abouts unknown.  Each day, I hope that one will reappear on the map – maybe as they embark on their northward migrations and get back within range of cell towers.  It's a waiting game, with lots of fingers crossed.
We often become attached to wildlife that are tagged and tracked, as it provides a window into the secret and unique life of that individual. The invaluable data acquired through tagging a great blue heron provides exclusive insight to this species' life history, distribution, and habitat use – giving biologists greater knowledge to better protect and preserve the species. While our hearts are heavy with any loss, we still appreciate the insight provided by these birds, and will continue to make strides in research for future conservation thanks to them.
Ragged Richard was our first coastal island nesting heron that was tagged with a GPS transmitter.  This was exciting for us because our coastal islands have exhibited a significant decline in nesting pairs and we were hoping for some insight into this dilemma.  We plan to take a closer look at Ragged Richard's movements from the past year and see how they compare and contrast with the movements of our other tagged herons. We are also excited to have the opportunity to work in the Deer Isle and Stonington area this spring to tag another great blue heron.  Our hope is that heron will also be a coastal island nester.    
Cornelia has been tagged since 2016, which means we've already witnessed five breeding seasons, six winters, and eleven migration journeys (6 south and 5 north).  We are curious to know if she will nest in the same location as last year, which was a new site for her after nesting four years at a different colony.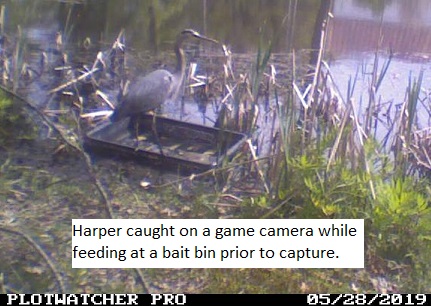 Harper is renowned for her long, nonstop flights over the ocean to go to Cuba for the winter.  While she has not yet nested in Maine, she revealed how herons connect distant places – from Maine to New Brunswick, to Bermuda, to Cuba.
We look forward to more discoveries this year and beyond, thanks to these marvelous birds.