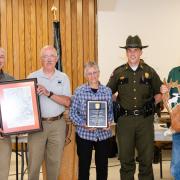 June 23, 2022 at 10:05 am
The Penobscot County Conservation Association was honored with the 2021 Maine Warden Service Colonel's Award on Wednesday, June 15, 2022, by Maine Warden Service Colonel Dan Scott. This award may be presented annually to an individual or individuals who the Colonel has determined have provided distinguished support and/or service to the Maine Warden Service and/or its mission.
Keep In Touch!
Enter your email or mobile number to receive the latest news from MDIFW.