March 23, 2022 at 11:14 am
by Maine Warden Service Colonel Dan Scott
Maine Warden Service is pleased to announce Joe McBrine as the 2021 Maine Game Warden of the Year. A 27-year member of the Maine Warden Service, Warden McBrine began his career in western Maine before transferring to section 8 in Washington County where he continues to patrol. Warden of the Year is a peer nominated award to a game warden who has consistently conducted themselves in such a manner as to display an exceptional expertise in the areas of conservation law enforcement, management, community and public relations and all aspects of a Game Warden's duties.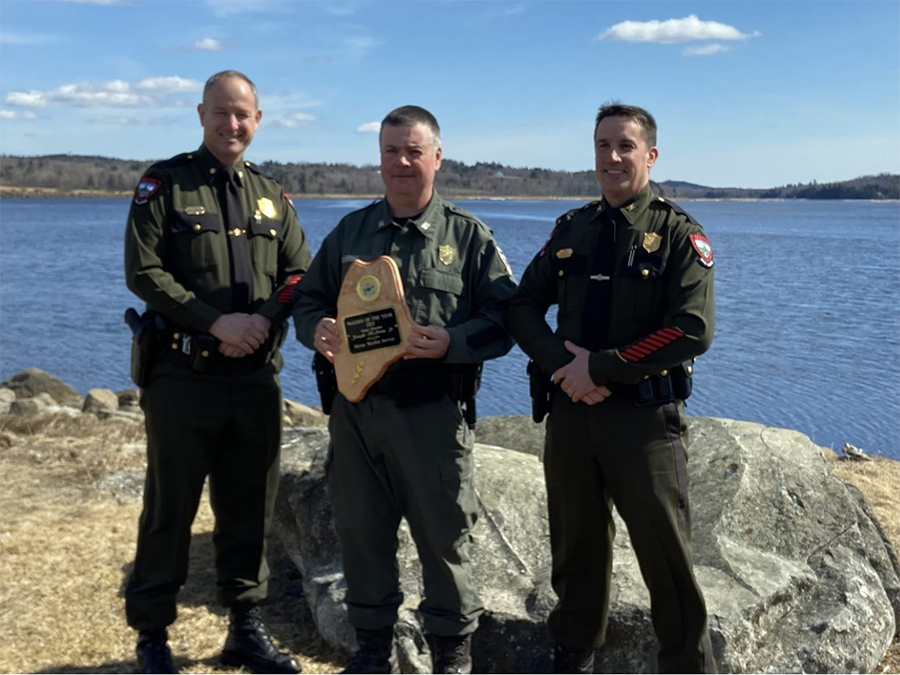 Warden McBrine is well integrated with the Washington County community. He does several public speaking events throughout the course of the year, including safety and education courses sponsored by MDIFW, local sportsmen's shows, the Eastern Maine Sportsmen's Show in Orono, and various children's events in the region. Warden McBrine has played a significant role in organizing a fishing event for the Maine Veterans' Home in Machias. This event has undoubtedly made an extremely positive impact on these veterans, many of whom thought they would never have the opportunity to fish again.
Warden McBrine worked with the community and took time out of his busy fall to organize a fallen warden ceremony at a cemetery in Whiting for Lyman Hill and Charles Niles, two wardens who were murdered along the Machias River in 1886. Warden McBrine worked many hours with our partners in Washington County as well as the family of Lyman Hill to plan, organize, and execute an honorable ceremony at their burial site. On the day of the event there was an outstanding turnout of attendees including active law enforcement, retired law enforcement, two separate honor guard teams, members of the church community, members of the public, and members of Lyman Hill's family.
Over the last few years, Warden McBrine has been influential in establishing a conservation law enforcement degree program at the University of Maine at Machias. He is looked upon as a subject matter expert by professors and faculty at UMM. Warden McBrine has also taught the search and rescue class for the conservation law program on his own time. He has worked with faculty to assist them in establishing a Wildlife Forensics and DNA program, enabling them to analyze wildlife DNA to determine gender and number of individuals by species. Warden McBrine was presented a Distinguished Alumni Award by UMM at a formal ceremony to recognize him for his service and assistance to the university and the community.
Warden McBrine is a Warden Training Officer (WTO) for the Maine Warden Service. His many years of service have provided him a vast amount of experience to offer new game wardens. His level of dedication, thoroughness, and his skillset in conducting search and rescue missions, resolving complaints from landowners, and apprehending intentional violators has made him a perfect fit for the WTO team. He has spent many hours assisting with the Advanced Warden Training Academy on their trips to Washington County. He will frequently secure a facility for their week of training.  He has even been willing to conduct scenarios for the new wardens at his home, and his family has also been involved in the training from cooking meals to role playing in the scenarios. 
He has played an important part of the Department of Inland Fisheries and Wildlife Guide's Board for several years, where he has served as a guide examiner, attended board meetings and license reviews throughout the year.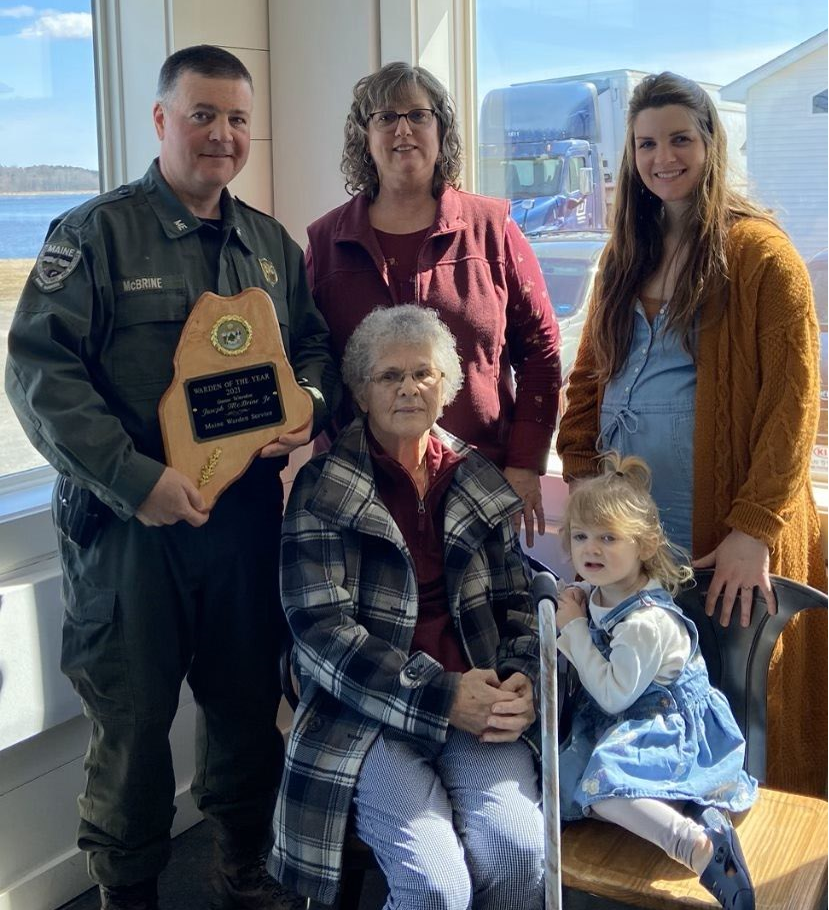 Warden McBrine is a dedicated game warden and truly believes in the mission of Maine Warden Service. He goes to work every day to make a difference in the outdoor community in which he lives and works. His level of experience, performance, and dedication is exceptional. In his 27 years working for MDIFW Warden McBrine's determination, professionalism, integrity, work ethic, and drive to apprehend intentional violators, has not waivered. He has raised his family to appreciate the outdoors and finds much joy in helping to preserve the outdoor tradition for future generations of residents and visitors to the great state of Maine.
Congratulations Joe. Thank you for all you do for Maine's natural resources and your community.