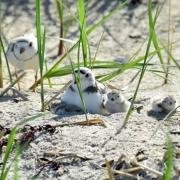 August 22, 2022 at 3:03 pm
Only a short 40 years ago, the piping plover population had a grim outlook with a mere seven pairs recorded in the entire state of Maine. These beach habitat specialists are nearly always found in open sandy areas near water. Consequently, these are the same areas that have been heavily developed and used by beachgoers over the years, leading to the sharp decline of the state's population.
Keep In Touch!
Enter your email or mobile number to receive the latest news from MDIFW.