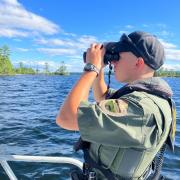 August 31, 2022 at 10:20 am
The Maine Warden Service Deputy Warden Program is a great starting point for aspiring Game Wardens. Several Deputy Wardens are hired each year for part-time summer positions patrolling lakes where there is a high concentration of boating activity.
Keep In Touch!
Enter your email or mobile number to receive the latest news from MDIFW.