August 31, 2022 at 10:20 am
The Maine Warden Service Deputy Warden Program is a great starting point for aspiring Game Wardens. Several Deputy Wardens are hired each year for part-time summer positions patrolling lakes where there is a high concentration of boating activity. By enforcing recreational boating safety rules and regulations, and educating boaters about safety on the water, they play an important role in protecting inland fish and wildlife resources and the safety of the public during the busy summer season.
After successful completion of a summer position, the vast majority of Deputy Wardens go on to pursue and be considered for full-time Maine Game Warden positions beginning in the fall. To learn more about a career with the Maine Warden Service, visit mainegamewarden.com/gethired
Read on to hear advice and highlights from current Deputy Game Wardens: 
Getting Started
I am from Jay, Maine, and my motivation to become a game warden started when I was around 11-12 years old. I recognized that I loved the Maine outdoors and everything that Maine has to offer. I enjoy hunting, fishing, and many other recreational activities. I became very motivated to indulge myself in a career as a Maine Game Warden because I knew that Game Wardens are responsible for maintaining and protecting the recreational activities, fisheries, and wildlife that I have enjoyed pursuing my whole life. I also wanted to be responsible for protecting Maine's natural resources for many generations to come.
I was hired as a Deputy Game Warden in May 2022 and I patrol the Naples, Bridgton, and Harrison area mainly by watercraft. The process of a Deputy Game Warden is identical to the process of becoming a full-time Maine Game Warden. We had to complete multiple tests such as physical fitness tests, written exams, swim tests, and other examinations and interviews along the way.
My advice to those who are interested in a career as a Maine Game Warden would be to surround yourself with good people, who know a lot about hunting, fishing, and trapping and learn from firsthand experience. Engage in recreational activities such as swimming, boating, snowmobiling, or four wheeling. Be open and willing to try and learn new things. You can never know enough about the various activities we have to offer here in Maine. Go on a ride along with a warden in your area, ask good questions, and get that firsthand exposure to what the job is like. If you surround yourself with something you love, you will never work a day in your life.
-Deputy Game Warden Cody York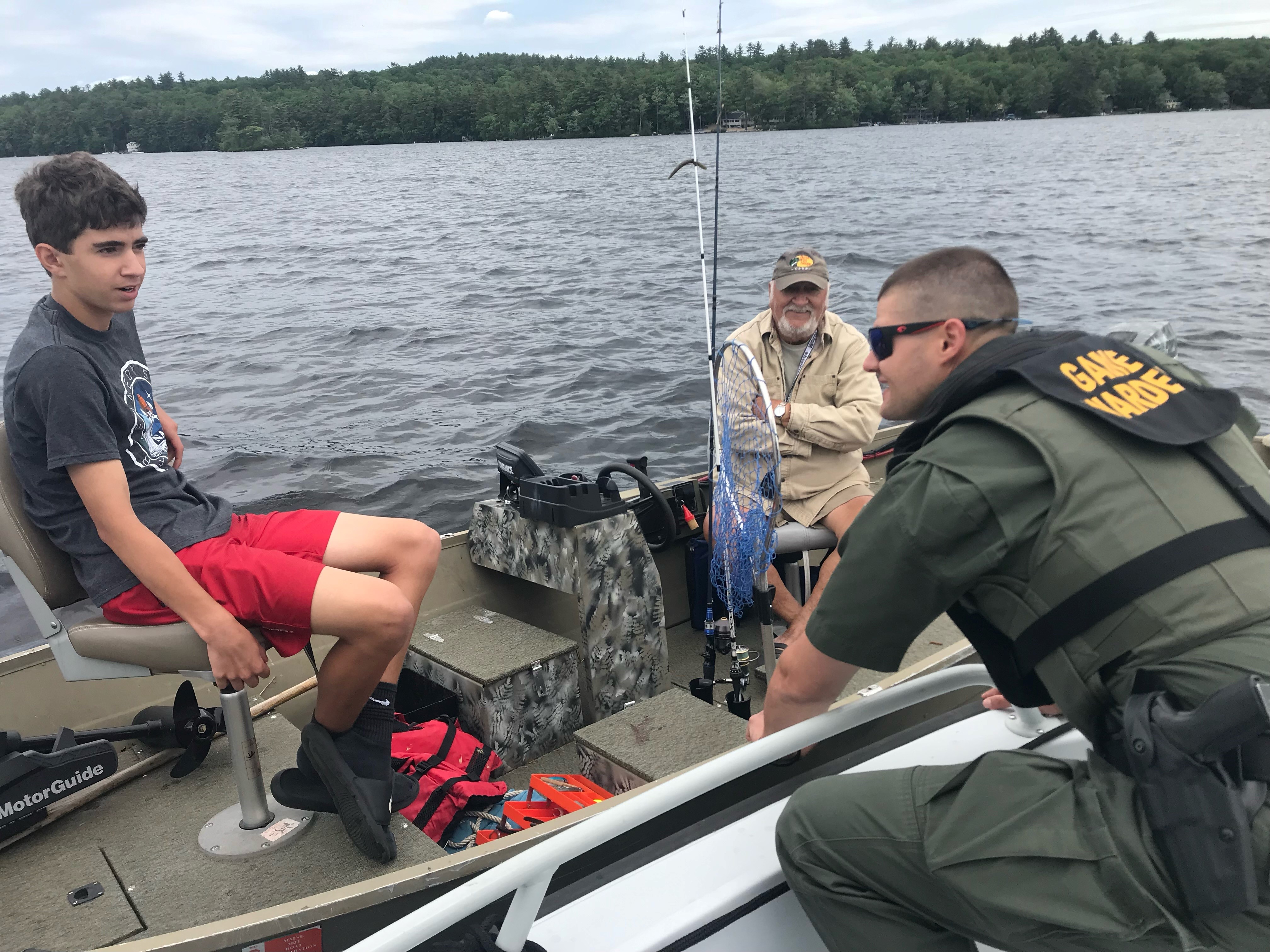 A Day in the Life
The process of becoming a Deputy Game Warden was extremely rewarding for me. There is lots of time and hard work put into becoming a Deputy Game Warden, but the first time you put that uniform on it's all worth it.
My favorite part about the job is having the ability to protect our natural resources. An average day for me starts up at Harris Station Dam in Northeast Somerset. Harris Station is a hydroelectric dam. When water is released from the dam it creates white water on the upper Kennebec River. This is where people put on the river in rafts to go whitewater rafting. I get the chance to meet new people up on the river every day. On our busiest day of the year on the river there was about 1400 people. My favorite stories always start with the river.
My favorite story of this summer is when myself and my warden training officer, Warden Robertson, took the Warden Service shredder down the river for patrol. Not only was it an absolute blast to go whitewater rafting while working, but we were also able to help a stranded kayaker along the way. The kayaker had fallen out of his kayak and we were able to safely pick him up and bring him to his kayak across the river. Had myself and Warden Robertson not been there he would have had to swim against the current to the other side of the river to retrieve his lost kayak.
-Deputy Game Warden Sydney Quigley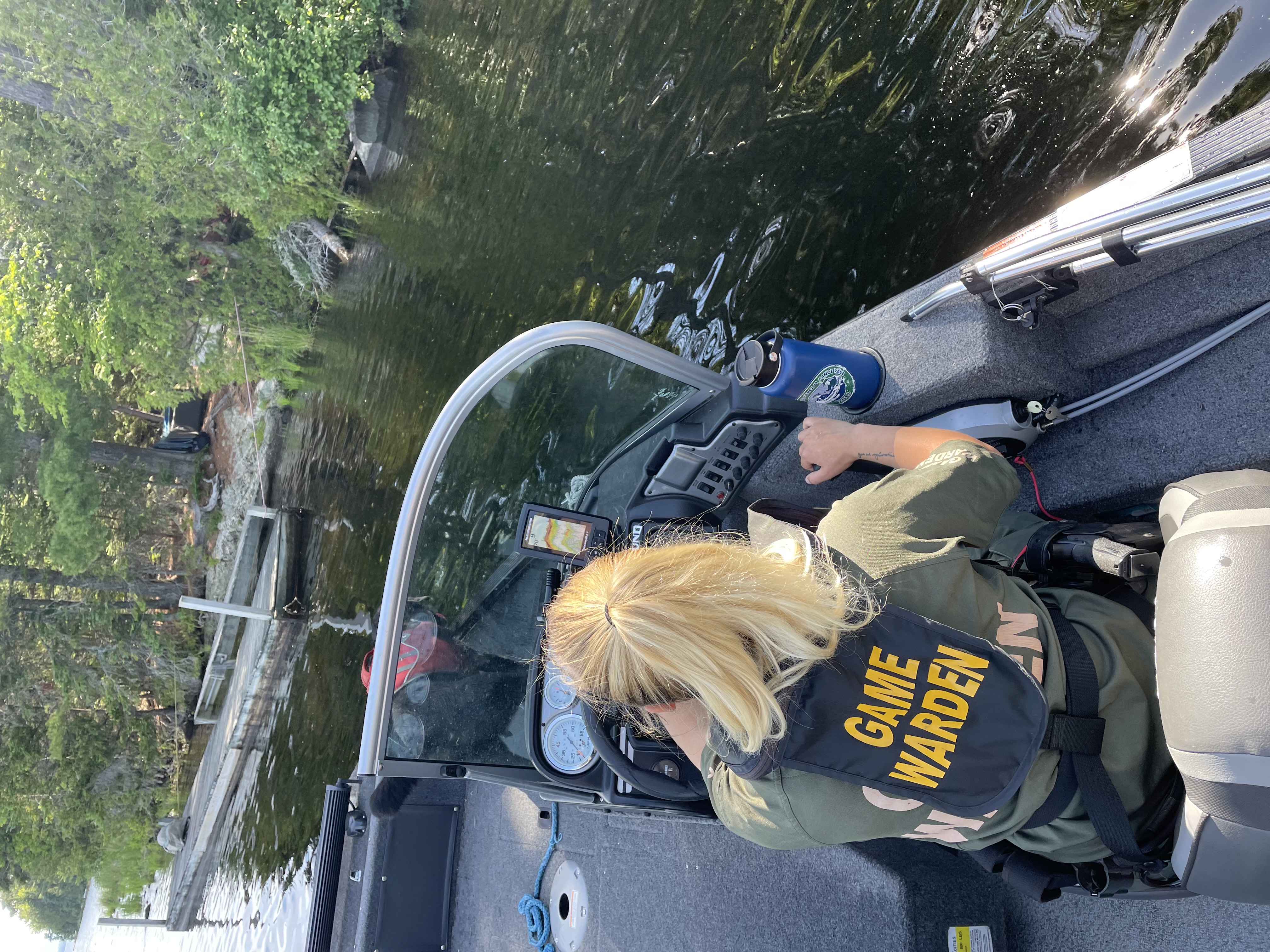 Preparing for a Dream Career
Before starting the hiring process, I met with two local wardens in the area where I lived. They encouraged me on the areas that I needed to gain more knowledge in before starting the hiring process. I began the hiring process in the spring of 2021. The hiring process took approximately a year to complete. Through hard work and determination, I was hired as a Deputy Game Warden in the spring of 2022.
A Deputy Game Warden has different responsibilities than a full-time district Game Warden. As a Deputy, your primary focus is fishing and watercraft law enforcement. One of my favorite things about being a Deputy Game Warden is getting to encounter a variety of people every day. I love serving the public by protecting Maine's resources and ensuring the safety of others.
I would encourage anyone who may be interested in becoming a Deputy Game Warden, to familiarize themselves with operating watercraft. I would also encourage them to develop integrity, honesty, a good attitude, and a hard-working mindset. For someone aspiring to have a career with the Maine Warden Service, it would greatly benefit them to immerse themselves in hunting, fishing, trapping, and recreational activities.
-Deputy Game Warden Isaiah Dyer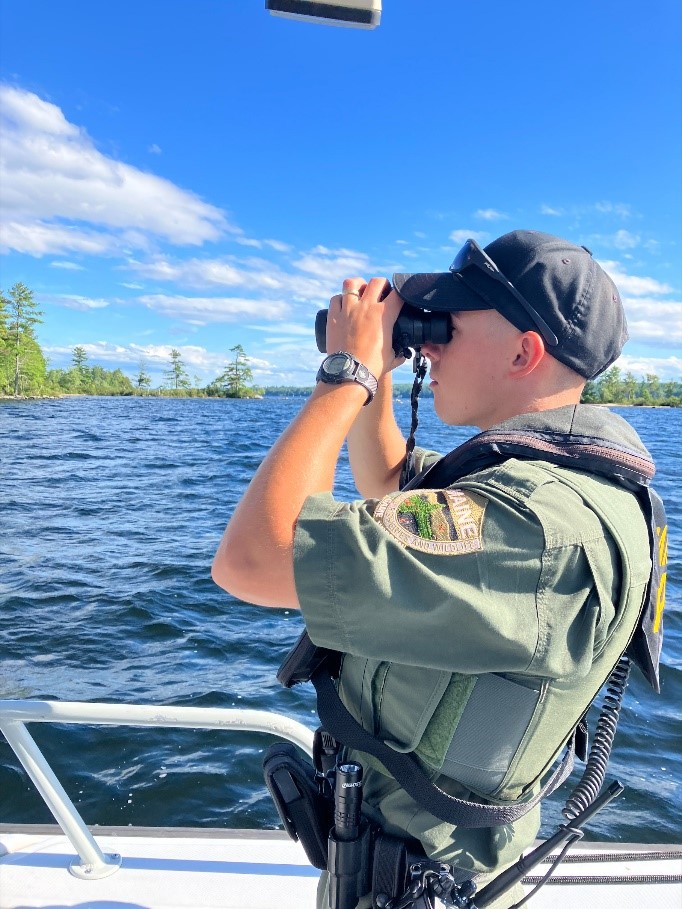 A Pathway to Full-Time Service
The process for becoming a Deputy Game Warden was very thorough. My experience extended over roughly six months, beginning with the physical fitness test and moving through various other stages including, both written and oral examinations, a polygraph test as well as meeting with a psychologist. There are additional tests and training after a candidate receives a conditional offer, however, these are done alongside your fellow candidates which creates a great sense of comradery.
When I indicated that my goal was to become a full-time warden, Sgt. McKenney suggested that the best route to do so may be applying for the Deputy Warden Position. For anyone seeking a pathway to a full-time warden position, I couldn't recommend this route strongly enough. This absolutely provides the opportunity for a deputy to confirm that this meets their expectations regarding what a full-time position may be like. If you have a love of the outdoors, and you want to play a part in protecting Maine's natural resources and those who patronize them, I can't think of a better position to do so. 
-Deputy Game Warden Michael Connolly
Safe Recreation Tips from the Deputies
Wear your lifejackets and tethers on watercrafts. Practice SAFE operations while engaging in recreational activities. In a matter of seconds, one bad decision can change your life.
Recreational safety is extremely important, I would suggest to anyone traveling, hunting, or fishing in remote areas to always inform a family member or friend where they are going and what time to expect an arrival home. Should something happen, this will be key to helping the Maine Warden Service and other search and rescue personnel help find you.
Before operating any watercraft, take the time to check for your safety equipment. It just might save your life.
Do your homework. There may be new regulations, new trails, changing weather conditions etc. that may affect that outdoor activity. Being prepared makes all the difference.
Apply for Next Summer
Available positions for the following summer are typically announced in November. To apply, candidates will need to complete two Maine Criminal Justice Academy entrance exams: the ALERT exam and the physical fitness test. Results of these exams will need to be included with the application. If you are interested in learning more about a career with the Maine Warden Service, there are several resources listed below to help you get started.
How to prepare for the hiring process