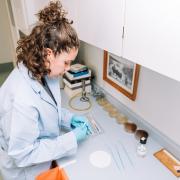 September 22, 2021 at 1:12 pm
In late 2019 the Maine Warden Service was contacted by fish and wildlife authorities from Oregon requesting assistance with an investigation of the Green Hill Garden Fish Hatchery in Eugene Oregon. The fish and wildlife officials from Oregon were looking into illegal fish purchases and sales and had identified several shipments from the Oregon hatchery to residents in Maine. Maine Department of Inland Fisheries and Wildlife (MDIFW) Game Wardens and Fisheries Biologists conducted a series of interviews to determine the origin, species, and the current whereabouts of any imported fish and whether or not proper permits were obtained from MDIFW prior to the importation or stocking of the fish.
Keep In Touch!
Enter your email or mobile number to receive the latest news from MDIFW.