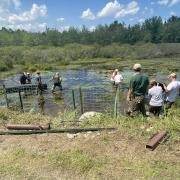 August 2, 2022 at 11:32 am
To learn more about the biology and ecology of beavers, and ways to live with them, Maine Department of Inland Fisheries and Wildlife (MDIFW), The U.S. Department of Agriculture (UDSA) -Wildlife Services, and the town of Dixmont partnered and held a training, open to those who might have direct or direct involvement with beaver conflicts, to demonstrate the best ways to live with beaver.
Keep In Touch!
Enter your email or mobile number to receive the latest news from MDIFW.