January 27, 2021 at 1:26 pm
by Courtney Moulton
Interview with Hoi Ning Ngai by MDIFW R3 Coordinator Katie Yates
After participating in a firearms workshop hosted by MDIFW for the Ladies Adventure Club at the Department's Summerhaven Shooting Range in Augusta, Hoi Ning Ngai reached out to share her thoughts on the experience. Although she did not grow up shooting firearms, she gained an interest and level of comfort with them through various workshops and trainings. She answered a few questions about her experience to share with others.  
Tell me about the Ladies Adventure Club.  
When I first moved to Lewiston in August 2019 for my job at Bates College, a fellow Dartmouth alumna recommended that I check out the Ladies Adventure Club (LAC) as a great way to meet people who love to explore Maine. I've always been enamored with nature, but I've never been very outdoorsy, so I was grateful to join an organization whose mission is to empower women to challenge themselves and find community with those looking to do the same. Even though my first year in Maine got thrown off by the pandemic, I'm so glad I had the chance to build a community in the early months because I've been able to stay connected and go on adventures with many LACers throughout this crazy time. 
What was your experience with firearms before attending the workshop at Summerhaven Range? 
I've always wanted to shoot since I was young, but I didn't get the opportunity until I moved to North Carolina in 2017. I started with a women's basics class to get familiar with firearms and safety. I took a second basics class to get more comfortable with pistols and revolvers. After that, I took regular lessons with an instructor to explore different guns and work on speed and distance drills.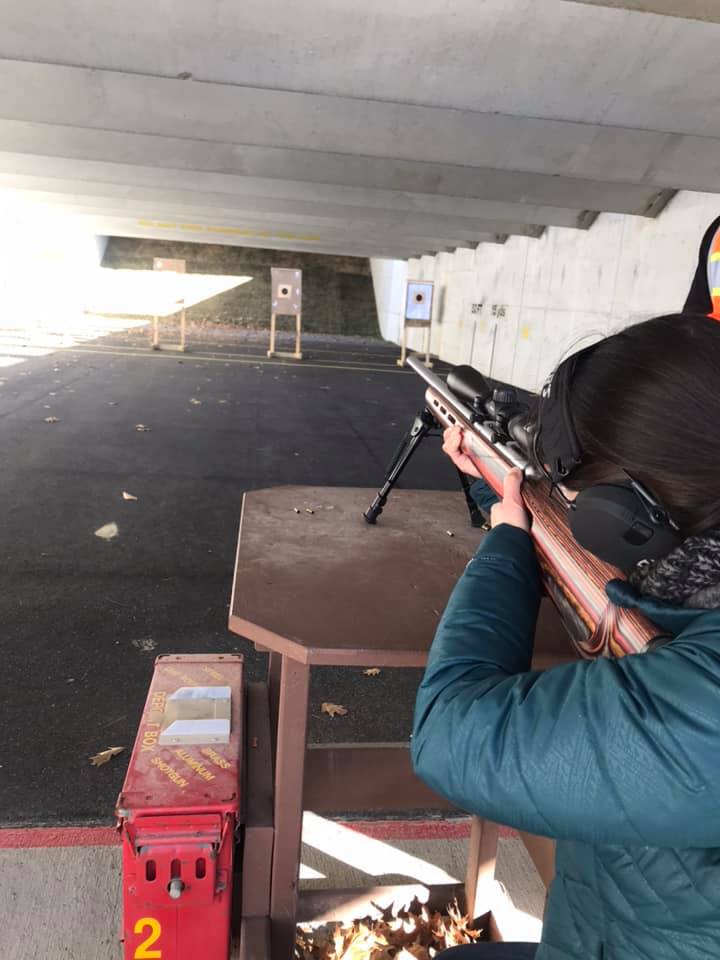 How was your experience at Summerhaven Range? 
It was a fantastic experience. I was working my way up to rifles, so I really appreciated the chance to finally get to shoot one. I honestly felt like shooting a rifle was easier than shooting a handgun. I loved being able to shoot alongside women with varying abilities, so I really appreciate that the LAC set up this adventure. The instructors were the best part though. It was hard to tell what they were expecting from our group, but they were engaging and enthusiastic from the start. When you're a woman in an often male-dominated space, you may wonder whether you'll get the respect and support that you need to succeed and thrive. The best thing about our all-male instructor team was that they were educative and encouraging. They were highly focused on making sure we respected the power of firearms and dispelling any myths and misconceptions. I even had several instructors ask me what I was hoping to do next and whether I had a shooting mentor. I couldn't have asked for a better experience — and I'm sure the rest of our group would say the same. 
What advice do you have for those curious about shooting sports, but feel uncomfortable or nervous about using firearms? 
Take as much time as you need to get comfortable with guns. And find instructors like the ones we had to give you the support you need. All any good instructor wants is for you to gain confidence, so a good one will be patient with you and nudge you based on your progress. Again, no one is rushing you, so go at your own pace. 
What has been the benefit of joining your club and learning more about these activities? 
I'm a sociable introvert, so I often prefer doing things on my own. But when you're in a new place wanting to try new things, it's helpful to: 1) have guides — people who know their way around and can share wisdom and insights 2) make friends along the way — especially when they have backgrounds and experiences that are fascinating and interesting. 
You don't need to join a club to take a firearms course with MDIFW – click here to find upcoming virtual and in-person classes.
What are some skills you acquired from the class that you didn't have before?
I experienced pulling the trigger with my left hand for the first time. I've always shot with my right hand on the trigger, but when I was advised that a left trigger finger might work better with my left eye dominance, I tried it and was thrilled with the results.  
Do you think you'll continue practicing shooting sports? 
YES! I definitely expect to continue shooting whenever I can.
Joining a club or group such as the Ladies Adventure Club, or attending a workshop is a great way to learn something new. Those interested in learning to hunt or target practice are encouraged to check out virtual and in-person Next Steep workshops hosted by MDIFW.