Next Step Hunting Programs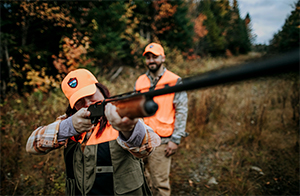 Learning to hunt is a lifelong journey. Whether you are just starting out or have been hunting for years, there is always something to learn!
These Next Step workshops were designed to help all hunters take their skills to the next level. Classes are offered in the following three areas:
Introduction to Firearms: MDIFW offers and oversees two state shooting ranges. Under the supervision of Range Safety Officers and trained staff, learn to safely use and care for a variety of firearms and hunting implements. Learn more about Maine's shooting ranges.
You may also consider one of these Firearms Fundamentals online courses to get started: Firearms Fundamentals is great for the new hunter or recreational shooter as well as the new gun owner. Firearms education is an important component of responsible gun ownership and safe use, and although it won't replace hands-on experience, this course is a great place to start. It's also an excellent refresher for anyone with prior experience. Learn more about the online Firearms Fundamentals courses.


Learn to Hunt: From understanding the laws to figuring out the best gear for you, there's a lot to learn when it comes to hunting. The Learn to Hunt workshops breakdown the essentials to get you out hunting safely and successfully.


Outdoor Safety & Survival: Before heading afield to hunt, hike, fish, or explore, learn the basics of map & compass, survival skills, shelter building, and more.
Classes are offered online and in person. Check out the schedule below to find a class that interests you.
Firearms Workshop: Scope & Optic Mounting, Bore Sighting
Date/Time: February 8, 6pm-9pm
County: Kennebec
Location: Augusta - Sportsman Alliance of Maine (LL Bean Room)

Description:
Class is FULL
Can't find a course for your area? Contact the Recreational Safety Division Office at (207) 287-5220.