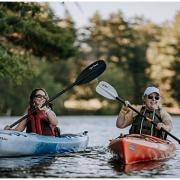 June 11, 2021 at 3:17 pm
Paddling along Maine's many water ways is a favorite pastime for anglers and anyone who enjoys the serenity of being on the water, turning around bends only to share the river with wildlife and the splash of a rising fish. Here are a few trip ideas throughout the state, with varying lengths and difficulty levels. Before you go, always do you research and plan ahead. You may need to consult a gazetteer and other resources before making the trip. And always tell someone where you are going, and when you plan to return.
Keep In Touch!
Enter your email or mobile number to receive the latest news from MDIFW.