ArrayJune 23, 2022 at 10:05 am
by Colonel Dan Scott
The Penobscot County Conservation Association was honored with the 2021 Maine Warden Service Colonel's Award on Wednesday, June 15, 2022, by Maine Warden Service Colonel Dan Scott. This award may be presented annually to an individual or individuals who the Colonel has determined have provided distinguished support and/or service to the Maine Warden Service and/or its mission.
Read on to learn a brief history of the Penobscot County Conservation Association and how their nearly 100 years of efforts promoting and preserving Maine's sporting heritage and wildlife earned this designation.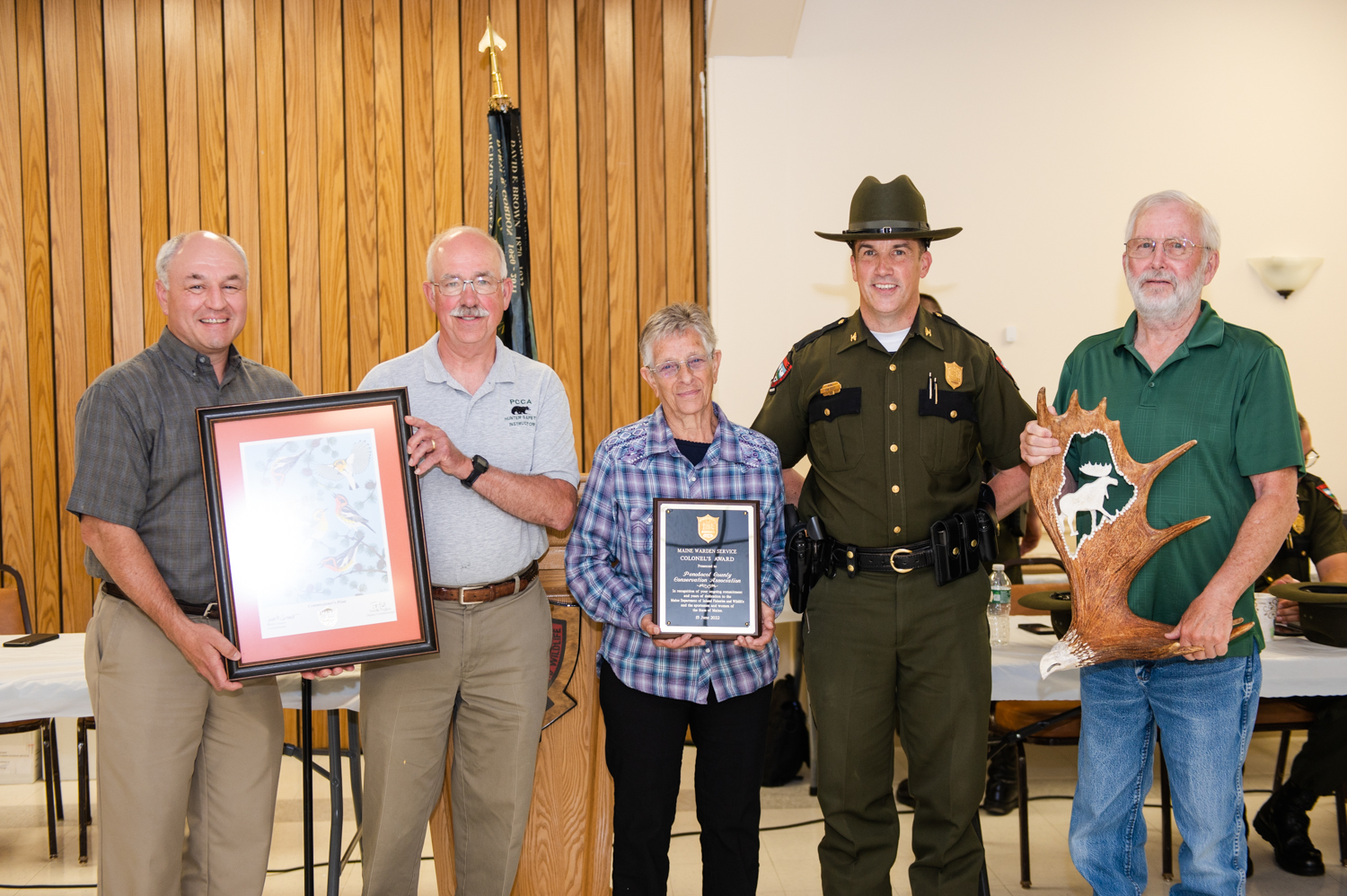 The Penobscot County Conservation Association began in 1928 as the Bangor Fish and Game Club. During the early years, club members met monthly to discuss issues surrounding hunting and fishing, including weighing in regularly on legislation that impacted outdoor sports. A few notable bills that they weighed in on in the early days included:
1933:
Removing the bounty on bears

Opposing a measure that would have banned the use of bow and arrow hunting in Maine.
In 1949 they presented a series of resolutions to the Governor to improve fish and game laws and protection. These included:
Mandatory, non-suspendable jail sentences in addition to fines for night hunters,

A statewide referendum to decide whether or not to allow Sunday hunting

An increase in the number of game wardens and an increase in their pay

The Commissioner to promulgate a uniform signal for persons in distress in the Maine woods

A law requiring persons going into the woods during hunting season to wear at least 50% red clothing with no brown or white showing
According to a Bangor Daily News article, on April 4, 1957 in response to an "Epidemic of No Trespassing signs" the club purchased 1,000 signs indicating "hunting by permission only" and distributed them to local landowners in the Bangor region. Again, they were ahead of their time.
The club purchased the Brewer property in 1953 and the clubhouse was built in 1958. In 1960, the club became incorporated as it is known today – the Penobscot County Conservation Association (PCCA).
The PCCA works to preserve our sporting heritage, support wildlife conservation, and promote sportsmanship for the common good.
One of the club's primary focus is to expose Maine youth to the traditions of hunting, fishing, and outdoor lore, and to provide opportunities for youth to participate in outdoor activities. They do this by supporting conservation camps, offering hunter education instruction, youth activity days, merit badge counseling, and providing scholarship for youth to attend these programs.
Annually the club sponsors several events which helps them to fund their operating costs as well as scholarships for conservation camps. Three of their most significant events are the Eastern Maine Sportsman's Show, held annually at the University of Maine; the Bangor Gun Show, and an annual well-attended hunter's breakfast during a Saturday in November.
The Eastern Maine Sportsmen's Show is the longest running sportsmen's show in the country. Beginning in 1933, it was initially held at the old Bangor City Hall. A list of attractions at the 1933 show included:
An archery contest

Rifle and pistol shooting

Long-distance fly casting,

a Bull Whip Exhibition, and

An encounter between a Maine black bear and a police dog (I wonder if that resulted in just one showing of that event. It then became – come and see the Maine black bear exhibit)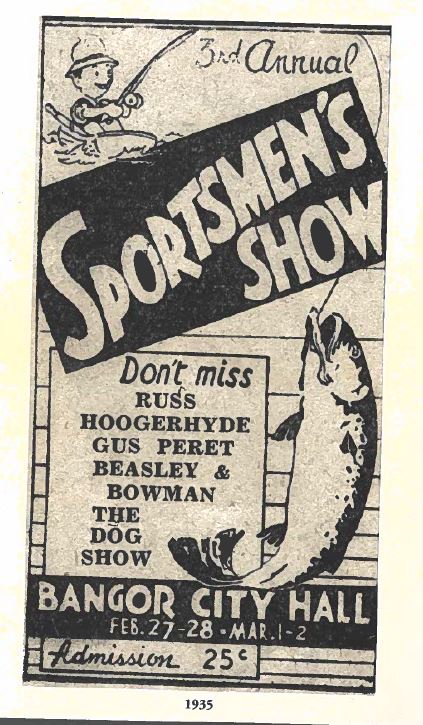 As the show grew, it was later moved to the Old Bangor Auditorium (1940-1955) and the new Bangor Auditorium from 1955-1987. In 1988 the show was moved to the University of Maine in Orono where it continues to be held today. 
In 1951 the club held its first Junior Conservation Camp at Camp Jordan on Branch Lake. The club designed the curriculum for the one-week program. Members, local guides, and Maine Game Wardens assisted with the teaching of the course. In 1993 the club switched to sponsoring students for attendance at the Maine Conservation School at Bryant Pond and in 1995 they added the Conservation Camp at Greenland Point in Princeton.
Throughout the 1960s the club was a partner in the wild turkey stocking program for the state of Maine. Procuring, raising, and stocking more than 800 birds which were housed at their club house. They were an active partner in this program through 1972.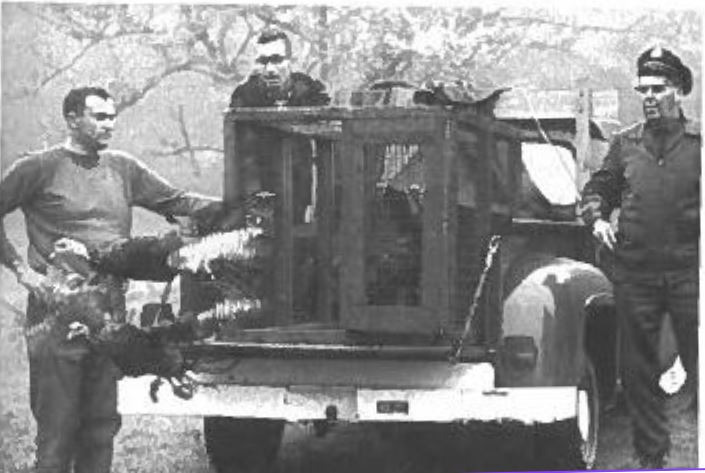 In 1969 the PCCA offered its first hunter safety course to 140 students from ages 10-16. The PCCA was a leader in developing the instructional program adopted for use throughout the state. Over the years, the PCCA has certified over 6,000 safe hunters throughout its two-day program offered annually at the Clubhouse.
At their facility in Brewer, they maintain LaVasseur Pond, (commonly called PCCA Pond) which they annually stock with fish and maintain for kids fishing age 16 and under. Additionally, they have an indoor shooting range which they use for shooting instruction and an air gun education program.
In 1987 the club began purchasing property in Stetson, Maine. By 2002 their total acreage has reached nearly 1,400 acres and includes a camp for member use. The property is managed for wildlife as well as wood products. It is the site of the club's efforts to support the American Chestnut Restoration Program, where it is home to over 3,000 American Chestnut Trees which have been planted by club members. The Stetson Land is open to use for club members as well as outdoor educational programs and organizations such as Local Boy Scout Troop #1.
One of the PCCA's most significant influences is their scholarship program. Annually the PCCA provides academic scholarships to students studying to be conservation professionals from the University of Maine and other nearby colleges. 2022 marks more than 60 years that the club has been providing financial assistance to young professionals.
The scholarship program began in 1960 with the award of 1 scholarship to the University of Maine Wildlife Department in the amount of $100.
The scholarship program was established by early members, mostly local business people who wanted to preserve our sporting heritage. Members would contribute annually to the Scholarship Trust fund until it had a healthy balance.
At its peak, the scholarship program was presenting 22 - $2,000 scholarships to University of Maine Students, 10 - $1,000 scholarships to Unity and 3 - $1,000 scholarships to University of Maine Machias Fisheries, totaling more than $55,000.  To date the club estimates they have provided up-and-coming outdoor conservation minded wildlife and forestry professional more than $1.5 million in scholarships, including many current MDIFW employees.
An outstanding feat and contribution to the conservation community of the state of Maine.
Annually the PCCA hosts a number of community fundraising events including craft fairs, a community yard sale, and kids ice fishing derbies at their locally stocked pond. They hold family fun days in the summer months where they promote air gun shooting, trapper education, fly tying, fly casting, and the Growing Up Wild programs for kids.
This year they are a co-sponsor of the Schoodic Lake Charity Bass Tournament.
The PCCA has always been a very strong supporter of MDIFW. They make their facility available to us for countless meetings, trainings, and educational programs. From statewide trainings, to ethics courses, recreational safety classes, public hearings, and staff meetings.
Earlier this month a dozen of us and Commissioner Camuso attended their annual wardens' night. The PCCA has held the warden appreciation night for more than 80 years, beginning in the early 1930s, hosting it every year since.
The club's membership is almost 250 individuals including more than 50 lifetime members, 35 family memberships, and over 100 individual memberships.
Due to their dedicated service to Maine's outdoor recreation, their faithful conservation of Maine's precious natural resources, their unwavering efforts to develop and educate youth in our outdoor traditions, and most especially their being a 100% devoted partner to the Maine Department of Inland Fisheries and Wildlife, the Penobscot County Conservation Association was presented the 2021 Maine Warden Service Colonel's Award.
Learn more about the Penobscot Conservation County Association and how you can get involved at https://conservationassociation.org