March 19, 2021 at 3:32 pm
by Sergeant Josh Bubier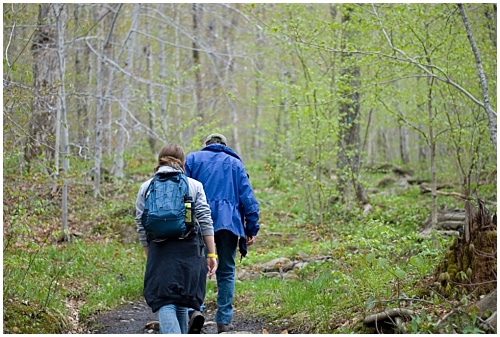 As the snow begins to melt and the days get warmer, we are all excited to spend more time outside. For many, the first hike of the year is much anticipated and is an ideal way to get some fresh air, exercise, and soak up picturesque views.
In 2020 the Maine Warden Service responded to a higher than normal number of searches in April and May, which accounted for nearly 20% of all hiking rescues for the year.  Many of these searches were a result of people hiking trails which were covered in snow, ice, and mud.  
This year, we hope to better educate hikers of all experience levels to help ensure people enjoy their time outside all while staying safe, being prepared, and respecting private landowners and the state's natural resources.
Here are a few reminders before beginning your hiking season:
Tell someone who is not hiking with you where you are going and when you plan to return. Should something happen, this will be key to helping the Maine Warden Service and other search and rescue personnel help find you.
Know that conditions will vary significantly across the state and at different elevations. Especially in the spring, it is not surprising for the bottom of a mountain trailhead to look "ready to hike," only to find the top (or upper sections) covered in ice and snow, possibly leaving sections of the trail impassable. Maine is a large state, 35,385 square miles to be exact, and conditions will vary significantly from one area to the next. A mountain of the same elevation in coastal Maine may be ready to hike weeks before a mountain in the northern parts. Choose your hike based on your experience level. 
Research your destination before you go. Hiking during muddy conditions can have lasting negative impacts on trails – some trails do not open until later in the season because of this. Always respect closed trail signs and know before you go.
Roads may be impassable. Many roads to Maine's hiking areas are dirt roads that can become extremely muddy in the spring, and even impassable. Stick to places you are familiar with or close to home in the spring and save the bigger adventures for later in the hiking season.
Respect private landowners. More than 94% of Maine's forest land is privately owned. The trail you may be hiking could be owned by a private individual, help keep this privilege by being a good land user. Keep it clean and stay on the trail. Be sure to not block paths, gates, or roads when you park.
Dress for the weather and in layers. Especially in spring it is important to pack layers to prepare for changing weather conditions. Stick to wicking base layers that dry fast (no cotton) and top them with warmer layers such as fleece and a wind and rain resistant outer shell. Know what shoes are needed, for many trails hiking shoes with strong ankle support and tread are needed. It is best to avoid icy conditions altogether, but just in case, pack a pair of crampons or ice creepers.
Be prepared for no cell phone service. Know your route without the help of your cell phone.
Pack essential items. You should always be prepared to spend a night in the woods should anything happen. Always pack water, high-protein snacks, and a fire starter. Learn more in our You Alone in the Maine Woods booklet (PDF).
Keep it clean. Remember that you are a guest. Always leave the land as you found it, if not better. If you see trash that someone else left, pick it up.
Stick to established trails and roads. Always stay on the trail.
Plan your day. There are fewer daylight hours in the spring, and rushing can lead to slipping or falling. Know how long the hike may take, and plan accordingly.
Be prepared for no restrooms. When nature calls, pick a spot at least 100 feet off the trail or away from a body of water, and bury your poop at least six inches deep.
Have a plan B. If the trailhead is full head to your next option. Consider adventuring during the week, and for shorter hikes, avoid peak hours. When parking, always make sure other vehicles can continue to drive through the road and never block roads, paths, or gates.
Thank you for being a prepared, responsible user of the Maine outdoors!
Learn more at mefishwildlife.com/outdoorpartners or visitmaine.com/look-out-for-me