SP 05-2020: Questions & Answers Regarding Professional Standards for State and Local School Nutrition Program Personnel. 
This Q & A memorandum is designed to provide an overview of the policies related to the Professional Standards regulations for State and local school nutrition program personnel.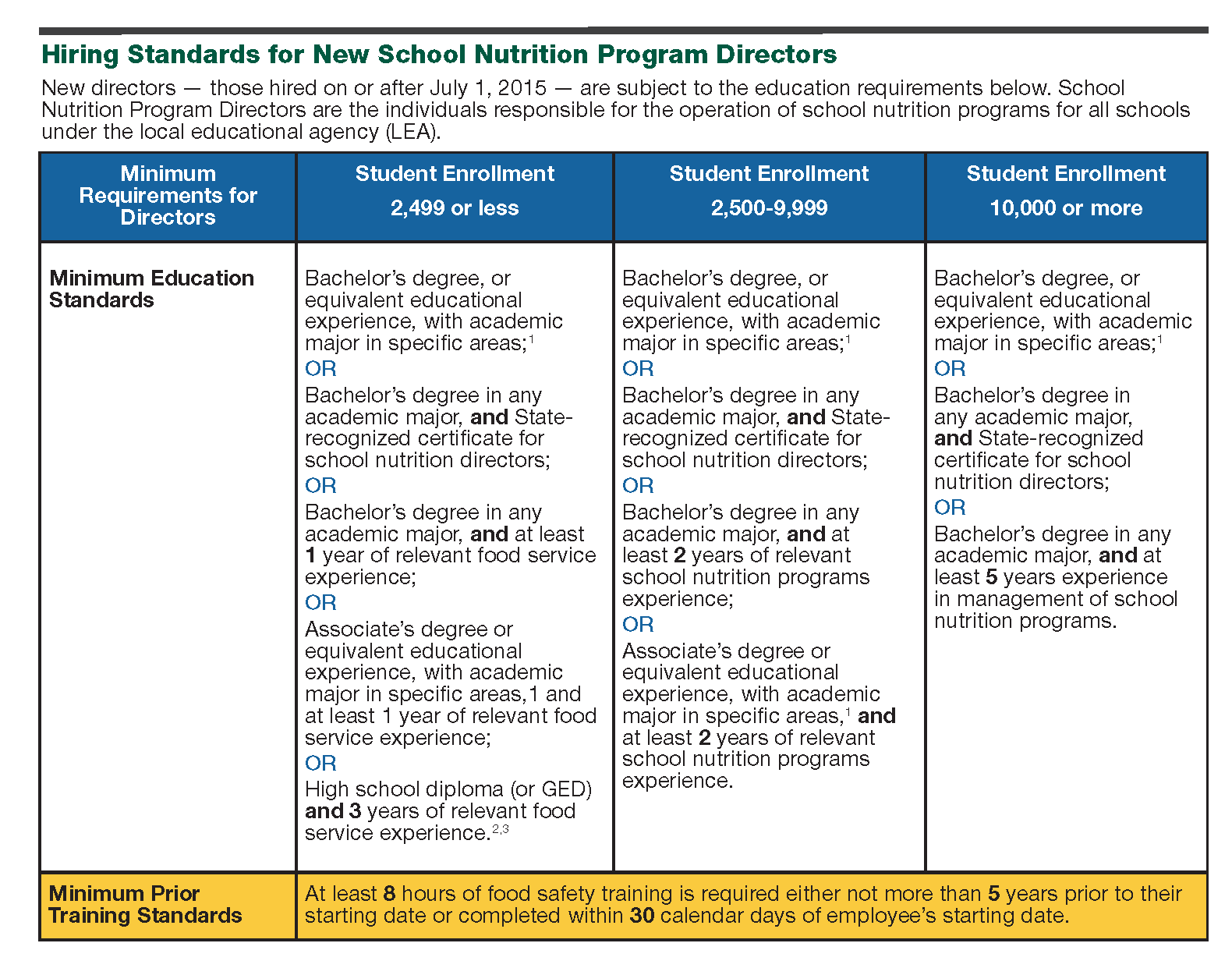 Professional Standards Continuing Education Subject Areas
The new Professional standards considered training needs based on job description/ duties.  We have complied two lists of duties a manager and a director may do based on the Federal research.  A person may not do all of them but if they do some then they will be considered for training the highest position they are doing duties of.  This may also mean more than one director or manager. Sample Manager / Sample Director
All training taken to comply with the Professional Standards Regulation must meet one or more of the training objectives listed below. The training is divided into four key areas: Nutrition, Operations, Administration and Communications/Marketing. Training is in 15 segments at a minimum.
| | |
| --- | --- |
| STAFFING LEVEL | Yearly Hours |
| Director | 12 |
| Manager | 10 |
| All Other Staff | 6 |
| Part Time Staff, Less than 20 hours a week | 4 |
| Acting Temp Personnel | 4 |
| Hours Must be meet each School Year |   |
Key Areas and Key Topics:

Nutrition

Menu planning
Nutrition education
General nutrition

Operations 

Food production
Serving food
Cashier and point of service
Purchasing/Procurement
Receiving and storage
Food safety and HACCP
CPR

Administration 

Free and reduced price meal benefits
Program management
Financial management
Human resources and staff training
Facilities and equipment planning
Communications and marketing

USDA Professional Standards Training Tracker tool 

Maine Child Nutrition Professional Standards Training Tracking tool is available here: Maine Professional Standards Tracking Tool (excel)

For additional information and training opportunities visit: https://professionalstandards.fns.usda.gov/ 

When entering data into the MEDMS system for Position Description held the following information will help with deciding what your position held is: