Volunteers @ the Library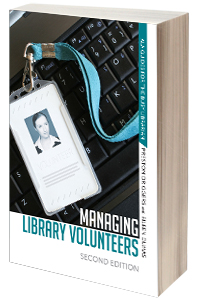 Managing Library Volunteers (ALA, 2011) 2nd ed. by Preston Driggers and Eileen Dumas
Volunteerism in American libraries has been around for a very long time.Your library's ability to meet its mission might just depend on whether or not you can attract and keep volunteers. We know that volunteers are unpaid staff; they give their time and talents to help the library carry out specific programs and/or services. Libraries can benefit enormously from the work of volunteers.
Volunteers can come from any age group. One demographic that clearly stands out as a potential talent pool is the baby boomer generation. The retirement years are close at hand for a vast numbers of baby boomers. This group alone represents an influx of talented, well-educated and skilled individuals who want to find meaningful engagement within their communities.
So how can or should your library take advantage of this wonderful resource?
Provide volunteer opportunities that truly take advantage of their diverse work experience and highly skilled abilities
Listen to how people want to commit their time and resources toward volunteering, offering both short-termed and project based opportunities
Let them see the impact of their work
How can volunteers benefit your library?
Volunteers serve as an important link between the library and the community. They help the community to understand how the library works, as well as its importance as a community cultural, educational and recreational resource.
Involving volunteers develops a group of strong library supporters
Volunteers can enhance library services
Volunteers can bring their community connections to the library
Volunteers bring specialized skills/life experiences
Volunteers bring new energy and ideas
Volunteers can free up staff time
What are the benefits to the volunteer?
An opportunity to contribute to and serve the community
A new use of free time
A chance to meet new people
A sense of purpose, accomplishment and self-worth
Pride in a job well done
Volunteer service recognition
Myths about Volunteer Program
Volunteers can replace staff false! Volunteers generally dont have any library experience.What they do have is the skill to support the work of the library staff.
Volunteer programs are free - false! At the very least it takes staff time to supervise each volunteer and the resources to train them in order for the library to get a positive result for the effort. Some funds should be invested in volunteer recognition as well.
Volunteers manage themselves - false! No matter how smart the volunteer they wont know what to do unless they are given direction. You need to train them and monitor their performance.
Ask Yourself Why You Want to Start a Volunteer Program
Start with a mission statement because it will help simplify why you want to engage volunteers in your library. Your mission statement should provide an overview illustrating why you are doing this, what volunteers will do, and how their efforts will be supported. Once you have answered these questions - the why, what and how in your mission statement, it can then be used to plan, develop and implement your program.
Most of the files below require either Microsoft Word 2007 or the Word Viewer.
Sample Volunteer Program Mission Statements [All Word 2007]
How to run a successful volunteer program
Libraries should not start a volunteer program unless the governing body (board of trustees, city council, selectman, etc) and the library director are committed to the idea and are willing to allocate the needed time to develop a program that is well managed and will benefit the library.
There are six (6) elements which must be part of any volunteer program for it to be successfully. They are:
Meaningful written job descriptions
Clear expectations in recruitment and screening
Orientation and training
Supportive atmosphere
Supervision and evaluation
Recognition
Volunteer Job Descriptions
The job description is the most critical piece of a volunteer program. Knowing what you want volunteers to do will help you to communicate your expectations to them. Job descriptions help you and your staff thinks about where the job fits into the needs of the library, how the position will be supervised, and what kind of training will be needed. Job descriptions help you match the right person to the job assignment so that it a good fit for the volunteer.
Clarify roles
Principle recruitment and placement tool
Basis for supervision
Serves as a contract
Avoids problems
Job Description Database
A list of volunteer jobs with descriptions
Use the volunteer job description database to create volunteer job positions or write your own using the template linked below.
Recruitment, Training and Supervision
Sample Press Release
Sample Volunteer Agreement
Sample Orientation Checklist [Word 2007]
Sample Applications [Word 2007]
Sample Interview Questions
Volunteer Interest Survey [Word 2007]
Sample Evaluations, Progress Report, Exit Interviews, Dismissals, Timesheet [Word 2007]
Sample Volunteer Policies [Word 2007]
Sample Volunteer Code of Ethics
Volunteer Rights and Responsibilities [Word 2007]
Volunteer Recognition Resources
Volunteer Recognition Retail Items: These sites are retail sites featuring recognition items that are reasonably priced.
Teens Volunteers
Library Lingo 101
Useful Resources
All PDF files below require the free Adobe Reader.
Sample Volunteer Manuals
All files below are PDFs and require the free Adobe Reader.
Bibliography
Bibliography for further reading and additional resources [Word 2007]