Ask Us
The library will be closed on Monday, June 19 in observance of the Juneteenth holiday.
Hours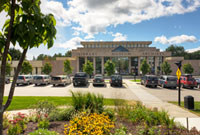 Monday - Friday : 9 am - 5 pm
Closed on all holidays observed by the State of Maine.
Call us at (207)287-5600 for service during business hours.
Location
The Maine State Library is temporarily located at 242 State Street, Augusta while the Maine Cultural Building undergoes renovations.
Physical Address: 242 State Street, Augusta, ME 04333-0064
Mailing Address: 64 State House Station, Augusta, ME 04333-0064
See Directions