State Librarian, Lori Fisher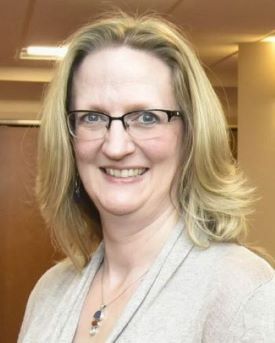 Lori Fisher, Maine State Librarian
The Maine Library Commission is pleased to announce that after a national search, it has selected Lori Fisher as the next State Librarian. She will begin her tenure on December 27, 2022.
Ms. Fisher comes to the State Library from The New Hampshire State Library where she has worked as the Assistant State Librarian since May 2019. Prior to her work at the State Library, Ms. Fisher was Director of the Baker Free Library in Bow, NH for 11 years.
"Lori brings with her a wealth of experience that she can immediately put to work here in Maine," said Heidi Grimm, Chair of the Maine Library Commission. "Her familiarity with state government, managing New Hampshire's federal funds from the Institute of Museum and Library Services, and her experience from a largely rural state are just a few of the strengths Lori will bring with her to Maine. We are confident she is the right person at the right time to take the helm at the State Library."
In addition to Ms. Fisher's experience at the state library she is active in several professional organizations. She is the NH Library Association chapter councilor to the American Library Association (ALA) governing body and a member of various national committees such as the ALA Committee on Legislation, the United for Libraries Intellectual Freedom & Advocacy Committee, and ALA Policy Corps. Ms. Fisher also has received recognition for her work within the library profession, including the 2017 NH Library Trustees Association Library Director of the Year award, the 2017 Ann Geisel Award of Merit from NH Library Association, the 2020 NH Library Trustees Association Dorothy M. Little award, and the 2021 Impact Award from the NH School Media Library Association.
"I am thrilled to be the next Maine State Librarian, said Fisher. "This is a once-in-a-lifetime opportunity to help the dedicated staff of MSL grow the partnerships that support and enhance the lives of all Mainers. I look forward to building on the work that has been accomplished across the state in our libraries and communities."
Ms. Fisher replaces Jamie Ritter who had been State Librarian since 2014.