Reptiles & Amphibians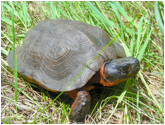 Wood Turtle (photo by Jonathan Mays)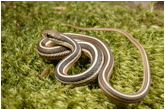 Ribbon Snake (photo by Jonathan Mays)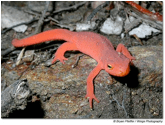 Red Eft (photo by Bryan Pfeiffer)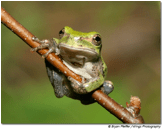 Grey Tree Frog (photo by Bryan Pfeiffer)
Amphibians (frogs and salamanders) and reptiles (snakes and turtles) have several life history characteristics that make them more sensitive to certain threats than other vertebrates, including low mobility, extreme site fidelity, a requirement for both water and land, and (for amphibians) a permeable skin vulnerable to pollution, acidity, elevated temperatures, and UV radiation. One of Maine's native reptiles, the timber rattlesnake, is now extinct in the State, while two other species have been introduced - the mudpuppy salamander and the red-eared slider turtle. In total, Maine is now home to at least 39 species and subspecies of reptiles and amphibians (collectively known as herpetofauna) and keeping track of their status and conservation needs is the job of the Department's Reptile-Amphibian-Invertebrate Group.
Much of what we know about the State's herpetofauna is the result of a cooperative atlasing effort by MDIFW, Maine Audubon Society, and the University of Maine -- the Maine Amphibian and Reptile Atlasing Project (MARAP). Started in 1986, MARAP is likely the longest running wildlife atlas in the State, with contributions from hundreds of citizen volunteers. MDIFW also relies on its staff and professional herpetologists to conduct scientific surveys and field research to monitor the population status and habitat needs of its most vulnerable reptiles and amphibians, those species listed as endangered, threatened, or special concern.
There is much still to learn about the distribution and biology of Maine's cryptic, cold-blooded vertebrates and we encourage members of the public to support State projects to conserve this important component of Maine's biological diversity.
Funding for this work comes primarily from contributions to the Nongame and Endangered Species Fund (via Loon License Plate and Chickadee Check-off) and a State Wildlife Grant from the US Fish and Wildlife Service.