Strategic Management Plans
Maine's 2021–2035 Statewide Fisheries Management Plan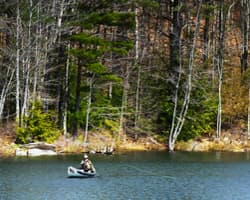 The Maine Department of Inland Fisheries and Wildlife (MDIFW) initiated comprehensive planning in 1968 and have refined and expanded the process with each planning update. In the past, the Department developed separate statewide management plans for each fish species. In 2019-2020, MDIFW will collaborate with Maine citizens to develop a new Statewide Fisheries Management Plan, with a different format from our historic individual species plans. This Plan will outline the statewide goals, objectives, and strategies for the Departments Fisheries Management Program, including content on individual fish species as well as larger issues such as angler access, management of invasive species, and the hatchery program. MDIFW contracted with Responsive Management (Harrisburg, VA) in 2016 to conduct a formal scientific survey of anglers and to host regional public meetings and focus groups. In addition to providing a representative sample of the attitudes and opinions of Maine's resident and non-resident anglers, this survey information is being used to help guide the Plan's development. A steering committee will provide guidance and advice to MDIFW during the development of the Plan and species-specific subcommittees will work on certain aspects of the Plan under the guidance of the steering committee. For more information, review our Management Plan Operational Charter (PDF).
Please check out the links below for more information on the planning process. If you have questions about the process or would like to submit comments, please contact the appropriate person below.
Committees
Steering Committee
The steering committee serves as the sounding board for MDIFW on both overall process and initial plan components and drafts, reviews and provides input on draft goals, objectives, and strategies that are developed by MDIFW and subcommittees, and provides feedback to MDIFW on time-sensitive issues involving the development of the plan.
Contact: Matt Lubejko, Coordinator of our 2021–2035 Fisheries Strategic Plan
Steering Committee Members (PDF)
Past Meetings
March 11, 2021
March 3, 2020
August 22, 2019
May 19, 2016
March 1, 2016
December 9, 2015
Technical Work Groups
Technical work groups have been formed to assist MDIFW with identifying goals and action items for the 2021–2035 planning period. These work groups function under the guidance of MDIFW and the steering committee.
Past Meetings
November 19, 2019
November 20, 2019
January 7, 2020 Landlocked Salmon Technical Work Group
January 10, 2020 Lake Trout Technical Work Group
January 10, 2020 Nonnative Salmonids Technical Work Group
January 14, 2020 Baitfish and Rainbow Smelt Technical Work Group
January 16, 2020 Bass Technical Work Group
January 23, 2020 Lake Whitefish Technical Work Group
January 30, 2020 Arctic Charr Technical Work Group
Januray 31, 2020 Brook Trout Technical Work Group