The Maine Sportsman Plate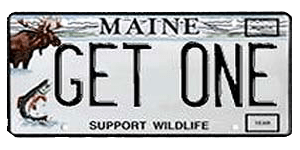 Another source of funds for wildlife conservation in Maine is the Sportsman Plate.
Proceeds from the sale of this plate are distributed as follows:
10 percent promotes endangered species conservation;
50 percent supports Maine's fish hatcheries;
25 percent builds a stronger landowner relations program; and
15 percent develops boat launches for public access to Maine's inland waterways.
The plate costs $20 annually, plus regular registration fees. Vanity plates with up to six characters are an additional charge. The Sportsman Plate is available at Bureau of Maine Vehicles or designated town offices.