Hatcheries
See Where We Stocked Yesterday
Established in 1895, Maine's fish hatchery program is one of the longest-running and most productive such programs in the United States.
Every year, the Maine Department of Inland Fisheries and Wildlife (MDIFW)'s eight hatcheries produce more than 1 million brook trout, brown trout, lake trout (togue), splake (a brook trout/lake trout hybrid), rainbow trout, and landlocked salmon, weighing in at a total of around 375,000 lbs.
Improving Maine's Fish Hatcheries
Recognizing the economic importance of recreational fishing in Maine, Governor Mills has allocated $20 million for the redesign of the Grand Lake Stream and New Gloucester fish hatcheries and water quality improvements at all state hatcheries through the Maine Jobs and Recovery Plan. Learn more.
Why do we stock?
To maintain healthy trout and landlocked salmon populations
Most of our stocking activities are biological maintenance programs - meaning that their purpose is to maintain healthy numbers of native fish. These programs provide a supplement or substitute for natural reproduction in cases where it is insufficient or completely absent. This can happen where there isn't a suitable spawning and nursery habitat, or when there's an overwhelming presence of predator or competitor fish. We continuously monitor the biological impacts of stocking, and never stock waters that naturally produce healthy numbers of wild fish.
To provide opportunities to anglers of all abilities
We also stock fish to provide anglers with fishing opportunities that would not otherwise be available. Our biological stocking programs keep longstanding fisheries well-balanced and sustained; and our put-and-take stocking programs are specifically designed to create short-term opportunities for anglers, particularly those in more urban areas.
For example, in the spring, we stock some brooks in York and Cumberland Counties where fish can survive for the season even though year-round conditions are not suitable. And in the fall, we stock large fall-yearling trout (typically brook trout), which are highly catchable by open water anglers during the fall months, by ice anglers in the winter, and in some cases by spring anglers at ice-out. These fish are attractive because of their size (usually 12-15 inches long when stocked) and their bright fall colorations, and because they're relatively easy for even novice anglers to catch.
To boost our state's economy
Fish stocking in Maine provides a total economic impact of tens of millions of dollars each year in our state, resulting in a huge return on just a $3 million annual investment from fishing license sales.

How does it work?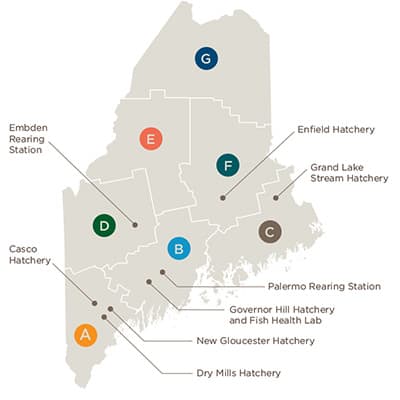 MDIFW currently operates eight fish hatcheries and rearing stations, also referred to collectively as fish culture stations. These stations are located on sites conducive to the production of coldwater fish, and are mostly are fed by surface water, with some supplied by water from springs or underground wells.
The hatcheries are just what they sound like – places where fish are hatched and raised. After hatching, some fish are moved to rearing stations to grow a little bigger.
Then, in the spring and fall, MDIFW stocks over 800 Maine lakes, streams, rivers, and ponds with high-quality fish, most of which are six inches or larger when we release them into the wild.
How we deliver the fish depends on the water body's geographic location and accessibility, but will generally fall into one of the following categories:
Truck with hose – One common stocking method is to run a large hose from a hatchery truck to the water.
Bucket – In many cases, we manually move fish to ponds in buckets that we fill at the truck. In some areas, we backpack them in as fry in a specially-made pack frame designed to carry very small fish.
Airplane – In remote areas where truck travel is not feasible, we deliver fish to ponds by airplane.
Boat – In some cases, we'll boat fish to various sections of a water body. This spreads the fish out, reducing the impact of attacks by predators like larger fish and birds.
Looking for information about private pond stocking? Download the Fish Stocking Permit for Private Ponds Application (PDF)
Learn more about our Hatcheries:
How do we decide where and when to stock?
MDIFW regional fisheries biologists use field data, public input, and critical thought to build each year's stocking program. They also follow size and number guidelines for each species, which are based on available habitat, degree of competition from other fish species, and available forage (feed).
We plan fish production schedules at least two years in advance to ensure that enough fish of each needed species, strain, and size will be available. Exactly what species we choose to produce at each facility is governed by the need for specific species, strain and size, the suitability of each facility for certain species.
To give our biological stocking programs the best chance of success, and to give anglers the best returns, MDIFW fish culturists strive to meet fish quality goals (size and condition at a given age) for all species and strains grown in our hatchery system. They take great pride in the products they stock and are continually finding ways to improve them.
Learn more about statewide fisheries management and hatchery goals and hatchery operations in the Inland Fisheries and Hatcheries Strategic Management Plan.