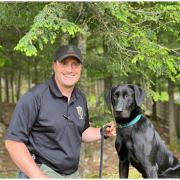 July 1, 2020 at 12:30 pm
Due to unprecedented times K9 training was pushed back. We originally were scheduled to start K9 training in March shortly after being accepted on the Warden Service K9 team and being issued a dog. Luckily for me this gave me more time to bond with Gordon.
Keep In Touch!
Enter your email or mobile number to receive the latest news from MDIFW.