ArrayJune 24, 2020 at 3:51 pm
by Maine Game Warden Michael Latti
The past few months have been unusual to say the least. Restrictions due to COVID-19 has made some aspects of training difficult and quite different. The original K9 school which was scheduled to run from March to June was canceled. However, it was critical for us to begin training in order to have a full Maine Warden Service K9 team. To begin training while remaining safe and following CDC guidelines much of the initial instruction and obedience training was done remotely via FaceTime or video chat and we met with the trainer K9 Corporal Lucas Bellanceau once a week to go over different obedience commands. This "virtual training" lasted about a month and a half and focused on basic commands such as sit, down, and heel until we were able to start group training again.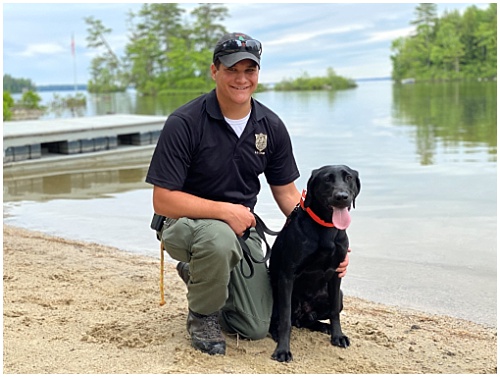 Basic obedience training starts the process of communication between the handler and K9, laying the foundation for more advanced detection and tracking work. Having a dog that listens and completes a desired task reliably and effectively is essential for a working K9. For a K9 to be effective, they need to do what they are told when we tell them.
I met K9 Luna on February 11 and since then we have spent time getting to know each other and learning basic commands. It did not take me long to realize that Luna had a lot of energy. The first time I brought her to my house I figured it would be good for her to sniff around and get used to her new home. I turned my back around for just a few seconds and I heard some commotion behind me. I turned around and Luna was at eye level with me. In the matter of a few seconds she had jumped on the counter in the kitchen. I guess she needed to get a better view of the place.
I often remind myself that even though Luna is a working dog who will eventually be able to find missing people, detect articles, and much more, she is still a dog. As the weather warmed up, she was quick to find any body of water she could swim in. She is always keeping an eye on the backyard making sure a chipmunk hasn't wandered onto the lawn. One night, while letting her out before bed, she refused to go outside. This was extremely unusual behavior for her as she usually clears the deck in two leaps or so. I quickly realized that she wasn't leaving the house because there was a June bug in the way. I cleared the June bug out of the way and she then felt that she could safely leave the house. When we returned to the door, there was another June bug in the way. Before I cleared it out of the way, I wanted to see what Luna would do. She slowly walked up the June bug and gave it a few sniffs. She then decided to eat it. I considered that the final step for her in overcoming her fear of June bugs. We have not had any problems since.
Luna and I still have a long road ahead of us to get certified, but it is a challenge we are both ready for. The next step, after obedience, is to start on tracking. We will be working with other new Maine Warden Service K9s to get fully certified in tracking. I look forward to getting Luna trained and in the field.
Read more from the Following Maine's Newest K9 Handlers series: