July 1, 2020 at 12:30 pm
by Maine Game Warden Preston Pomerleau
Gordon is my black lab that was named in honor of Maine Game Warden Pilot Daryl R. Gordon who died in the line of duty in 2011. During this postponement, Gordon and I pretty much spent every waking moment together.  He has been accepted into our house, my family, and now into our everyday life.  It took my wife and kids a little longer to warm up to Gordon as I welcomed him into our home without any manners.  As time past the manners are better and the bond is greater.  Prior to formal training I worked with Gordon on obedience. When June rolled around, we found ourselves on the shores of Sebago Lake at Camp Sunshine for the start of our K9 training with Michael Latti and K9 Luna.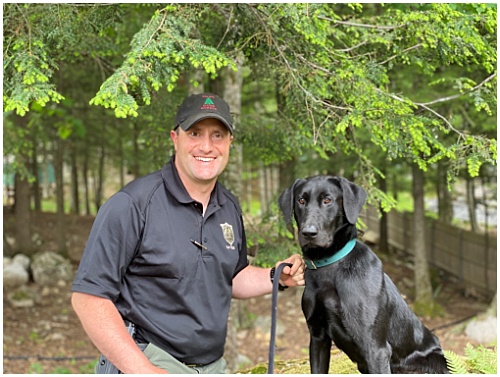 The last several weeks Gordon has only eaten food from my hand as we worked on obedience.  So, Gordon eats while we are training not from a bowl in the morning and night like most dogs.  As my seven-year-old daughter would say "he needs to earn it." We started our tracking training with imprinting or marking of articles. The articles we start with are metal washers, which are approximately two inches in diameter.  So now the only time Gordon is eating is when he is laying down looking at the washer between his two front legs.  You may be wondering, why would a K9 need to be able to find a washer? The metal washers have human scent placed on them after being sterilized which is training the K9s to search and target human scent only. Being able to follow human scent is essential for tracking missing humans, locating a fish and game violator, or looking for items containing human scent to solve a fish and game case.
Over the first week we built up the power of the washer by rewarding desired behavior through feeding.  We went from Gordon not knowing what a washer was on Monday to the excitement he showed in laying down on the ground with his nose hovering inches above a washer between his front legs on Friday.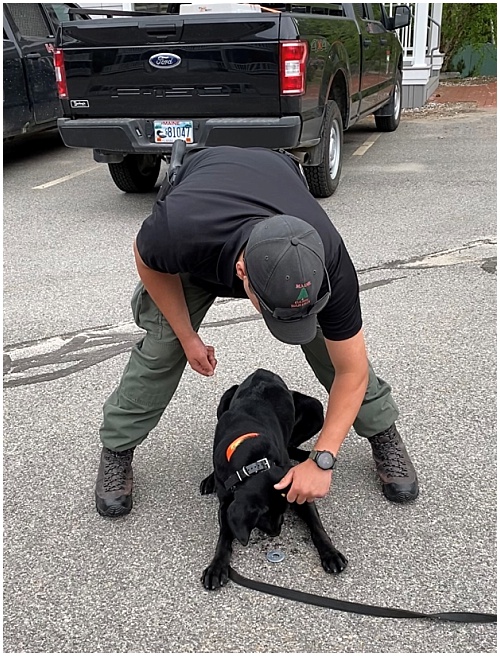 These washers are an instrumental part of the current training program for tracking. We eventually place these washers along a track as reward points for the dog to teach them that the track itself is rewarding. Wearing the washers in my socks, belt line, or in my hat puts human skin cells and scent on the washer which Gordon can use his nose to find.
I have been wearing washers steady now, or at least trying to wear the washers.  At least twice a day I take my hat off and washers will fall out of it.  It's amazing to me just how good a dog nose really is.  In the second week of the training we used the washers for tracking on pavement.  I would walk across a paved parking lot with no shoes and no socks leaving a lot of scent on the ground and placing washers along the way.  I am usually not much for walking around barefooted, so this was the most sun my feet had seen in a long time.  After the track was laid on the ground, I would start Gordon on the track, rewarding him along the way when he came to a washer.  This concept gives reward during the track and makes the entire track rewarding not just getting to the end.  We started with short tracks and built up distance and difficulty throughout the week and will eventually begin to train in the woods to be more of a real-life situation.
I was very pleased on Friday at the end of the second week of training. Not just because I was going home to see my family after a long week, but Gordon had caught on to the training and is doing well.  We did have some bumps in the road along the way, but he continues to amaze me.  Gordon has great drive and a desire to please me.  I have been around dogs my entire life but until now I never realized how capable they can be with the proper training.   
Read more from the Following Maine's Newest K9 Handlers series: