Where to Hunt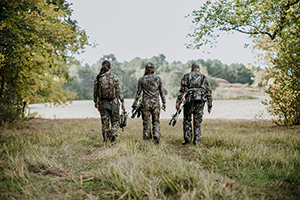 Maine has over 17 million acres of extraordinary land available to hunters.
When it comes to finding where you want to hunt, you have two options: private land or public land. Here are a few tips on how to find where you may want to hunt and how to be a good land user to continue access for generations to come.
Private Land
Roughly 94% of Maine's forest land is privately owned, and more than half of that land area is open to the public. In total, landowners voluntarily open up more than 10 million acres of working farms and forests.
This access is an incredible gift, and in order to preserve it, everyone who ventures outdoors needs to understand the contribution that landowners make.
Accessing private land: there's the law, and then there's the unwritten rule.
The law - Unlike most other states, Maine operates under an implied permission structure, meaning that if land is not posted, it is legal to use the land.
The unwritten rule - Always ask permission. Hunting, fishing, or otherwise using private land without the owner's permission is a careless move that puts everyone's future access at risk.
When venturing into the Maine woods, follow the unwritten rule.
When asking for permission to hunt on someone else's land, learn what matters most to the landowner and abide by all special requests they make. Make sure you ask:
Where you can or cannot drive or park a vehicle.
Which specific activities are allowed. Just because you can hunt there does not mean you have permission to place a treestand, game camera, or cut a shooting lane. Always ask first and be specific with your request(s)!
About specific seasons. For example, landowners may allow you to hunt deer, but not wild turkeys in the spring.
And if your friend or hunting partners want to come along, they need to get landowner permission too.
Learn how to be a good land user
---
Public Land
Find public land to hunt on
Wildlife Management Areas
MDIFW manages over 110,000 acres throughout the state. The purpose of the wildlife management area system is to provide a statewide, ecologically based system of land holdings for the protection and enhancement of important wildlife habitats that also provides opportunity for public recreation, including hunting. All MDIFW-owned Wildlife Management Areas (WMA), except Steve Powell WMA (Swan Island) and portions of Steep Falls and Killick Pond WMA, are open for general-law hunting and trapping.
Rules for Hunting on a WMA: Removable stands or blinds, such as ladder, hang on, pop-up blinds etc. when placed for more than one day require a permit to hunt on MDIFW-owned WMAs. Permanent structures are prohibited. Permission is not needed if blind and stand are removed daily. Placing or hunting over bait and bear trapping is authorized by permit only. A person may utilize game cameras on WMAs without landowner permission. Contact the appropriate Regional office for permit inquiries.
Find a WMA Near You
State Parks
State Parks are not managed by MDIFW, but some do allow hunting. There are restrictions on some timing, activities, and distance from developed areas. Click here to find a State Park open to hunting and be sure to read the rules for State Parks.
Public Reserved Lands
Public reserved lands offer half million acres managed for recreation, wildlife, and timber. They are open to hunting. Click here to learn more.
---
Wildlife Management Districts
To help biologists collect and evaluate data and fine-tune management recommendations Maine is divided into 29 Wildlife Management Districts (WMDs). Always be certain of the Wildlife Management District (WMD) before you begin hunting. Season dates and bag limits can vary depending on the WMD.