Trapping Laws & Rules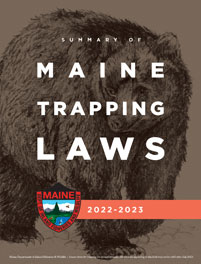 Search the Trapping Laws & Rules
Index
Reminders for the 2022-2023 Season
Jaw/Tooth Sample Requirement: Trappers and hunters must submit a lower jaw or canine tooth for fisher, marten, and river otter and a lower jaw, canine tooth, or lateral incisor tooth and meat sample for bobcat at the time of fur registration and tagging. Partial jaws are not acceptable because they have resulted in too many broken canines over the past several years. Learn more about biological samples.
Update to Beaver and Muskrat Trap Setbacks: The Department has streamlined the distance of traps to a beaver house, muskrat den or house, active beaver dam, and to another person's beaver traps. Beaver traps must be set at least 5 feet from another person's beaver traps. You are not allowed to set a trap within 5 feet of a muskrat house, a muskrat den, a beaver house, or an active beaver dam. The exceptions to this rule are that in WMDs 1-6, 8-11, 18 and 19, there is no required setback distance from a beaver house or an active beaver dam.
Beaver Trapping Closures: An updated list of open and closed areas to beaver trapping are listed here.
Bear Trapping: Changes related to bear trapping license requirements, permit fees, and bear trapper education requirements can be found here.
Mandatory Trapper Harvest Reports: Fall and Spring Harvest Reports are due for all licensed trappers 16 years and older, by January 31 and May 31, even if a trapper did not trap. Click here to complete your surveys online. Click here to view instructions (PDF)
2023-2024 Trapping Seasons
Beaver trapping season dates as well as open and closed areas are subject to change annually.
Season
Area
Season Dates
Early Fox & Coyote
Statewide
October 15 - October 28, 2023
Early Muskrat
WMDs 1-6 & 9-11
October 22 - October 28, 2023
Beaver
WMDs 1-4
October 15, 2023 - April 30, 2024
WMDs 5, 6 & 8-11
October 22, 2023 - April 30, 2024
WMDs 7 & 12-29
October 22, 2023 - April 15, 2024
Bear
Statewide
September 1, 2023 - October 31, 2023
General Trapping (bobcat, coyote, fisher, fox, mink, muskrat*, opossum, otter, raccoon, red squirrel, marten, skunk, weasel)
Statewide
October 29, 2023 - December 31, 2023