Bear Trapping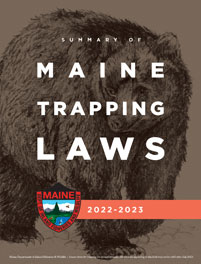 On this page:
Bear Trapping Permit and Bag Limits
Bear trapping permit requirements, effective January 1, 2022:
A bear trapping permit and a big game hunting license or a bear trapping permit and trapping license are required to set a trap for a bear during the bear trapping season (September 1 - October 31). You are allowed to take one bear by trapping and one bear by hunting annually (see Bear Hunting). The fee for a bear trapping permit is $10 for residents and $67 for nonresidents.
Effective as of January 1, 2022, to purchase a bear trapping permit you have three options:
Option 1: Must have completed a Maine Trapping Education course (includes all furbearers and bear) dated after 1978. OR Previously held a Maine Bear Trapping permit prior to 2022.
Option 2: Must have completed the NEW Maine Black Bear Trapping Education course (online or in-person).
Option 3: A person may trap for bear under the supervision of and in the presence of a licensed hunting guide who has successfully completed the Maine Black Bear Trapping Education course. *These permits are only issued from the Augusta office.
First time trapping licenses (including first time bear trapping permits) and bear trapping permits for those trapping under the direct supervision of a guide who has taken the bear trapping education course must be purchased through the MDIFW office in Augusta (in person or by emailing ifw.licensing@maine.gov or mailing a Trapping License Application (PDF) to the MDIFW Augusta office). Trapping license renewals, including bear trapping renewal permits, may be purchased online.
Application can be mailed to:
Inland Fisheries and Wildlife
Licensing Division (Trapping)
353 Water Street – 41 State House Station
Augusta, Maine, 04333
Bear Trapping Laws
If you trap for black bear, you are required to follow the same general trapping rules regarding the labeling of traps, the tending of traps, and the need to obtain landowner permission.
If you trap a bear, you are required to follow the same transportation and registration rules as those for bear taken by hunting.
You are also required to follow other rules specific to bear trapping, as follows:
Bear may be trapped only with the use of cable traps (foothold cable restraint) or cage-type live traps.
You are not allowed to have more than one trap set for bear at any time.
Whenever a cage-type live trap is used to trap bear, the trap must be enclosed and must be heavily constructed to prevent damage from bears, and also must have adequate openings for ventilation and cooling inside when the door is closed. Traps must also be constructed with no sharp intrusions to injure bears, and be large enough for bears to turn around inside the closed trap.

All bear traps must be tended at least once a day. Electronic trap notification devices cannot be used in lieu of physical checks.
You are not allowed to catch a bear in a trap and allow another person to kill or register the bear.

You cannot continue to trap for bear after you have already killed or registered one in a trap.

Bears caught in traps must be killed or released and not moved away from the catch site. A bear caught in a trap may not be used in conjunction with a hunt or to train a dog for bear hunting.

The same rules apply to hunting and trapping for bear with the use of bait. See section below for more information on using bait when trapping a black bear.

You may not trap within 500 yards of a solid waste disposal site. These areas can be identified by a visible line of demarcation. Exception: an agent of the commissioner is exempt for the purpose of live trapping of nuisance bear.
Bait
Bait may be placed up to 30 days prior to the opening day of the bear bait hunting season and no later than October 31. Bait areas must be cleaned up by November 10. Bait can be used to assist dog hunters and trappers, but it is illegal to shoot a bear over bait after the close of the bait season.
Hunting with the use of bait is defined as hunting from an observation stand, blind, or other location that overlooks any bait or food, except standing crops and foods that have been left as a result of normal agricultural operations or natural occurrence.
Bear bait means any animal, plant, or derivative thereof, used to attract bear. This does not include packaging or container materials that fall within the definition of litter under Title 17, §2263.
A person may not place any medicinal, poisonous, or stupefying substance to entice any animal, including bear. It is unlawful to disturb or interfere with a bait site using chemicals or any other method.
Bait may not be placed to entice, hunt or trap black bear unless:
The bait is placed at least 50 yards from any travel way that is accessible by a conventional 2-wheel or 4-wheel drive vehicle.
The observation stand, blind, or bait area is plainly labeled with a 2 inch by 4 inch tag with the name and address of the baiter.
The bait is placed more than 500 yards from any solid waste disposal site or campground.
The bait is placed more than 500 yards from an occupied dwelling, unless written permission is granted by the owner or tenant.
The person placing bait on another person's land has the landowner's permission (oral or in writing).
If placing bait on a wildlife management area, you need to secure a permit from MDIFW. To apply for a bear baiting permit, contact the wildlife biologist in your administrative region.

If placing bait on Public Reserved Land, you need to secure a permit from the Bureau of Parks and Lands (for info, call 207-287-3821).
Baiting of animals is prohibited in State Parks and Historic Sites.
Bear Hunting Prohibitions
A person cannot, within 50 yards of a bait site and without written permission from the person who maintains the bait site, hunt, trap, molest, or harass bear.
Laws Regarding Registration
Prior to registration, bear may be dismembered for ease of transportation, all edible meat, the head and evidence of sex must be presented for registration. The viscera, hide, lower legs and rib cage, including the ribs, spine and pelvis, are not required to be presented for registration but must be disposed of where they are not visible to a person traveling on a public or private way.
Gift bear must have each part clearly labeled with the name and address of the person who registered the animal and the year in which it was registered.
Note: Hunters and trappers are required to remove a premolar tooth from the bear they harvest and provide the tooth at registration (instructions available at the registration stations or online). Hunters and trappers will be notified of the age of the bear they harvested on the Bear Hunting page of the MDIFW website prior to the start of the next bear hunting season (late August).
New Bear Trapping Rules Established in 2019
COMMERCIALLY AVAILABLE CABLE TRAPS
A list of commercially available legal cable traps (when set according to the parameters described), is available on our website at mefishwildlife.com/beartrap.
Examples of Commercially Available ILLEGAL Cable Traps
These rules were developed to improve design and deployment standards for cable traps (foot-restraints) used to capture and harvest black bears, while minimizing incidental capture of non-targets, including the Federally Threatened Canada lynx. Most importantly, these rules ensure that cable traps are set in a manner to effectively capture and hold a black bear by the foot or leg and minimize the risk of injury.
Cable Traps
Design & Deployment Standards
Design Standards for All Cable Traps Used to Capture Black Bears
Whenever a cable trap is used to trap for bear:
The cable must have a minimum closing diameter of not less than 2½ inches
The cable must be at least 3/16 inches in diameter
The cable must include at least one swivel, which is typically located between the foot loop and the anchor point
Deployment Standards for ALL Cable Traps Used to Capture Black Bears
The cable must be set at or below ground level in such a manner as to catch the animal only by the foot or leg.
Drags are prohibited.
The cable must be securely attached to a fixed anchor point (tree is the preferred anchor).
If a tree is used as an anchor, it must be at least 6 inches in diameter at 4.5 feet above ground level and must be free of limbs for at least 7 feet above the ground.
The catch circle, which is the distance from the anchor to the end of the closed cable loop, must be no greater than 8 feet.
The area within the catch circle must be clear of woody vegetation, debris and manmade material that could cause entanglement of a trapped bear. This restriction does not include a tree used as an anchor. Sticks, rocks, and rotten/decaying woody material may be used for stepping guides, blocking, and backing for trap sets, if they are not rooted to the ground.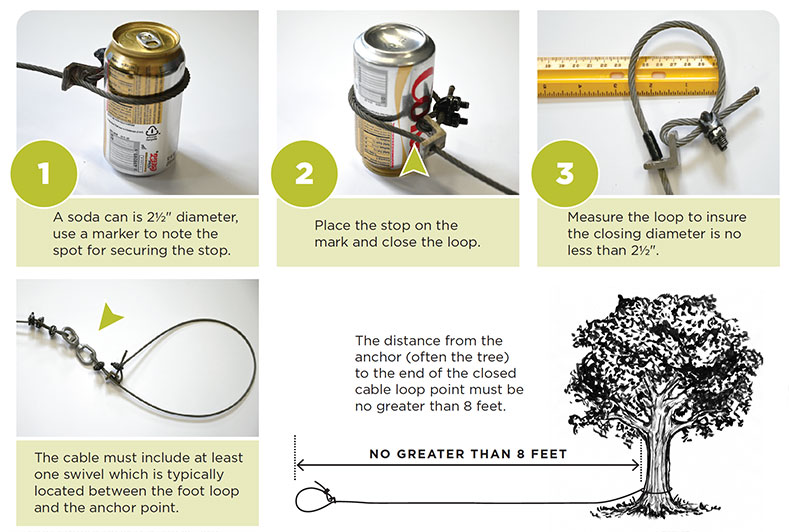 Bucket, Tube or Pipe-style Traps
Design & Deployment Standards
Design Standards for Bucket, Tube or Pipe-style Traps Used to Capture Black Bears
Whenever a cable trap is used in conjunction with a device that is designed to capture a bear when it reaches into the device to obtain bait (e.g. bucket, tube, or pipe-style traps):
The trigger must be recessed at least 12 inches below the opening of the device.
The opening and inside diameter of the device must be no more than 6 inches.
A bucket or other similar device can be used if it is modified to have an opening and inside diameter no greater than 6 inches.
Deployment Standards for Bucket, Tube or Pipe-style Traps Used to Capture Black Bears
Animal-based bait and/or lure cannot be placed within the bucket, tube or pipe. Animal-based bait is defined as animal matter including meat, skin, bones, feathers, hair or any other solid substance that used to be part of an animal. This includes live or dead fish.
Only non-animal based bait and/or lure can be placed within the device and it must be placed below the trigger.
The opening to the device must be covered by a weight of at least 30 pounds when set and tended to prevent access by non-target species.
Example of a modified trap:
Illegal
The Unmodified M-15 trap is illegal in Maine.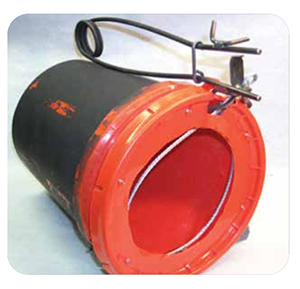 Legal
The M-15 trap is legal if it is modified to have an opening and inside diameter no greater than 6"and if the trigger is recessed at least 12" below the opening of the device; and is set.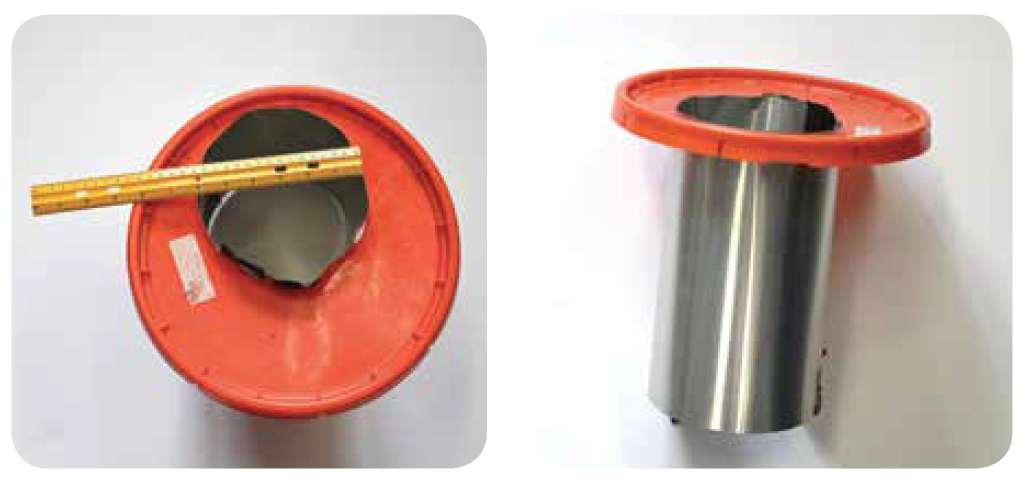 Cut a 6" diameter hole in the lid.
Insert a tube with an inside diameter no greater than 6" and at least 12" tall to allow the trigger to be set 12" below the opening, then place the tube in the bucket and secure the lid.
Bear Trapping Frequently Asked Questions (PDF)