Deer Hunting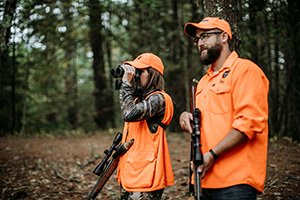 Deeply rooted in Maine's culture, the fall deer hunting seasons are the most popular hunting seasons in Maine. This challenging but rewarding hunt brings hunters of all experience levels to the woods, eager to spend more time outside, connect with nature, and bring home lean protein to share with friends and family.
White-tailed deer are an elusive and remarkably adaptable animal capable of living in a variety of environments, from our northern forests with their harsh winters to small pockets of woodland in urban environments. Whitetails are found throughout Maine, and Maine's varied landscape offers the opportunity to hunt deer in big woods, mountains, coastal habitats, and mixed woods and agriculture.
Deer hunters in Maine have five seasons to pursue deer: expanded archery, regular archery, general firearms, and two muzzleloader seasons, offering a total of 79 days of opportunity.
Learn more: Antlerless Deer Permit Antlerless Deer Permit Lottery Expanded Archery Season on Deer Managing Buck Age Structure Find a Deer Meat Processing Facility Find a Deer Registration Station Deer Hunting Laws Help keep CWD out of Maine
Managing Maine's White-tailed Deer
Learn about the history of deer management, the status of Maine's deer herd, and the current strategies used to manage deer in Maine.