Freeport Bridge Project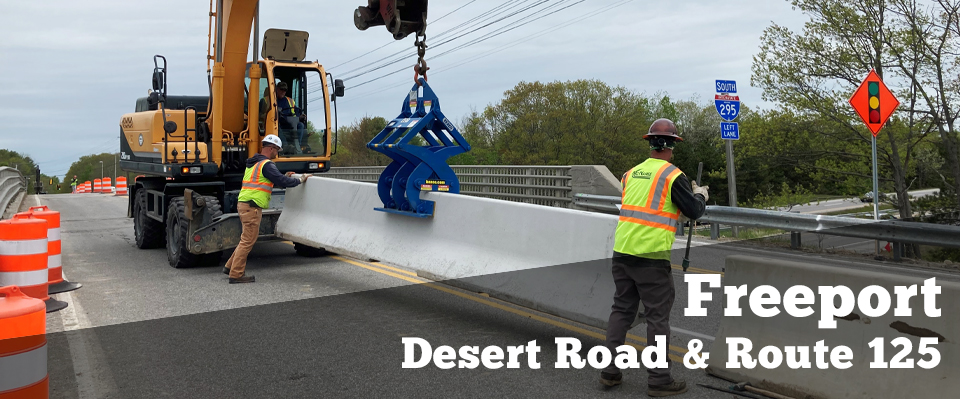 MaineDOT will be conducting work on I-295 exits 20 and 22 in Freeport. This work includes a complete reconstruction of the Desert Road and Mallet Drive bridges over 1-295. The traveling public should take caution when utilizing these on and off ramps and drive safely and slowly through construction zones. The contractor for this project is McNamee of Oxford CT. Work is scheduled to be completed in late 2025.
7/6/2022:

Bridge Replacements over I-295 in Freeport

News Release for July 6, 2022

For more Information:
Paul Merrill, Director of Communications - 207-215-9297

---
FREEPORT - The Maine Department of Transportation is replacing the bridges that cross I-295 at Exits 20 and 22 in Freeport. The bridge at Exit 20 carries Desert Road over the interstate; the bridge at Exit 22 carries Mallett Drive (Routes 125 and 136) over the interstate. These bridges were originally constructed in 1957 when I-295 was first built.
Each new bridge will feature a 12-foot-wide multiuse path that will tie into paths the town is planning to construct in the future. Traffic signals will be installed at the ends of the northbound and southbound interstate exit ramps.
This project will impact traffic. The department is allowing full closures of I-295 between 1:00 a.m. and 5:00 a.m. for no more than 25 minutes at a time. Single lane closures on the interstate are permitted at night. Exit ramp closures are allowed between 11:00 p.m. and 5:00 a.m. Desert Road and Mallett Drive will have two lanes of traffic most of the time, but drivers may occasionally encounter alternating single-lane traffic patterns.
The work at these two interstate exits is bundled together in a single contract. That contract amount is $25,720,500. This project is the recipient of discretionary federal grant funding from the U.S. Department of Transportation's Competitive Highway Bridge Program. The contractor on this project is McNamee Construction Corporation of Lincolndale, New York.
Work on these projects started earlier this year and is expected to be finished by the end of 2025.
###