Project Information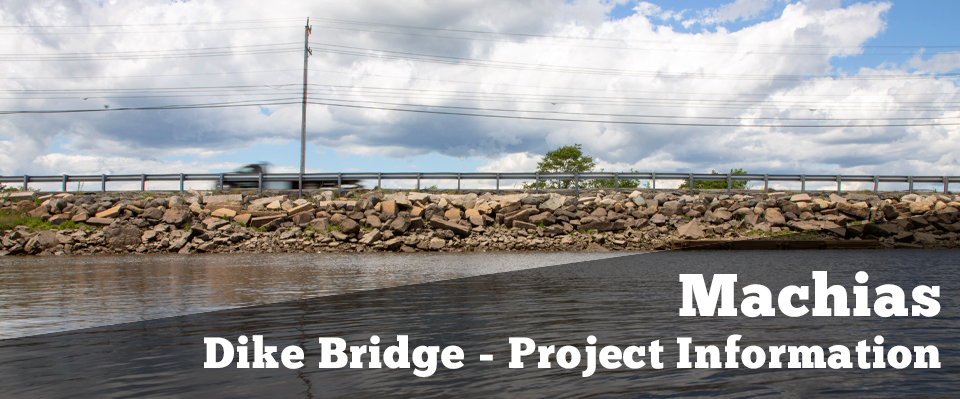 Bridge #2246 carries Route 1 over the Middle River in the Town of Machias, Maine. The Middle River joins the tidal portion of the Machias River at/immediately downstream of the bridge. The existing bridge consists of four box culverts within an embankment structure (causeway). The culverts are constructed of timber and stone masonry and are pproximately 130 feet long, 6 feet wide and 5 feet high. Each culvert has top‐hinged flap gate installed on its seaward side. The causeway is constructed of timber cribbing with rubble and earthen fill and is over 1,000 feet long.
The culverts and the flap gates are deteriorated. MaineDOT is studying options to rehabilitate or replace the bridge.
Purpose and Need
Primary
To achieve an overall structure rating of Good (7/9) or better; and
To preserve the Calais Branch Rail Corridor in the area in accordance with
the State Railroad Preservation Act.
Secondary
Maintain existing uses
Municipal coordination including local planning efforts underway
Minimize flooding and impacts
Restore fish passage
Account for Sea Level Rise
For additional information on Purpose and Need, please review the Full Purpose and Need document.
Regulatory & Decision-Making Process
MaineDOT anticipates using federal resources to rehabilitate or replace the Machias Middle River Bridge and must follow all applicable state and federal regulatory processes. In particular, the National Environmental Policy Act (NEPA), Endangered Species Act and Section 106 of the Historic Preservation Act will influence how a preferred alternative is selected. The environmental review process is not limited to the natural environment but also includes cultural, social and economic resources as well.
Natural
Fisheries
Wildlife
Coastal Wetland
Tidal Exchange
Climate Change
Sea Level Rise
Cultural
Historic resources
(racetrack, railroad depot)
Archaeology
Recreational facilities
(trails, boat launch)
Social and Economic
Community
Property
Business
Traffic
Utilities
Cost
NEPA does not require MaineDOT to select an alternative with the least amount of environmental impact and/or any alternative with the lowest cost. NEPA guides the decision-making process which is summarized by the following table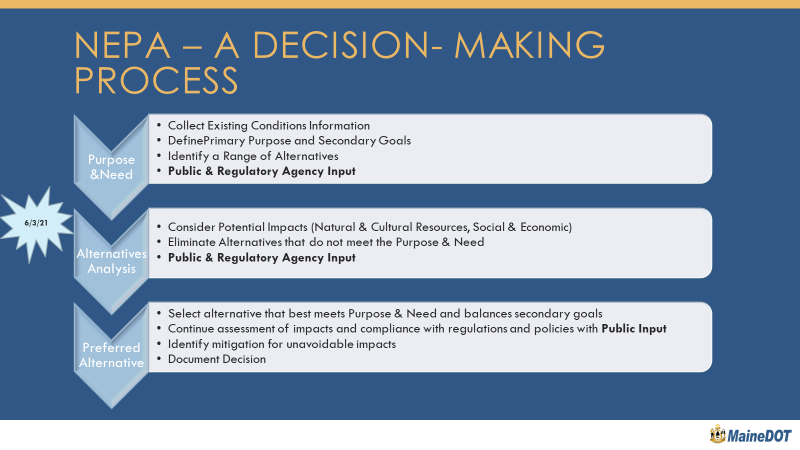 Alternatives Under Consideration
The attached matrix summarizes several alternatives depicted for further study involving both bridges and culverts. Culverts generally provide better control over landward water levels, support a phased approach to Sea Level Rise and are easier to accommodate railroad corridor grade constraints. Bridges better accommodate fish passage and tidal restoration, but have challenges associated with maximum Sea Level Rise accommodation and Route 1 connectivity. While any alternative that moves forward into design will be coordinated with Machias' Flood Protection Project, the ability to adjust the height of Route 1 over time with culverts could make coordination easier.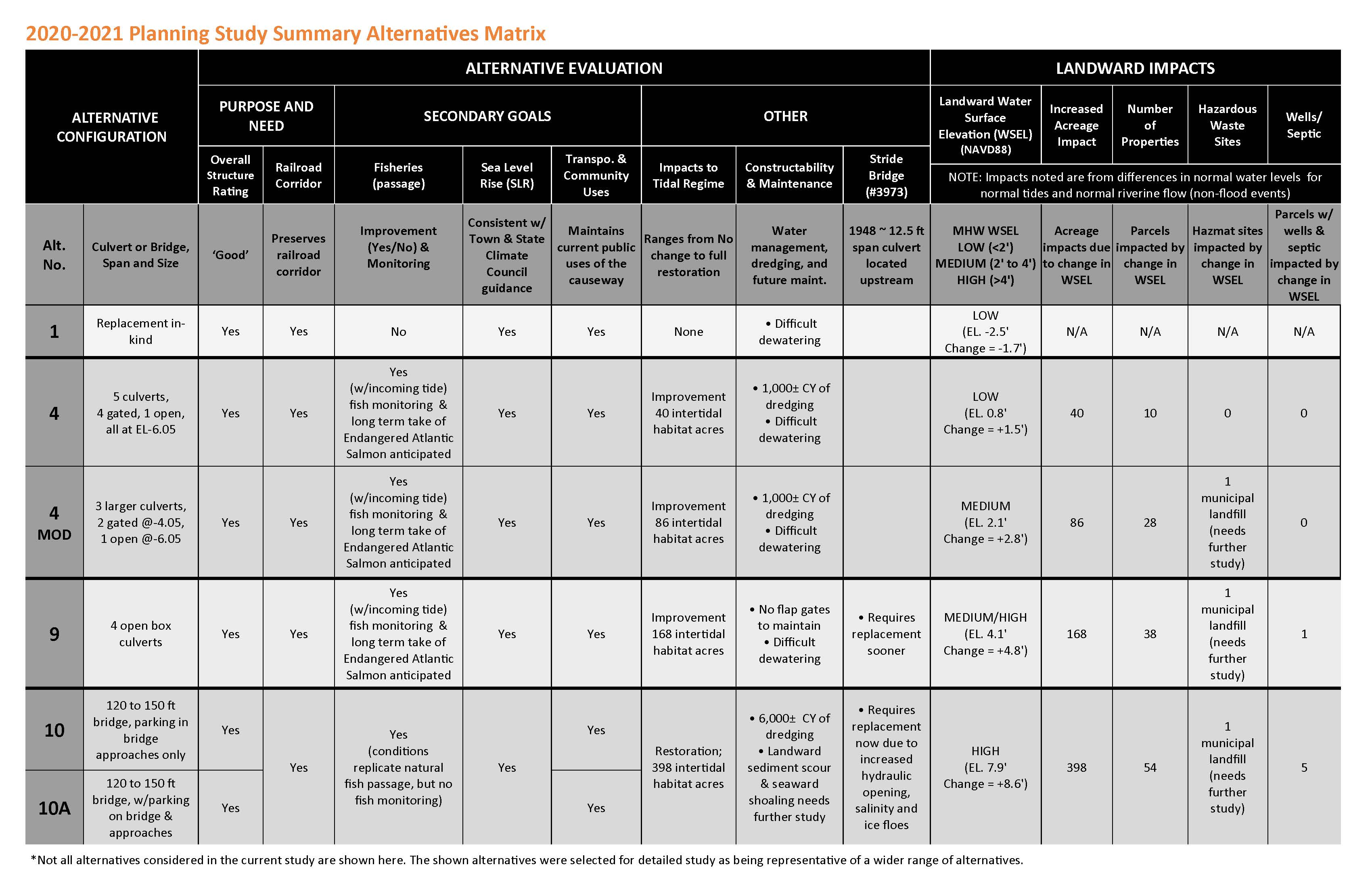 Alternatives Supporting Information