MaineDOT Complete Streets Policy
The Maine Department of Transportation (MaineDOT) has a long history of providing for the needs of all modes of travel in the planning, programming, design, rehabilitation, maintenance, and construction of the state's transportation system. Complete Streets policies have a foundation in federal law, guidance, and best practices, and have been signed into law or policy in states and communities throughout the nation.
The intent of this policy is to help ensure that all users of Maine's transportation system—our customers—including bicyclists, pedestrians, people of all ages and abilities, transit users, and motor vehicle users, have safe and efficient access to the transportation system.
MaineDOT strongly supports a multimodal transportation system, and recognizes that pedestrian and bicycle infrastructure such as sidewalks, bicycle lanes, separated facilities, transit stops, ADA-accessible routes, etc., are crucial elements of the transportation system. In addition, a safe, multimodal, and vibrant transportation system is vital to Maine's economy, and to the community environments which are such an important component to our transportation system.
The MaineDOT Complete Streets Policy; developed in 2013 and 2014, formally approved in June 2014, and revised in July 2019 outlines how MaineDOT and its project partners will consider the needs of all users when planning and developing projects.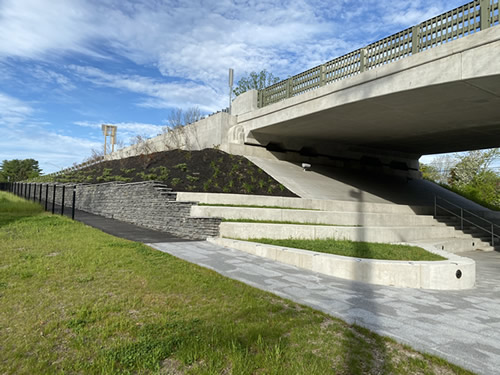 Related Policies, Laws, Rules, Guides and Training Programs