Tagging Requirements and Fur Tagging Stations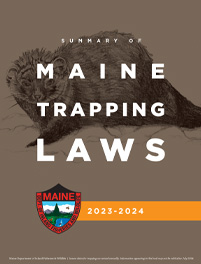 On this page:
Tagging Requirements
General Requirements
The skins of all beaver, bobcat, coyote, fisher, fox, marten, mink and otter must be tagged within 10 days after the end of the season on each species. Tags must be attached to the skins of these furbearing animals before you may sell, gift, send or transport the pelts except for preparation and tagging purposes. A fee of 25¢ may be charged for each pelt that is registered; the Department will no longer charge fur registration fees.
Bobcat & Otter Tagging
Bobcat and otter must be tagged by Department personnel.
Skins of other furbearing animals (muskrat, opossum, raccoon, red squirrel, skunk and weasel) do not need to be tagged. Exceptions: The skins of all bobcats taken by hunting shall be presented by the person who harvested the bobcat for tagging within 10 calendar days from when they were taken. All otter incidentally harvested during extended beaver seasons (January 1st through April 30th), must be tagged within 10 calendar days of harvesting the animal. Untagged coyotes are allowed to be gifted.
Coyote Gifting
Harvested coyotes can be gifted to another person without the attachment of a permanent tag, but must have the following information attached to the coyote: person's name who harvested it, hunting or trapping license number, harvest method, harvest date, harvest town.
Beaver
All beaver must be tagged within 10 days of the final closing date on beaver. For example, if beaver are allowed to be trapped in some districts until April 30th, all beaver skins, regardless of where they were taken, must be tagged by May 10th.
Marten and Fisher
Trappers are no longer required to tag marten or fisher with temporary transportation tags. Trappers are still required to follow the rules for marten and fisher bag limits. Marten and fisher must still be registered and tagged at a fur tagging station. A canine tooth or lower jaw must also be submitted to a fur tagging agent for marten and fisher that are trapped.
Bringing the Skins of Furbearing Animals into Maine from Another State or Province
The skins of furbearing animals harvested in another state or province must be tagged in that state or province before being brought into Maine. If that state or province has no tagging requirements, the skins must be tagged in this state. The tagging of imported fur applies only to those nine species for which Maine requires tagging. Note: Skins imported by taxidermists solely for taxidermy purposes do not require tagging.
Tagging Animals Before the Skin is Removed From the Carcass
Skins may be tagged while still attached to the carcass, but it may make it difficult to properly prepare the skin if it has already been tagged.
Tagging Frozen Skins
If a skin will be frozen at the time it is presented for tagging, even if it hasn't been removed from the carcass, a popsicle stick, tongue depressor, or similar object should be inserted from the mouth hole through one of the eye holes before freezing. Removal of the stick at the time of tagging allows the tag to be inserted in the skin without thawing it out. Tagging agents may refuse to tag frozen skins which have not been prepared in this manner.
Tagging Locations
Bobcat and otter must be tagged by Department personnel. Other furs may be tagged at one of the many fur tagging stations which are located throughout the state, see Fur Tagging Stations. In addition to fur tagging stations, furs may be tagged at any regional office of the Department (please call ahead) and, through prior arrangement, by any Department game warden or wildlife biologist. You can also tag your furs and visit with a biologist and warden during MDIFW Fur Tagging Days (see below for office contact information).
MDIFW Fur Tagging Days
Location
(MDIFW Office)
Fall Fur
Ashland
January 9, 2024 10am-6pm
Bangor
January 2, 2024 10am-6pm
Gray
January 2, 2024 10am-6pm
Jonesboro
January 8, 2024 10am-6pm
Sidney
January 4, 2024 10am-6pm
Strong
January 3, 2024 10am-6pm
Click here for MDIFW office locations and contact information.
Taking Furs Out of the State
If furs have been properly tagged, it is permitted by Maine law to take or ship furs out of the state. Federal laws and regulations are subject to change and should be consulted before exporting any CITES species (i.e., bobcat, black bear, and river otter) outside the United States. For information and permit applications, please contact:
U.S. Fish & Wildlife Service
Office of Law Enforcement
70 E. Sunrise Hwy, Suite 419
Valley Stream, NY 11580
Phone: (516) 825-3950
Fax: (516) 825-3597
Maine Hide Dealers
A list of hide dealers can be provided upon request by contacting (207) 287-8000.
Inland Fisheries and Wildlife Regional Offices
| Town | Location | Telephone |
| --- | --- | --- |
| Ashland | PO Box 447 (63 Station Hill), Ashland, ME 04732 | 435-3231 |
| Enfield | 16 Cobb Road, Enfield, ME 04493 | 794-1003 |
| Gray | 358 Shaker Road, Gray, ME 04039 | 287-2345 |
| Greenville | PO Box 551 (Village Street), Greenville, ME 04441 | 695-3756 |
| Jonesboro | PO Box 220 (Rt. 1A), Jonesboro, ME 04648 | 255-2080 |
| Sidney | 270 Lyons Road, Sidney, ME 04330 | 287-5300 |
| Strong | 689 Farmington Road, Strong, ME 04983 | 778-3322 |