Safety Tips
Safety is the most important part of any hunt
The Maine Warden Service has a long history in Maine for promoting safety regarding outdoor recreational activities. Game Wardens work hard to ensure everyone's outdoor experiences in Maine can take place in a safe environment. Special precautions need to be adhered to when preparing for an outdoor adventure in Maine.
As you join thousands of hunters heading into the woods, fields, and marshes during the spring or fall hunting seasons, Maine Game Wardens remind you to review and think about firearm safety each and every time you head out.
Here are a few safety reminders:
Always treat every firearm as if it is loaded
Keep the muzzle pointed in a safe direction at all times
Always carry your firearm in a safe manner
Be sure of your target and beyond
Always tell someone where you are going and when you expect to return
Always have a survival kit and compass, even the most experienced outdoors people can get turned around in the dark
Planning your hunting trip also means having your gear in proper working order. Firearms should be cleaned and closely inspected for any signs of mechanical wear that could result in a problem in the field.
Firearms are not the only items that need to be checked well in advance of a hunting trip. Clothing and other equipment should also be inspected for signs of wear and tear. Anything that might cause you to compromise safety should be repaired, discarded, or replaced. Blaze orange clothing that has faded over time, a jacket that does not fit correctly, or a scope that is not adjusted can compromise your safety and the safety of others.
Be Prepared, Have a Survival Kit
When venturing into the Maine woods, you should always carry a basic survival kit. Take good care of it, always keep it on you, and only use it in an emergency.
Items to always keep on your person (and never enter the woods without):
A knife
A map
A compass
A waterproof container with a lighter, sparker, or waterproof matches (store the striker in the same container, but be sure it cannot rub against the match heads) and fire starters such as cotton balls soaked in petroleum jelly
A plastic whistle
Additionally, your kit should always include:
A spare knife
A small folding hand saw or wire-type saw, such as a flexible section of chainsaw with nylon loop handles on each end
A spare compass
Personal medicine for two days, including your choice of over-the-counter pain medication
Emergency-type survival food — think durable, longshelf-life, no-preparation items like commercially-made energy bars, hard candy, chewing gum, hot drink mixes, etc.
Optional items to pack depending upon your activity: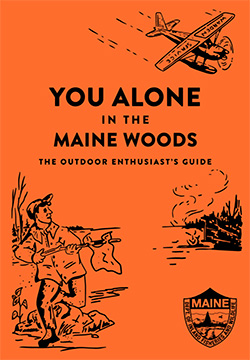 A copy of You Alone in the Maine Outdoors (PDF)
A space/mylar blanket or "sleeping bag"
A tick removal tool: tweezers, a tick spoon, or a tick key
A antiseptic wound wipes
A small container of hand sanitizer (you can also use it to clean wounds or start a fire)
Band-Aids
Three to four 4-inch individually wrapped gauze squares
Military-style trauma dressing or a wrapped maxi pad
Commercially made tourniquet if you are trained to use one
A cup or foil plate (to save space, use a large metal non-insulated mug. That way, it can double as a pot to heat water in and a container for your "always" non-food items).
Needle and thread
A hunter orange vest (whether
Learn more in the You Alone in the Maine Outdoors (PDF), an outdoor enthusiast's personal survival manual.
Have a safe and enjoyable hunt!