Adaptive Unit Hunt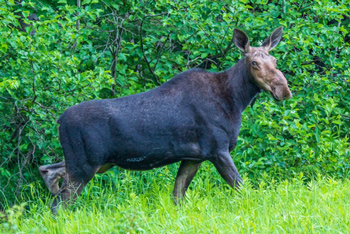 On this page:
About the Adaptive Unit Hunt
To determine if moose density reduction can break or lessen winter tick impacts to moose in Maine, MDIFW is currently conducting a multi-phase adaptive management study. For the purpose of this study, which began in 2019 and is expected to run through at least 2025, a 2,000 square mile management zone in northwestern part of the state (Zone 4) has been divided into two similarly sized sections.
In phase one, aerial helicopter surveys assessed current population size and composition. Sixty moose calves (30 in each section of the unit) were captured and fitted with GPS collars to monitor their survival.
For phase two, MDIFW increased the number of hunting permits in the western half of zone 4 (6% of Maine's core moose range) in fall 2021 to reduce the moose population density. In the eastern half of zone 4 as well as all other zones open to moose hunting, moose permits will remain at normal levels. Biologists will collect several data points from all moose harvested in either subsection of Zone 4, including canine teeth (for aging), antler spreads, winter tick counts, corpora lutea, and carcass weights. In addition, biologists will continue aerial surveys and monitoring calves with GPS collars.
If we do indeed find that an increased harvest leads to lower winter tick levels and healthier moose, that information may allow for increased permit allocations in other areas of the state. Learn more about MDIFW's Adaptive Management Study and how winter tick is impacting moose.
Adaptive Unit Season Dates:
Note: At this time these are proposed season dates and permit numbers and are subject to change.
WMD 4A Season One: 200 Cow permits (10/16/2023-10/21/2023 and 11/6/2023 – 11/11/2023)
WMD 4A Season Two: 150 Cow permits (10/23/2023-10/28/2023 and 11/6/2023 – 11/11/2023)
WMD 4A Season Three: 200 Cow permits (10/30/2023-11/4/2023 and 11/6/2023 – 11/11/2023)
Hunter Requirements:
Pre-Hunt Briefing: To be scheduled
All adaptive unit cow hunters will be required to attend an in-person or virtual one-hour moose pre-hunt briefing and will be provided with adaptive hunt program details, expectations, maps, ovary removal instruction, and bull/cow/calf differentiation and identification, in addition to proper care of meat.

After you watch the pre-hunt briefing, you must complete a short questionnaire to show that you attended the briefing.

The adaptive unit is entirely within the North Maine Woods and hunters will be required to cover their own day use/overnight fees.
Hunters will be required to stop, register moose, and provide biological data at designated field check stations within the adaptive hunt area at key entry/egress points.
Hunters that fail to collect and bring canine teeth and ovaries out of the field will be asked to return to kill site and retrieve them.
Prepare for the Hunt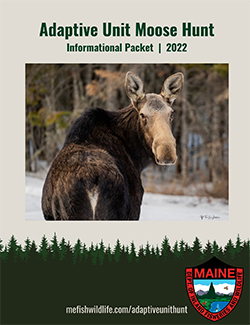 Maine's moose hunt is a hunt of a lifetime, and one that requires lots of preparation. This guide was designed to help you prepare for your adaptive unit (Wildlife Management District 4A) moose hunt,including hunting tactics, how to find the ovaries to bring to the registration station, a map of the adaptive unit (including the three moose registration stations), critical camping information, the rules of the North Maine Woods, and more. Click here to view the Adaptive Unit Hunt Informational Packet (PDF)
Frequently Asked Questions
Can I swap my permit?
Between the drawing and the end of the swap period you can swap your permit for a different one. Once the swap ends, you may no longer change or swap your permit.
What resources will I receive to help me understand the requirements of the adaptive unit hunt?
You will receive an informational packet in late July/early August that describes the requirements and components to the hunt.
You will be required to attend the Virtual Briefing this summer where you will watch a presentation given by MDIFW Moose Biologist Lee Kantar and Maine Game Warden Bob Johansen. At the end of the briefing, you will be prompted to take a 10-question assessment which demonstrates your participation and understanding of the adaptive unit hunt.
How will I recognize the boundaries of the adaptive unit hunt?
The boundaries are clearly marked by roads – view the Adaptive Unit Hunt Map (PDF) or Adaptive Unit Hunt Boundary Description (PDF).
How do I ensure that I will have a camp site to stay at during my moose hunt?
While the map will show sites that will accommodate more than one party and that will have outhouses installed, hunters will also be allowed to set up in other areas wherever there is room during the adaptive unit hunt.
Most landowners/foresters in this region will be patient with people who are not in designed campsite locations because we do not have enough locations to accommodate the number of moose hunting parties that will be receiving permits for the adaptive unit hunt. However, all efforts should be made to camp in the designated areas.
During this process, parties will not be allowed to use their campers to block side roads to prevent access by others or for foresters or fire suppression equipment, if necessary.