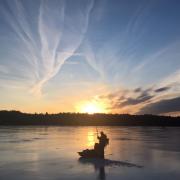 February 8, 2021 at 5:08 pm
If you have ever been fishing, either open water or ice fishing, it is likely you have heard someone say, "let them go and watch them grow." While this catch and release message was important several decades ago when we saw more fishing pressure and higher harvest rates by anglers (and may still help some fisheries), other present day fisheries (and in Maine's case, many fisheries) rely on harvest by anglers to maintain healthy fish populations and to achieve size quality management goals.
Keep In Touch!
Enter your email or mobile number to receive the latest news from MDIFW.