July 9, 2021 at 8:58 am
by Director of Fisheries & Hatcheries Francis Brautigam
As we emerge from the challenges brought on by the pandemic, with a renewed and growing interest in outdoor recreation, including fishing, we find ourselves in another year of low flows and water levels due to the very early onset of a drought; the second year in a row.  Most areas of Maine are suffering from below-average rainfall and lower than normal water conditions.  Anglers are reminded to consider these conditions and take some personal responsibility when fishing for coldwater fish species such as trout and landlocked salmon. Maine is well-known for our abundance of coldwater fish populations, yet during a year like this, these fisheries are less tolerant and experience higher stress as flows subside and waters warm.  There are a few simple steps you can take to reduce stress on coldwater species, such as trout and landlocked salmon: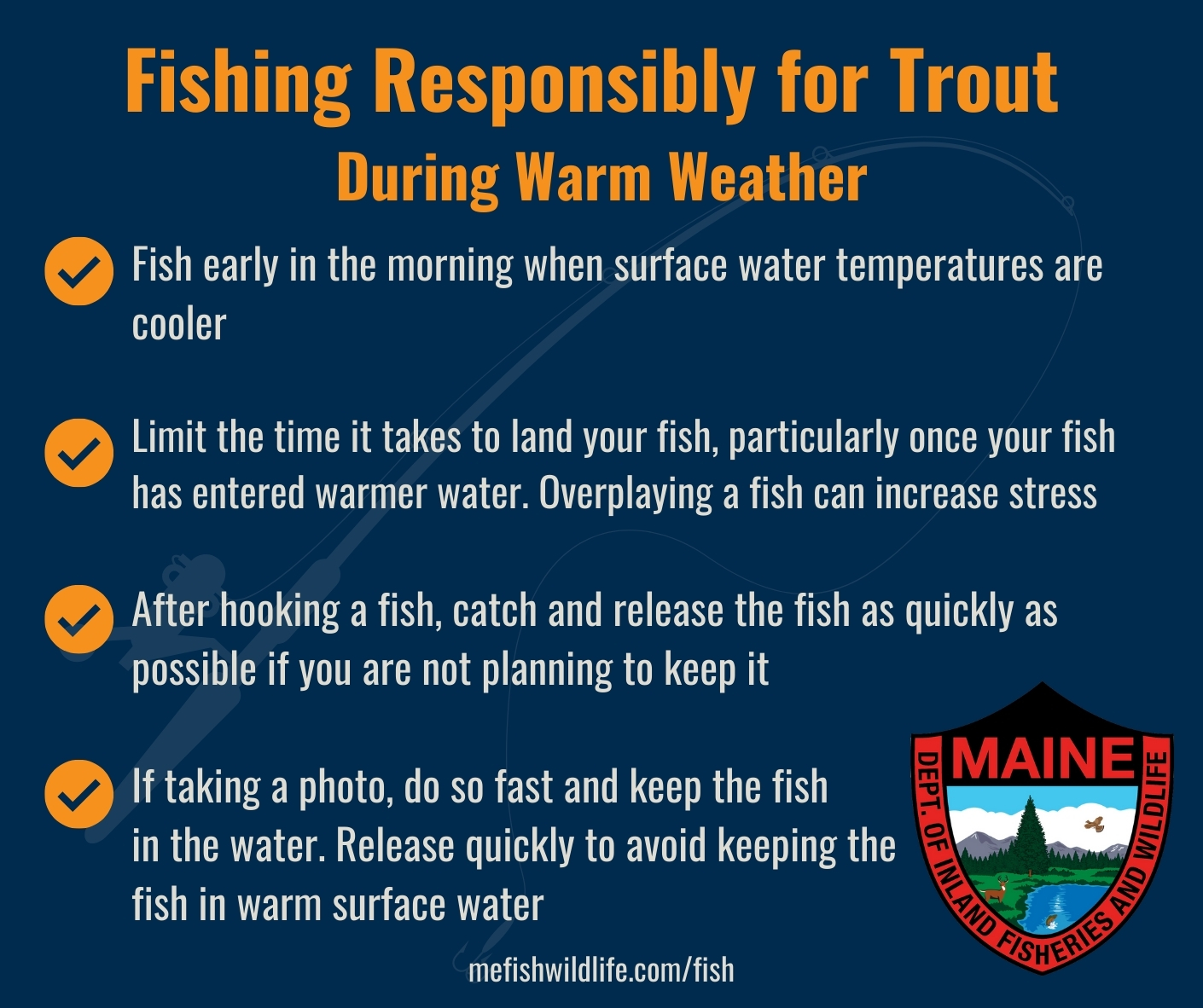 Are warmwater species, such as bass, pickerel, and perch, impacted by the warmer surface temperatures?
July and August are great months to target warmwater species such as bass, pickerel, and perch. These species thrive in warmer water, unlike salmon and trout, and can often be found cruising the shoreline of ponds and lakes, often creating an action-filled fishing day. Targeting these species is a great way to introduce someone to the sport of fishing, and to keep kids engaged. A simple bobber, small hook, and worm is a popular setup.  Check out the monthly fishing report or the Maine Fishing Guide for tips on where to go, and mefishwildlife.com/fishinglaws to view Maine's fishing laws.
Where do coldwater fish go when the water temperatures rise?
To beat the heat in streams and rivers, brook trout seek deeper pools and shaded areas that are cooler and better oxygenated. Small, colder tributaries are also locations where these fish will seek thermal refuge. In ponds, they will seek spring holes and move to deeper cooler areas of the lake. When fish are in these less than optimal situations, they are under stress and more susceptible to predators.
When a stream dwelling brook trout, that has hunkered into a cool 50-degree streamside seep, is hooked by an angler the fish is played out in the main stream where water temperatures may be in the mid 70's, approaching the fish's thermal limits. Trout and salmon that reside in our deeper, colder lakes are also impacted by this summer's weather. A lack of rain and consecutive days with above average temperatures can cause surface water temperatures to be warmer than usual, with some lake surfaces approaching the 80-degree mark. Trout and salmon will stay below the thermocline, where temperatures can be in the 45-55 degree range. A fish caught below 40 feet of water and then brought to the surface may experience a temperature difference approaching 35 degrees! This type of temperature swing can put a great deal of stress on a fish. 
In extreme cases, dry summers can result in fish kills in some shallower and smaller ponds, due to reduced groundwater inputs and less oxygen as it becomes warmer.  (For more information on fish kills and when to be concerned about them, check out this blog by MDIFW Fish Pathologist David Russell: When to be Concerned About Finding Dead Fish on Maine's Lakes, Ponds, and Rivers this Summer.)
Reminder
Anglers are also reminded that beginning August 16, the general law for fishing in rivers, streams, and brooks is restricted to the use of artificial lures and flies only. General law length and bag limits apply, except there is a daily bag limit of one landlocked salmon and one brook trout.  Be sure to use MDIFW's Fishing Laws Online Angling Tool to check for any special regulations on your favorite water!
---
Graphic text version:
Fishing Responsibly for Trout During Warm Weather
Fish early in the morning when surface water temperatures are cooler
Limit the time it takes to land your fish, particularly once your fish has entered warmer water. Overplaying a fish can increase stress
After hooking a fish, catch and release the fish as quickly as possible if you are not planning to keep it
If taking a photo, do so fast and keep the fish in the water. Release quickly to avoid keeping the fish in warm surface water