Fishing Report
Click the links below for the most up-to-date fishing news and suggestions from Maine's fisheries biologists.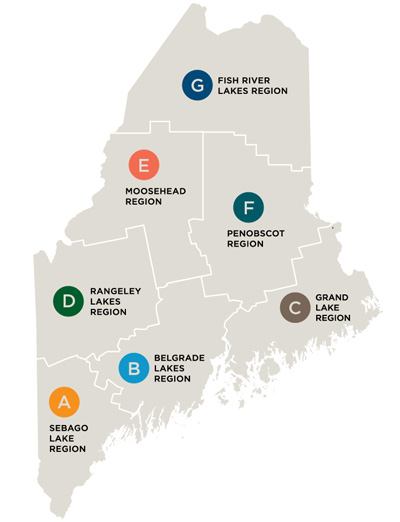 Sebago Lake Region
From Fisheries Resource Supervisor Jim Pellerin
Places to go: Although we still have some ice on most of our lakes in southern Maine going into this last week of March, Sebago being the exception, shoreline ice is disappearing quickly and likely marks the end of the ice fishing season in this part of the state.
So, as anglers begin transitioning to open water fishing where should they go? For lakes and ponds, I suggest focusing your efforts on lake trout and salmon lakes in the region such as Auburn, Kezar, Sebago, and Thompson Lakes as some of the more popular ones with both species available. These fisheries tend to be the more productive at ice out and early spring than many of our other trout waters and warmwater fisheries. Stream fishing is generally a bit slow in the early season but will pick up as the water temperatures warm to around 50°F (about the time the alder leaves break bud) and as the hatchery trucks get rolling throughout April/May. Interestingly, some of the brown trout stockings in coastal rivers tend to fish relatively well in March and April, so you may want to give the Royal River in Yarmouth, the Ogunquit River in Ogunquit, or the Mousam River in Kennebunk a go.
Fishing tip: If you're going to fish for salmon or lake trout in the earlier part of the season, I would recommend passing on trolling lures and flies. Live bait, smelt or shiners, trolled very slow will likely be much more productive.
Reminder: Water is still very cold, wear a life jacket. Go slow and be observant, there tends to be a lot of floating debris (i.e. logs, lumber, etc.) at ice out that can be dangerous and/or damaging to your watercraft.
Belgrade Lakes Region
From Fisheries Resource Supervisor Jason Seiders
Lake St. George (Liberty): Lake St. George is the best landlocked salmon fishery in this region. Salmon numbers are high and growth is great due to a robust smelt population. In addition to salmon, anglers will find great numbers of brook trout up to 18+ inches. This is a popular ice-out fishery, and for good reason. Salmon in the 3-4 pound class are common and the brook trout are gorgeous.
Belgrade Stream (Belgrade): Spring is a great season to fish Belgrade Stream. Belgrade Stream begins below the outlet dam on Long Pond and runs downstream to the confluence with Messalonskee Lake. Early season anglers typically target northern pike that can be found throughout the stream. There aren't a lot of monster pike in Belgrade Stream, but you can certainly find good numbers of fish over 5 pounds. As the water warms the bass fishing can be incredible for both largemouth and smallmouth. We receive reports of trophy-sized bass from Belgrade Stream, and I'm always impressed by the size quality of smallmouths I catch there each spring. Additionally, the Department stocks brook trout in the area near the outlet dam. This area has quicker flow which keeps some of the predatory fish downstream.
St. George River and Medomak River – I'm listing these waters together because they're similar in terms of fishing opportunity. Both rivers are stocked heavily and should be stocked within the coming weeks. Both rivers are popular fishing destinations because catch rates are high and both areas are quite scenic. Both rivers are stocked with brown trout and brook trout, and due to limited summer habitat, they get stocked both spring and fall. We stock a variety of sizes in these waters which makes the fishing a little more fun; you never know what you could catch.
Long Pond (Belgrade) – Anglers are reporting good catches of rainbow trout from Long Pond in recent years. Size quality appears to be improving as well as fish numbers. In addition to rainbow trout, Long Pond has a phenomenal smallmouth bass fishery. The rocky shoreline and ample food sources combine to make this a terrific fishery for numbers and size quality. Another added attraction is the incredible size quality of the white perch. Long Pond is loaded with huge white perch – 2+ pound fish are common here. They're large enough that they're commonly caught on large bass lures. During our sampling efforts on Long Pond we've encountered large numbers of huge perch; something you don't find in every lake.
Fishing tip: While the ice may be gone or in the process of leaving, remember the water is very cold. Many fish will still be lethargic so it's critical to fish slowly. Slow down your retrieve if you want to maximize your catch in the early spring. If you're fishing rivers or streams, let the flow do most of the work for you. Look for velocity breaks or slightly slower flow, and remember to fish close to bottom. As the water warms and we start seeing insect hatches, fish will be more likely to strike throughout the water column. For now, low and slow is the way to go.
Reminder: Please remember to respect private land and public access areas. We are fortunate to have so much water available for our outdoor recreation, but it only takes a few bad incidents to lose access to these areas. As always, please let us know if you need any additional information – we're happy to help!
Grand Lake Region
From Fisheries Resource Supervisor Gregory Burr
Places to go: Here we are on the cusp of another open-water season with anglers looking to make mental or physical lists on the waters they want to fish first just after ice-out. With a late ice-in that didn't happen until late January this winter we expect lakes and ponds will go ice free earlier than normal. That means that many of waters on Mount Desert Island and some coastal lakes will be mostly ice free but the end of March. Other interior lakes and ponds will have shed their winter coats by the second week in April. That said, just because a water goes ice free doesn't necessarily mean that the fish will bite early. Some do and some don't but for some reason it is generally the same waters each spring. Without trying to sound like an early springtime broken record I do recommend fishing the small trout ponds first as their surface waters heat up the quickest and these warmer water temperatures tend to activate food movement along the shores and bring trout out of their winter lethargy. I recommend fishing the south facing shores of trout ponds that were not open to ice fishing. These ponds were stocked last fall and were not fished over during the winter, so the trout are there waiting for you! These are your best bet for fast fishing early.
Here are some waters I recommend for early success Downeast:
For brook trout try fishing Witch Hole Pond and Lakewood Pond in Bar Harbor; West Pike Brook Pond, East Pike Brook Pond, and Spectacle Ponds in Deblois; or Fox Pond, Salmon Pond, and Rainbow Pond in T 10 SD.
For salmon fishing try Long Pond and Jordan Pond on Mount Desert Island (these waters were not fished hard this past winter); Big Lake and West Grand Lake in Grand Lake Stream; and Green Lake in Ellsworth. For brown trout fishing try Walkers Pond in Sedgewick and Upper Lead Mtn. Pond in T 28 MD.
Fishing tip: For stream fishing it is best to wait until May, but I do recommend fly fishing Grand Lake Stream in the first two weeks of April for landlocked salmon.
Reminder:
Just a reminder that it is illegal stand on the ice and cast into open water. Good luck and be safe!
Rangeley Lakes Region
From Fisheries Resource Technician Tyler Grant
Places to go: As I sit here writing, the sun is shining, robins are bouncing around, and the bugs are stirring in the grass. Spring is here and for many of us that means a return to open water fishing. There are a few places in the Rangeley Lakes Region that are a good bet for early season stream fishing.
Temple Stream is the outlet of Schoolhouse Pond in Avon. It flows down through the Spruce Mountains and enters the Sandy River in Farmington. It is an excellent place to find some good early season fishing. Brook trout are stocked at the Rt 43 crossing in Temple, the Russell's Mill Rd bridge, and at the Day Mountain Road crossing as well. Many easy access points can be found off Rt 43 and the Intervale Road in Temple, and the pool below the Wilson Mills Dam is a popular spot. As always, respect private property when exploring new areas. The entire reach of the stream is managed under north zone general law for tackle, so dunk a worm or cast a fly, whichever you prefer.

Wilson Stream is another good early season spot. The stream stretches from Hills Pond in Perkins Twp to the Sandy River at Farmington Falls, and comprises both the main inlet and outlet of Wilson Pond in Wilton. Wilson Stream is stocked with brook trout and may occasionally hold a salmon or two. The lower river has smallmouth bass, and an occasional brook trout that has dropped down. The section just below the dam on Wilson Pond to the Rt 156 road crossing is only open to kids and complementary license holders and is a very popular spot for some family fishing. North of Wilson Pond, the Foothills Land Conservancy parking area and trails provide a good jumping off point for some early spring exploration.
For those die-hard anglers who aren't ready to put away the jig stick or tip ups, there are a few places that still have good ice in the Rangeley Lakes Region. Any water that is managed under season code "A", or "B", is open to April ice fishing unless specifically closed. Pleasant Pond in Caratunk, Spencer Lake in Hobbstown Twp, and Chain of Ponds in Chain of Ponds Twp are all open to ice fishing in April, and often have ice for most of the month. Keep in mind that just because a water is open to ice fishing does not mean that the ice is still safe. Anglers should use their best judgement and be safe when ice fishing late in the season. Late season anglers should also be respectful of roads and parking areas that are starting to thaw. Park only in designated areas, or where you have landowner permission.
Fishing tip: Early season open water fishing can be frustrating. The adage that the trout bite when "the leaves on the alders are as big as a mouse's ear" is still several weeks away. The fish are cold, and a slow patient presentation is required to coax a bite. Try lures that have a lot of action at low speeds, or a slow steady retrieve with a worm to get them interested.
Reminder: When fishing streams, regulations can sometimes change at a landmark such as a road crossing, bridge, or other distinguishable feature. A stream may also be included with a lake's regulations with the language "and Tributaries." The Fishing Laws Online Angling Tool (FLOAT) is helpful for representing on the landscape what the current special fishing regulations are with just the click of a mouse. It's available on the MDIFW website at mefishwildlife.com/float.
In the North Zone, lakes and ponds with special season code "A" or "B" are open to ice fishing through April 30. Click here to search Maine's special fishing laws (Search "A (Open" or "B (Open" in the regulation column to find which waters are open to ice fishing through April) or use the map-based Fishing Laws Online Angling Tool (FLOAT). After April 1, once the ice disappears, you can open water fish on most lakes and ponds in the North Zone.
Moosehead Region
From Fisheries Resource Resource Supervisor Tim Obrey
Places to go: April can be a tough month for anglers wishing to dip their toes in the waters around the Moosehead Lake Region. A lot of years, April 1st looks like February 1st. But this year we've had a mild winter in general, so we expect some ice-out fishing toward the end of the month. The Piscataquis River in Dover-Foxcroft opened up on 3/28 and the general rule of thumb is: Two more weeks until Sebec Lake starts to open up and another 10 days until Moosehead clears. Of course, Mother Nature doesn't follow any of our rules, but it's safe to say you can look forward to open water fishing sometime after the third week of April up this way. The first two weeks are good for prepping the gear and restocking the fly box.
Moosehead Lake, Sebec Lake, and First Roach Pond will be good bets at ice out. There are some quality-sized fish in all these lakes. Of course, if you're looking for a lot of action, then head to Chesuncook Lake. We just wrapped up our winter surveys up there, and the fishing was pretty good, especially for those anglers that could travel up the lake a mile or two. There are plenty of salmon left and traveling on the Golden Rd from Millinocket was good.
Fishing tip: Ice out fishing is some of the best fishing of the year. The big brook trout are cruising the shallows and have a voracious appetite. In the ponds, the mayfly nymphs will be active along with leeches. In bigger lakes, salmon and lake trout will be tight to shore chasing smelt that typically spawn just as the ice is clearing the lakes. So, use your streamers and smelt imitations, if not the real thing, during the first week or two of open water fishing and hug the shoreline.
Reminder: It's spring and we get some pretty windy days on these bigger lakes. A little wind is good for the fishing but use caution and dress warmer than you would if you were on shore. A stiff breeze off the cold water will make it feel 10 degrees cooler. A lifejacket is a must this time of year.
In the North Zone, lakes and ponds with special season code "A" or "B" are open to ice fishing through April 30. Click here to search Maine's special fishing laws (Search "A (Open" or "B (Open" in the regulation column to find which waters are open to ice fishing through April) or use the map-based Fishing Laws Online Angling Tool (FLOAT). After April 1, once the ice disappears, you can open water fish on most lakes and ponds in the North Zone.
Penobscot Region
From Fisheries Resource Supervisor Kevin Dunham
Places to go: Anglers are shifting their focus to open water fishing now that April and the spring season has arrived. Smaller brooks and streams throughout the region offering wild brook trout tend to get targeted early since water levels and flows are often advantageous.
Historically, the West Branch of the Penobscot River has been an opening day destination for many anglers. The stretch of river between the Telos Road bridge (T3 R11 WELS) and the Abol bridge (T2 R10 WELS) in the vicinity of Nesowadnehunk Deadwater and Abol Deadwater, just off the Golden Road, is a popular spot for those itching to begin their open water season.
Anglers looking for early season ice-out trolling action will want to head to Seboeis Lake (T4 R9 NWP) for landlocked salmon and splake; Endless Lake (T3 R9 NWP) for splake; Hay Lake (T6 R8 WELS) for salmon and brook trout; or Upper Pond (Lincoln) for brook trout. Those lakes are stocked in the fall with each of the species listed and should pay piscatorial dividends right out of the gate. Please remember to check the inland fishing laws at mefishwildlife.com/fishinglaws or download the Maine Fishing Laws Online Angling Tool (FLOAT) before heading out for a day of fishing.
Fishing tip: Success in cold water fishing often relies on slowing down your presentation and retrieval techniques. If not having any luck when trying to entice lethargic fish, use subdued colors and a slow retrieval and your catch rate may improve.
Reminder: As always, whether you are fishing a swiftly flowing river or trolling a newly ice-free lake, spring water temperatures can be dangerously cold. Wearing a lightweight inflatable PFD or a float coat could help save your life if you unexpectedly end up in the water.
In the North Zone, lakes and ponds with special season code "A" or "B" are open to ice fishing through April 30. Click here to search Maine's special fishing laws (Search "A (Open" or "B (Open" in the regulation column to find which waters are open to ice fishing through April) or use the map-based Fishing Laws Online Angling Tool (FLOAT). After April 1, once the ice disappears, you can open water fish on most lakes and ponds in the North Zone.
Fish River Lakes Region
From Fisheries Resource Supervisor Frank Frost
Places to go: Despite the mild March weather recently, northern Maine still has ice and snow and we expect there to be ice fishing opportunity well into April. Currently, ice on lakes and ponds is much thinner than normal but with the forecasted cold weather, ice and snow conditions should be good for late season. Snowpack is also less than normal but will be adequate for accessing lakes and ponds. Angler use has dropped off in March so anglers looking for solitude can find it this late season. Because we are transitioning from ice fishing to open water, we have split our suggested places to go with two ice fishing and two open water spots.
Remote, backcountry lakes open to ice fishing can be accessed via North Maine Woods. We are currently working on Clear Lake and the Musquacook Lake chain (First, Second, and Third) and these lakes remain accessible for ice fishing. Anglers should be aware that gravel roads in North Maine Woods become soft and prone to damage this time of year. Cold nights and mornings help keep these roads passable in late March so anglers should plan accordingly. There is ample snow to use snowmobiles now to access the lakes.
Cross Lake – one of the Fish River Chain of Lakes, this water can be accessed off the Disy Road in T16R5 where there is a public access facility. Anglers can easily walk from the parking area to access fishable water for salmon and brook trout.
Fish River, Fort Kent – That portion of the River from Fish River Falls downstream to the Saint John River is open year-round. Anglers will find fishable flows this time of year, before the spring runoff begins, and will find salmon and brook trout here in a remote setting, yet close to town.
Scopan Stream, Masardis – anglers will find a good access point via the Sterling Ridge Road and Scopan Road to the outlet of Scopan Lake. The Stream can be accessed via a trail from the parking area. This site is stocked annually with salmon and brook trout in the fall so if some fish have overwintered at the site, anglers may find good action here.

Fishing tip: Rainbow smelt can be found this time of year staging for spawning, usually near inlets or outlets. Often sportfish focus on these areas to feed on these prized forage fish. Anglers can find good action in these areas but must also be cautious of thin ice.
Reminder: Most bait shops have closed for the season so live fish for bait may not be available for sale. Anglers should plan ahead and also consider catching their own by hook and line at their destination.
In the North Zone, lakes and ponds with special season code "A" or "B" are open to ice fishing through April 30. Click here to search Maine's special fishing laws (Search "A (Open" or "B (Open" in the regulation column to find which waters are open to ice fishing through April) or use the map-based Fishing Laws Online Angling Tool (FLOAT). After April 1, once the ice disappears, you can open water fish on most lakes and ponds in the North Zone.