Fishing Report
Click the links below for the most up-to-date fishing news and suggestions from Maine's fisheries biologists.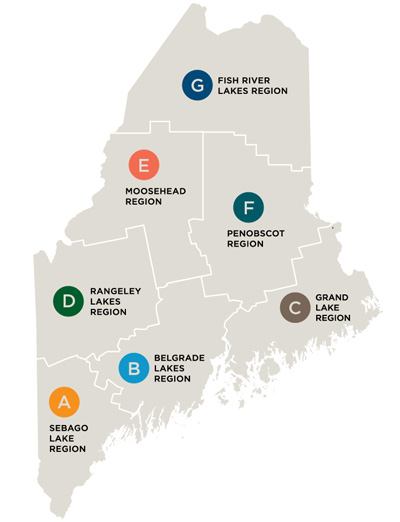 Sebago Lake Region
From Fisheries Resource Biologist Nick Kalejs
Places to go: We are in the hottest days of summer now, and water temperatures remain warm which means fast action on warmwater species. Fish such as bass, perch, pickerel, or even invasive black crappie can provide quick, fun action, and can often be found in similar areas, allowing for a multi-species day. Many small, weedy ponds in Southern Maine are likely to contain a mix of these fish, all of them popular targets for beginning and experienced anglers alike. Lily Pond in New Gloucester is one such small water with good-sized crappie, as well as largemouth bass, and provides a nice place to paddle a canoe or kayak. On larger bodies of water, most shallow coves will be hotspots for warmwater species as well. Even on a cold, deep waterbody like Sebago Lake, smallmouth bass, pickerel, and crappie can be abundant in the more secluded areas. Further north, Norway (Pennesseewassee) Lake can give up some quality-sized smallmouth bass as well. For a change of pace, fishing a cold, mountain stream is a great way to beat the heat. Most streams in the north of the region contain wild brook trout, but those in the White Mountain National Forest can provide especially tranquil settings.
Fishing tip: Whether fishing for black crappie in a pond or wild brook trout in a stream, targeting woody structure is a good bet. Fish will congregate in the shadows for protection and to stay cool—something we can all understand in August.
Reminders: On August 16, general law fall season regulations come into effect for rivers, streams, and brooks across the state. This means artificial lures or flies only, and a reduced daily bag limit of one fish for both landlocked salmon and brook trout. As always, remember to check your lawbook or FLOAT tool (Fishing Laws Online Angling Tool) before heading out.
Belgrade Lakes Region
From Fisheries Resource Supervisor Jason Seiders
Places to go: As the temperatures get hotter the trout fishing cools off. Here are a few ideas to get you out on the water to enjoy some fun fishing opportunities.
Kennebec River (The Forks): This section of the Kennebec is a great landlocked salmon fishing destination, and there are many access points that anglers can use to wade or cast from shore. An even better option is to float the lower section of the river in canoes or kayaks. The river flows change during the course of the day, with early morning providing the best angling flow, and the afternoon providing higher water and a better ride. If the salmon aren't cooperating, anglers can catch tons of smallmouth bass in this section. If you have any questions on how or where to fish the Kennebec, please contact our regional office.
Kennebec River (Fairfield, Waterville): These two sections of the Kennebec River support outstanding populations of smallmouth bass. Both sections are easy to float with canoes, kayaks, or small boats. A float down either one of these sections can easily result in a 50-fish day, though you're more likely to encounter a few larger bass in the Fairfield section. The Waterville section can provide additional entertainment in the form of an occasional striped bass, or by watching huge sturgeon leap from the river (no fishing permitted for this species). Be sure to visit the "Recreational Angling for Migratory Fish" section of our webpage to learn more about the rules for these species that are managed by the Maine Department of Marine Resources.
Echo Lake (Fayette): Anglers seeking large lake trout (also known as togue) in central Maine should target Echo Lake. Our recent surveys indicate a healthy population of lake trout with some large individuals. In addition to trolling with downriggers or lead core line, anglers should try anchoring and fishing deep water areas with live bait. This method can be incredibly effective!
Salmon Lake (Belgrade): If folks are looking for an opportunity to catch fish for the dinner table, Salmon Lake is a great option. The white perch population is incredible; it's quite possible to fill a bucket in a short amount of time. You won't encounter a lot of large white perch, but they are decently sized and worthy of a filet. Evening is the best time to check this out. The lake's surface comes to life with rising perch just before dark!
Update on the season: Trout fishing in the central Maine region has slowed down due to warming water temperatures, with the exception of the northern sections of the Kennebec River. We've had reports of good trout fishing on some of our smaller trout ponds that provide good, cold water that trout need this time of year. Fishing for panfish is always productive in this region of the state, and we receive many positive angler reports from those that seek small and tasty fish. White perch are abundant in nearly all of our waters, and invasive black crappie are now found in several lakes and ponds. Those are two great options if anglers are seeking a fish dinner or two.
Reminder: Remember that trout and salmon need cold water to survive. Even our larger, colder ponds become too warm for trout to survive on the surface. If you're looking for trout this time of year you need to fish deep and slow. As the air temperatures keep getting warmer the surface of our ponds get warmer too and force trout even deeper. If you're looking for trout on a central Maine lake or pond, you'll need to fish at least 20-feet down, and maybe more!
Once again, if you have any questions about the "When, where, why, and how" of fishing in Maine, please call your regional fisheries biologist. We not only work on the water, but we're avid anglers too. We're happy to help you have a more successful fishing trip.
Grand Lake Region
From Fisheries Resource Supervisor Gregory Burr
Places to go: August is the time to fish for warmwater fish species, such as white perch, chain pickerel, and largemouth and smallmouth bass. Here are some suggestions of waters for anglers to try Downeast.
In Washington County anglers can find great summer time action for chain pickerel and white perch at Pocomoonshine Lake in Princeton, Crawford Lake in Alexander, Grand Falls Flowage in Princeton, Big Lake in Greenlaw Chopping Township, Meddybemps Lake in Meddybemps, Second Gardner's Lake in East Machias, and Rocky Lake in Berry Twp.
In Hancock County I suggest fishing the following waters for pickerel: Scammon Pond in Eastbrook, Somes Pond in Mount Desert, Hamilton's Pond in Bar Harbor, Wight's Pond in Penobscot, Graham Lake in Ellsworth, and Alamoosook Lake in Orland. For white perch in Hancock County anglers can do well at Abrams Pond in Eastbrook, Toddy Pond in Orland, Green Lake in Ellsworth, Donnell Pond in Franklin, Jones Pond in Gouldsboro, and Flanders Pond in Sullivan. As for smallmouth bass action, Long Pond in Mount Desert, Branch Lake in Ellsworth, Beech Hill Pond in Otis, Meddybemps Lake in Meddybemps, Big Lake in Greenlaw Chopping Township, Wabassus Lake in T5&6 ND BPP, and Love Lake in T19 ED BPP should keep any smallie enthusiast happy. For largemouth bass I recommend Toddy Pond and Alamoosook Lakes in Orland, Holbrook Pond in Eddington, Hamilton's Pond in Bar Harbor, Rocky Lake in Berry Twp, Pocomoonshine Lake in Princeton, Crawford Lake in Crawford, and Grand Falls Flowage in Princeton.
Update on the season: The open-water season so far has gone very well with many great fishing outings being reported for brook trout, brown trout, landlocked salmon, and lake trout. These coldwater gamefish can still be caught in the many deep lakes Downeast but remember that the lakes are stratified now so fishing for these species will need to be done with specialized gear like down-riggers and lead-core line. When fishing for these species trolling below 25 feet is key. This will get an angler down into the thermocline where many of these fish will remain until the lake's surface water cools back down into the 60-degree temperatures.
Tip of the month:
Best bait for fishing for white perch are worms and small minnows.
Rangeley Lakes Region
From Fisheries Resource Technician Tyler Grant
Places to go: For anglers looking to get off the beaten path, give South Pond a thought. South Pond, also known as Pinetree Pond, is a 25-acre coldwater pond in Sandy River Plantation, just off the Appalachian Trail. For anglers who like to hike and fish, it's a perfect combination. Anglers can park at the Appalachian Trail parking area on route 4 in Sandy River Plantation, and hike about 2.5 miles to reach the pond. Wade, fish from shore, bring a float tube, or a bit of scouting along the shore might yield a canoe that can be used to explore the deeper areas. The 34' deep pond has excellent water quality and is free from other competing species. This allows the stocked fall fingerling brook trout to grow quickly. The pond is managed under general law, so even in the middle of the summer, anglers can get deep enough with a spoon or a spinner to coax a bite from a shy brook trout.
South Pond is the right length for a picnic day trip, or for the more adventurous angler who wants to extend the trip, give Little Swift River Pond a try. It's also accessible via the Appalachian Trail, just 2.3 miles beyond South Pond. Anglers willing to take an adventure can get on the trail at the parking area in Sandy River Plantation, and hike to South Pond, and then continue their hike to Little Swift River Pond. Anglers who make the 4.8-mile (each way) hike are rewarded with an excellent camping area and a cozy little pond full of wild brook trout. The trout in Little Swift River Pond are a bit smaller but make up for it with their fight and incredible colors. The pond is fly fishing only and carries an S-20 regulation. This means you can keep your general law bag limit of 5 fish, but trout less than 6" or over 12" must be released. This regulation is meant to encourage harvest of the smaller fish while allowing the larger fish to keep growing and spawning, so don't be afraid to keep a few fish for a pond-side dinner. Whichever pond suits your hiking and fishing style, be prepared. Be sure to bring plenty of water and food and let someone know where you will be going and when you will be back.
Embden Pond in Emden is a deep coldwater lake that provides an excellent fishing opportunity for lake trout, brook trout, and salmon. The lake is accessible from a convenient boat launch on the south end with plenty of parking. It is not known for its fast action, but patient anglers might be rewarded with above average sized lake trout or salmon. Those who prefer faster action can cast along shore for smallmouth bass, which are also above average sized.
Update on the season: Just like everywhere else, the western mountains have been hot and dry this summer. The lakes are warm on top, and the fish are holding deep. Good fish are still being caught though. Rangeley Lake has produced some fantastic salmon this summer, including a 28" long monster that was caught recently. This 7-year-old fish was estimated to weigh 9 pounds. As many of you have heard the new State Record lake trout was taken on Richardson Lake by an angler who hadn't been out fishing much this year, showing you just have to get on the water to catch that trophy fish! Many of the small trout streams are shallow and hot right now, so fish will be holding in cold water refuges. If the fish aren't biting in your favorite spots, it might be time for a road trip to find a place with cooler water.
Fishing tip: As most trout dry fly casters will know, August can be the cruelest month. Target early mornings and late evenings for the best success. The best chance of catching a late season hatch will be late in the afternoon. If you've never tried sinking fly line before, give it a try. A slow retrieve with a maple syrup or a woolly bugger can still get those trout to bite.
Reminder: Remember that even in August the water temperatures in our mountain lakes can still be quite cold. An unexpected fall out of a watercraft might mean you spend more time than you expected in the water. There is a risk of hypothermia even in the middle of summer. Make sure when you are out boating, you have a Personal Floatation Device for each person. Wear your PFD, don't stow it away. It might save your life.
Please remember that the General Law in the north zone now includes "No live fish as bait." All waters open to the use of live baitfish/live smelts will have the special law code S-11 in the new 2020 lawbook (PDF) or use the Fishing Laws Online Angling Tool.
Moosehead Region
From Fisheries Resource Supervisor Tim Obrey
Places to go and tips: The biggest brook trout are caught right at ice out, the best of the salmon come in June and then again in September, but August is the time to latch on to a big togue in the north country. It seems the good togue anglers (not me, of course) know how to pound the bottom and dredge up those really big togue that are hanging just below the thermocline. A lot of anglers want to go to the deepest part of the lake, but that is usually where the smaller togue are hiding. Those trophy fish are likely to be just below the bottom of the thermocline which in most lakes would correlate to 45-65 feet of water. Don't forget: Big bait=big fish. Togue don't get to be wall-hangers by feeding only on 3 inch smelt. They want a meal and you'll need to have rugged gear and heavy test line or all you'll be left with is a sad story. Waters like Sebec Lake and Lobster Lake are go-to locations for togue over 10 pounds. Moosehead Lake is a big puddle, and there are some good ones out there, if you can find them.
August is a good month for bass and warmwater fishing too. Again, Sebec Lake is a great spot. It is a very high-quality bass water. There are a high percentage of bass over 16 inches and some pushing 20 inches. If you're into white perch then Harlow/Manhanock in Guilford is good and if you're really into white perch and want to fill a cooler with the big ones, then you'll have to travel to someplace like Chesuncook Lake, Loon Lake, or Umbazooksus Lake. Camping is great this time of year. Pack up the family and try out one of the many campsites on these lakes. The night sky is incredible on these remote Maine lakes and the Perseid meteor shower peaks on Aug 11-12. Don't forget the worms!
Reminder: Please remember that the General Law in the north zone now includes "No live fish as bait." All waters open to the use of live baitfish/live smelts will have the special law code S-11 in the new 2020 lawbook (PDF) or use the Fishing Laws Online Angling Tool.
Penobscot Region
From Fisheries Resource Supervisor Kevin Dunham
Places to go: The hot, humid weather of August can easily put a chill on successful fishing outings. Coldwater fishes including landlocked salmon, brook trout, and togue will be hunkering down near lake bottoms basking in the relief the cooler, deep water provides. While coldwater fish species may be less active and more difficult to encounter during warm weather, August is a good time to target warmwater species of fish including smallmouth bass, white perch, and pickerel. These fish are more likely to occupy the epilimnion, the layer of water above the thermocline, and can be targeted more easily than bottom-dwelling species.
Waters to be targeting in August for white perch include Spring Lake (T3 ND), Spednic Lake (Vanceboro, Forest City Twp.), and Seboeis Lake (T4 R9 NWP). We stock Spring Lake with both salmon and brook trout, Spednic Lake with salmon, and Seboeis Lake with splake and salmon, adding to the variety of fish you may encounter. For anglers that favor a good pickerel feed, head to Upper Hot Brook Lake (Danforth) where there is no shortage of the toothy monsters. If heading to upper Hot Brook Lake however, keep in mind that all bass must be released alive. Other warmwater lakes to consider include Mattaseunk Lake and Molunkus Lake, both in Molunkus Twp., each with healthy white perch and pickerel populations.
Update on the season: Despite the unusually dry, hot weather we experienced in July, anglers report boating some fine splake at Nicatous Lake (T40 MD), as well as great success for splake and landlocked salmon at Seboeis Lake (T4 R9 NWP) and Cedar Lake (Cedar Lake Twp.).
Fishing tip: We've witnessed something out of the ordinary during a couple of recent lake surveys that may be of interest to anglers that like to target brook trout. It's no secret that successful brook trout anglers usually fish the surface during an insect hatch or concentrate on fishing shallower water slightly offshore, and along edges of lakes and ponds. Recently, while conducting lake surveys, we caught some sizeable brook trout in our deep-water net sets. These nets were in 60 feet of water, or more, and we were surprised to have captured brook trout that deep. At those depths the usual catch is comprised of salmon, togue, cusk, and perhaps lake whitefish (if present). Brook trout anglers may want to think about fishing deep for brookies when having no luck in shallower water…
Reminder: Please remember that the General Law in the north zone now includes "No live fish as bait." All waters open to the use of live baitfish/live smelts will have the special law code S-11 in the new 2020 lawbook (PDF) or use the Fishing Laws Online Angling Tool.
Fish River Lakes Region
From Fisheries Resource Technician Derrick Cote
Update on the season: The assault on cold water that Jeremiah reported last month has continued unabated. According to the National Weather Service stream flows are 10 to 30 percent of the normal for this time of year. We are nearing two dozen days with high temperatures exceeding 80 degrees and we haven't reached August yet, a typical summer sees less than a dozen days.
Places to go and tips: The Fish River Chain of Lakes continues to produce for anglers willing and able to get their lures down into cooler water. Downriggers are extremely effective at getting your lures down among the fish. Use your fish finder to know where that sweet spot is, you're looking for colder water with good dissolved oxygen, the fish will tell you where that is. Head to Eagle Lake for lake trout, Square Lake for brook trout, and Long Lake for salmon.