Fishing Report
Click the links below for the most up-to-date fishing news and suggestions from Maine's fisheries biologists.
The December/January report lists several small bodies of water that typically freeze first, but it is up to you, the angler, to test for ice safety.
Remember to always use extreme caution when venturing onto Maine's waterways. Accessing lakes and ponds should be avoided unless you can be certain of ice conditions by checking ice thickness. Before stepping out, use a chisel or auger to test ice thickness in several places. Remember that ice seldom freezes uniformly and conditions are always changing and can vary from one location to the next. Ice that forms over flowing water and currents, especially near streams, bridges and culverts, can be particularly dangerous. We hope you have a great ice fishing season!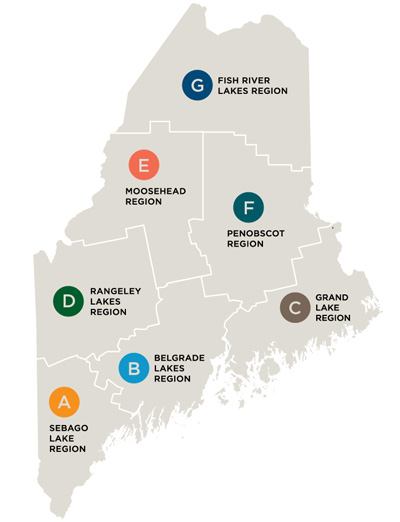 Sebago Lake Region
From Fisheries Resource Supervisor Jim Pellerin
Places to go: Where should you go ice fishing? This question can be a daunting task at the beginning of each year! The Sebago Lake Region has over 300 lakes and ponds of various sizes and characteristics with each and every one of those having a different complex of fish species to be targeted. This is a where a long-range or season-long planning approach may help with your decision making.
Early season – target smaller-medium sized waters, which will typically have safer ice. Also, if you like to target brook trout and/or salmon then this is the time to go as these species are very vulnerable to ice fishing and their numbers diminish quickly as the season progresses. Check the annual stocking report for fall brook trout stockings to narrow down your list of places to try, these fall stockings are too numerous throughout the region to name. Some good bets for early season salmon in the region assuming safe ice include Mousam Lake (Shapleigh), Moose Pond (Bridgton), Kezar Lake (Lovell), and Bryant Pond (Woodstock).
Mid-season – you can consider larger waters by this time as ice conditions are usually better. For those die-hard salmonid anglers this is a good time to focus on the more resistant trout species including: lakers, browns, and rainbows. For lake trout consider Mousam Lake (Shapleigh), Great East Lake (Acton), Sebago Lake (Raymond), Thompson Lake (Oxford), and Kezar Lake (Lovell). For brown trout try Square Pond (Acton), Sabbathday Lake (New Gloucester), Hancock Pond (Denmark), and Searns Pond (Sweden). Lastly, some good places to try for rainbows include Little Ossipee Lake (Waterboro), Kennebunk P (Kennebunk); Upper and Middle Range Ponds (Poland), and Stanely Pond (Hiram).
Late-season – for salmonids continue to target the same species as in mid-season, but in late season I personally prefer to target warmwater species. Some of them, particularly bass get much more active in late March and the longer days and warm sunshine can make for some great days on the ice. Opportunities for warmwater species are plentiful in this area of the state, but some popular waters include Lake Arrowhead (Waterboro), Upper and Lower Moose Pond (Bridgton), and Kezar Pond/Lovewell Ponds (Fryeburg).
Outlook on the season: As of this writing (December 16) there are very few waters in southern Maine that are iced-in, but that may change by the time you read this. A few early season waters where trout may be harvested in December include: Barker Pond (Lyman), Littlefield Pond (Sanford), Otter Ponds (Standish), Chaffin Pond (Windham), Worthley Pond (Poland), and Halls Pond (Paris). These waters are heavily stocked with brook trout of varying sizes and typically provide some fast fishing earlier on in the season and a great opportunity to harvest some catchable trout for the table. Even though fishing pressure was a bit heavier this summer due to COVID, the hatchery system raised some beautiful fish this year and stocked many regional waters this fall, so I am anticipating some great fishing this winter! Ice fishing is a great way to get outside and enjoy some fresh air this winter.
Ice fishing tip: If targeting salmon and brook trout, don't miss the early season for these species as the best fishing generally occurs within the first two weeks of ice-in. Tip two is the same as last year, learn to jig!
Reminder: About a decade ago fishing opportunities on many South Zone lakes and ponds were expanded to allow almost year-round fishing with some exceptions. One of those exceptions being that many waters managed as put-and-grow trout fisheries have the following regulation - From October 1 – December 31: ALO (Artifical Lures Only), S-7 (Catch-and-release for salmonids). Each year, MDIFW staff observe and receive many complaints that anglers are ignoring this regulation by using bait and/or harvesting trout in December. Please remember to check the fishing law book for the specific water you are fishing. In addition, you could try our new online fishing law search feature on our website or the Fishing Laws Online Angling Tool (featuring a digital, searchable map of the entire State).
Belgrade Lakes Region
From Fisheries Resource Supervisor Jason Seiders
Places to go: Levenseller Pond (Linconville): Levenseller Pond is a great little brook trout pond, offering various sizes and great catch rates. We have a new opportunity here this year: retired brood lake trout. These fish are very large (averaging about 10 pounds), and this is an experimental stocking program. We anticipate good angler success at catching these large fish in Levenseller, but we need to know for sure. Department biologists will monitor the pond, and informational posters (located along the shoreline) will give anglers more information. If we don't know the fish are being caught, we won't be able to continue stocking these fish…..so please let us know! Feel free to contact our Sidney Regional Headquarters and let us know if you catch one of these monsters (call 207-287-5300 or email Dwayne.J.Seiders@maine.gov).
Swan Lake (Swanville): Swan is a great opportunity to catch a quality salmon and have great action for lake trout. A tip up baited with smelt is always best for salmon, but jigging is by far the best way to catch lake trout. Many of the lake trout run between 18-24 inches, but there are some larger lunkers out there.
Webber Pond (Vassalboro): Webber Pond offers a great opportunity for those seeking warmwater fish. It's a great place to hone your jigging skills because it is one of the most productive "fish factories" in this region. Anglers will find huge numbers of black crappie, white perch, and yellow perch. Webber Pond anglers could also be rewarded with trophy-size largemouth bass.
Caesar Pond (Bowdoin): Caesar Pond is a great brook trout fishing opportunity for midcoast anglers. Caesar is a beautiful pond that offers high catch rates for brook trout in the 14-inch class, up to retired brood brook trout that could be four pounds or more! In addition to brook trout, Caesar has a robust largemouth bass population. This is a great opportunity for family groups or those looking for an action-packed day of fishing.
Outlook on the season: We've seen a huge increase in angling activity in 2020, and this winter will likely be one of the busiest we've ever seen. Be patient and respectful of others – there's plenty of ice to go around! Trout and salmon fishing should be great, especially in the first few weeks of the ice fishing season. The bass fishing and panfishing opportunities are nearly limitless in central and midcoast Maine. If you're looking for opportunities, just give us a call!
Ice fishing tip: A couple of ice fishing tips for early season trout fishing. The number one tip when it comes to ice fishing for brook trout is STAY SHALLOW. Your best brook trout water is going to be in less than five feet of water. Brook trout like shallow, near-shore habitat in the winter. Another tip when it comes to brook trout through the ice is keep your bait small. Small minnows or pieces of nightcrawler work just fine. You can certainly bait-up with a big shiner, but just know that many brookies will keep picking at that bait without getting hooked. A small bait works best for brook trout.
Reminder: Please stay safe out there. As always, feel free to contact your regional fisheries office if you have any questions or need any additional information or tips.
Grand Lake Region
From Fisheries Resource Supervisor Gregory Burr
Places to go: Safe ice in December comes to the small and shallow ponds first. This means that the first species that can be safely caught are warmwater fish and stocked brook trout. Here are a few places to put on your list to fish first:

Hamilton Pond (Bar Harbor): Fish for chain pickerel and largemouth bass.

Round Pond (Somesville): Fish for chain pickerel and stocked fall yearling brook trout.

Upper Hadlock and Lower Hadlock Ponds (Northeast Harbor): Stocked with fall fingerling, yearling, and retired brood stocked brook trout.

Lakewood Pond (Bar Harbor): Stocked with fall yearling brook trout.

Scammon Pond (Eastbrook): Fast fishing for chain pickerel.

Lovejoy Pond (T 35 MD): Stocked with fall fingerling and yearling brook trout.

Billings Pond (Blue Hill): Fish for largemouth bass and wild brook trout.

Indian Lake (Whiting): Stocked with fall fingerling, yearling, and retired brood brook trout.

Foxhole Pond (Deblois): Stocked with fall fingerling, yearling, and retired brood brook trout (kids only pond).
Keenes Lake (Calais): Stocked with fall fingerling and yearling brook trout.
In January I recommend fishing for landlocked salmon. Try Tunk Lake (Sullivan), Branch Lake (Ellsworth), Beech Hill Pond (Otis), Long Pond (Mount Desert Island), and Donnell Pond (Franklin).
The two Downeast waters that are stocked with rainbow trout, Flanders Pond and Jones Pond, were stocked with larger fish ranging from 13 to 18 inches. These waters are worth putting on your list for the winter!
Outlook on the season: The overall outlook for the upcoming fishing looks bright as many of the larger lakes and ponds salmon, lake trout, brown trout, rainbow trout and splake are growing well and should provide anglers with good catch rates and good chances for larger fish.
Ice fishing tip: When fishing for salmon use live shiners or smelts and set your trap just under the ice (1-2 feet under the ice). For catching rainbows I highly recommend fishing with worms.
Reminder: Remember, especially with December ice conditions, check the ice thickness early and often, and stay away from inlets, outlets, thoroughfares, spring holes, and saddle areas around islands.
Tight lines!
Rangeley Lakes Region
From Acting Fisheries Resource Supervisor Liz Thorndike
Places to go: It seems Jack Frost took a vacation as ice fishing season started later than normal with lack of cold temperatures in the Western Mountains. Don't worry though, cold temperatures will arrive, along with safe ice and the sound of "FLAG!" being shouted across the ice.
If you're in the Rangeley area or looking for a remote, back country ice fishing trip then Sturtevant Pond in Magalloway Plantation is a great choice. The Pond is stocked annually with landlocked salmon and has the potential to catch decent size smallmouth bass and yellow perch. Access is best with the use of a snowmobile.
Ellis Pond (Roxbury Pond) is a local favorite in the Andover/Roxbury area and it's easy to see why once on the water. The pond boasts mountainous views and offers fast fishing with 1,700 recently stocked brook trout. Access site off the east shore provides the ability to walk on or use a snowmobile.
If you're looking for a new place to fish, Greenbush Pond is home of a new brook trout stocking program. Recently stocked with fall yearling brook trout, averaging 12" in length, the pond has a deep hole of 22 feet and is only 24 acres in size. Access is just off Route 27 in Jim Pond Township. Yellow perch are plentiful and sure to keep anyone occupied.
Harvey Pond in Madrid Township is a kids-only ice fishing water and provides easy access and great memories fishing for the 200 brook trout recently stocked. Kids also have the chance to catch one of the brood brook trout that average over 16 inches!
Ice fishing tip: Before fishing a new water look online for a depth map. If you're fishing for brook trout, target shallower water and set traps or jig near the shoreline or structure.
Reminder:
If you choose to release your fish, work quickly and limit handling time as much as possible.
Moosehead Region
From Fisheries Resource Supervisor Tim Obrey
Places to go: As of 12/14/20, we've yet to see a prolonged stretch of cold weather here in the Moosehead Lake Region so ice conditions will dictate where anglers can have safe fishing in early January. Deep water takes longer to freeze so the best advice is to look toward the smaller, shallow waters and be extra cautious. Ponds like Prong Pd in Beaver Cove and Fitzgerald Pd in Big Moose Township are early season favorites in the Greenville area. Harlow/Manhanock Pd and Brann's Mill Pd are good bets in the Dover-Guilford area. All of these ponds are open for fishing before Jan 1st and they are stocked late in the fall with brook trout, including a few lunkers, so there should be plenty of action at the beginning of the ice fishing season.
Ice fishing tip: You don't have to fish deep for brook trout. Stick to the shoreline where it's safest. Worms are low maintenance and always a good bet for bait. Hopefully, Ole Man Winter will make an appearance soon and we can look forward to some terrific salmon, trout, and togue fishing in the north country.
Reminder: We will be operating under new regulations when the ice fishing season opens on January 1st, 2021 on Moosehead Lake. Click here to learn more about those regulations.
Penobscot Region
From Fisheries Resource Supervisor Kevin Dunham
Places to go: Maine's weather in the month of December can often wreak havoc on the psyche of ice anglers. While convention calls for dreams of a white Christmas, ice anglers wish nothing more than a full month of bone-chilling, teeth-chattering temperatures. For them, a thick layer of solid ice formed in December equates to a safe, traditional January 1 opening day of ice fishing season. Although we've had relatively mild winter weather so far this season, colder temperatures are certain to arrive soon.
There are a few smaller waters in the Penobscot Region that historically freeze over with sufficient ice early in the season, though caution is urged, and are also open to ice fishing in December. Brave anglers might want to try Wiley Pond in Patten. This 32-acre pond was stocked in November with fall-yearling brook trout averaging 14" in length as well as some retired brood stock brook trout averaging 18". Hay Lake in T6 R8 WELS got a fall stocking of brook trout as well as landlocked salmon and is a good early season destination. A couple other waters to target in December (if conditions allow) and January are Middle Oxhead Pond in T40 MD which is also stocked with fall yearling brook trout, and the perennial Bangor-area early season favorite, Perch (Mud) Pond in Old Town. Much like Wiley Pond, Perch Pond is also stocked with both fall yearling brook trout and some larger retired brood stock brook trout. Anxious anglers won't need to wait until January 1 as all the above-mentioned ponds are open to ice fishing in December, however, keep in mind all have a two trout bag limit to help spread the catch to as many anglers as possible.
Outlook on the season: If the results of our fall trap-netting effort are any indication, there should be some very happy salmon anglers at East Grand Lake this winter. During our two weeks of netting, we captured 123 landlocked salmon. The average length and weight of all salmon was nearly 18" and 2 lbs. The largest salmon captured was just under 22" and just over 3.5 lbs. This fall's catch at East Grand was the largest we've had in a number of years and all the salmon were in excellent condition. Trap-netting operations at Schoodic Lake and Cold Stream Pond also yielded very encouraging results. Cold Stream Pond salmon averaged 20.5" and 3.25 lbs. while the largest was just under 24" and weighed 5 lbs. Lake trout at Cold Stream Pond averaged just under 20" and weighed 2.75 lbs., the largest lake trout measured 24" and weighed just over 4.5 lbs. Fish size at Schoodic Lake was impressive as usual. Salmon averaged 21" and just under 4 lbs., the largest being a five-year-old fish that measured 23.5" and tipped the scales at 6.5 lbs. Lake trout at Schoodic Lake are growing well and the average this fall measured 20" and weighed 3 lbs., the largest lake trout captured measured 25" and weighed 5.5 lbs. Once these larger water bodies button-up and form safe ice conditions why not try your luck this winter at any of those three popular lakes and try to beat the average? Better yet, try all three!
Ice fishing tips: We tend to put away our ice fishing gear hastily at the end of the season, now is a good time to go over your tip-ups and respool old, weak fishing line so you don't lose the fish of a lifetime. Also, pack more than one (non-lead) depth sounder as these are easily misplaced or lost on the bottom of the lake.
Reminder: As always, be safe and check the ice thickness as you venture further from shore; especially during this early time of the season.
Fish River Lakes Region
From Fisheries Resource Supervisor Frank Frost
Places to go: Long Lake (St. Agatha): One of the premier salmon fisheries in the state, Long Lake is northern Maine's most popular winter fishery. Salmon average about 19 inches and more than 2 pounds most seasons. But, Long is well-known for "football" shaped salmon that can weigh more than 4 pounds. Each winter we measure or have reports of salmon in the 6-8 pound size. January is the most popular time to be on Long Lake but we also see trophy-sized salmon caught in February and March.
Eagle Lake (Eagle Lake): Northern Maine's second most popular lake for winter fishing, Eagle Lake is well known for producing large lake trout, also called togue. Togue here average around 4 pounds but there is a good possibility of catching one over 6 pounds or even a fish of a lifetime in the 10-20 pound size range.
Musquacook Lakes: For a remote angling experience we suggest trying one of three Musquacook Lakes located about 45 miles west of Ashland on the American Realty Road. Brook trout, lake trout, and whitefish are all doing well in these lakes right now so it's a perfect time to get away from the crowds and enjoy some solitude in the North Maine Woods.
Outlook on the season: The unusually dry and hot summer of 2020 will have little effect on those waters open to ice fishing which tend to be larger, deeper lakes and ponds. Sportfish usually have lots of refuge habitat during summers like we had in 2020. We expect a good season ahead with lots of people taking to the ice with the current COVID situation.
Ice fishing tip: The past couple of years has seen minor shortages in the availability of live bait, particularly smelt. Ice anglers prefer live bait and clearly smelt is the most preferred species to use for success with our coldwater sportfish. You should plan ahead to be sure you have bait for your upcoming trip; contact your local bait shop ahead of time to determine what is available and when. More and more anglers are spending the time to catch their own bait either by trapping or by hook-and-line. If you are fortunate to live near a water with smelt and it is open to ice fishing, consider spending some extra time to catch your own.