Fishing Report
Click the links below for the most up-to-date fishing news and suggestions from Maine's fisheries biologists.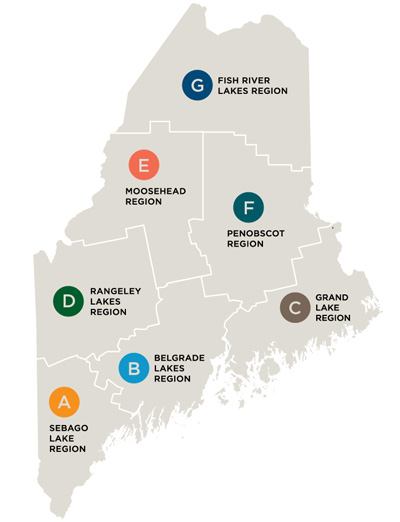 Sebago Lake Region
From Fisheries Resource Technician Brian Lewis
Places to go: The month of June is one of the best when it comes to fishing in Maine. It's the month that has a bit of something for almost everyone. If your preferred quarry is wild trout then June is prime time for wild brook trout in streams of all sizes. Branch Brook in Sanford, Worthley Brook in Poland, and Andrews Brook in Woodstock are good bets. If chasing freshly stocked trout is your thing, then Collyer Brook in New Gloucester, or the Little Androscoggin River From West Paris to its mouth are well stocked and ready to fish.
Places for kids to fish without competition from adults can also be found at a number of kids only waters (S-9 special opportunity waters) like Alden's Pond in Gorham or Norway Lake Outlet in Norway. S-9 waters are open to fishing only for persons under 16 years of age or persons holding an eligible complimentary fishing license.
Fishing tip: With the Free Fishing Weekend coming up, June 5-6, and great opportunities available like those above, it is a great time to take a new angler fishing. Whether a new angler be adult or child, remember, keep it simple. A very traditional bank fishing set up of a light weight painted jig head tipped with a worm and cast from a light spin casting set up is effective in a variety of environments. Good luck and have fun with it!
Belgrade Lakes Region
From Fisheries Resource Supervisor Jason Seiders
Places to go: Great Pond and Long Pond (Belgrade) – June is a great month for bass fishing and the Belgrade Lakes boast some of the best smallmouth bass fishing you'll find. We've been conducting some bass survey work on Long Pond and Great Pond this spring and they both continue producing amazing numbers of bass and awesome size quality. Many of the fish we've collected this spring have been in the 3 pound class, and it's always possible to catch one over 4 pounds. It's rare to have size quality and good numbers, but it's very possible to catch 25-50 smallmouth in a day. In addition, we've received reports of several large brown trout from each of these lakes this spring (fish over 5 pounds), and they continue to produce some of the biggest white perch you'll ever see!
Kennebec River (Forks and Bingham) – The Forks section of the Kennebec produces some great salmon and brook trout fishing. This is a great time to go for brook trout; before the water gets too warm. Salmon numbers are always high and catch rates will keep you busy. This is a beautiful and scenic section of the Kennebec and it offers great opportunities for float trips with a variety of whitewater opportunities. The Bingham section continues to produce incredible fishing for wild rainbow trout and landlocked salmon. In recent years, this area has produced some really nice wild brook trout – some up to 18 inches. If the trout aren't cooperating you can always fish for smallmouth bass. Smallmouth are considered invasive in the upper Kennebec River so there are no size or bag limits on bass. Don't let that fool you – bass are quite plentiful in this area and some sizable fish can be caught. This section offers another great float trip opportunity for those interested in spending the day on the water.
Bowler Pond (Palermo) – Bowler is a beautiful little trout pond located just a short drive off Route 3 in Palermo. The access will accommodate small trailered boats (no bigger than 14-16 feet), and the pond is small enough to fish effectively by canoe or float tube. Bowler is a great opportunity to catch good numbers of stocked brook trout up to 18 inches. We surveyed Bowler in 2020 and found it was getting very light use and very little trout harvest, so trout numbers were quite high for such a small pond. This is a great place to catch an evening hatch or do a little trolling. If the trout aren't cooperating you can always catch smallmouth along the shoreline, though most are quite small. You might catch one of the few white perch in Bowler Pond; there are very few but they're usually around 2 pounds.
Fishing tip: We receive calls from frustrated anglers that have difficulty catching fish in their favorite waters; could be bass, trout, anything. If you're having some difficulty catching your target species try something new, whether it be a lure or location. Don't get locked into one spot, one lure. Change up your time of day, the type of lure you're using, or even your presentation. We follow up on some reports of lackluster fishing and many times we'll find that there are plenty of fish in the lake, it's just a matter of timing and presentation. The internet provides anglers with a ton of information, so don't be afraid to do a little research to improve your luck.
Tips for taking a beginner fishing: If you're teaching a brand-new angler PLEASE take them fishing for species like perch, pickerel, sunfish, or bass. These species are far more likely to bite almost anything you put in front of them, and it's a great way to give a new angler some confidence to keep going. With new anglers (and kids) it's a matter of quantity rather than quality. Don't take a brand-new angler fly fishing for brown trout!
Reminder: As always, if you have questions about anything fish-related give us a call. We work on the water and we fish a ton during our personal time, so we have a good feel for "what's happening where". Good luck and be safe!
Grand Lake Region
From Fisheries Resource Supervisor Gregory Burr
June is a terrific time of year for diverse fishing experiences with many of Maine's top game species. Wild brook trout stream fishing is right at the top of the list Downeast and I highly recommend the following streams and small rivers: Old Stream in T 31 MD is very good above and below Route 9 and is a must fish for wild trout aficionados. Crooked River in T 30 MD located above Route 9 has some nice brookies and feels very remote when fishing it. The Indian River is an overlooked Washington County trout gem located below Route 1 in Columbia Falls. This picturesque remote coastal stream meanders through Columbia Falls, Jonesboro, Jonesport and Addison on its way to the ocean. Anglers should also try fly fishing, spin casting or worm dunking the Chandler River in Jonesboro for brook trout just above Route 1 and also above the Station Road in Centerville. I also recommend Pleasant River above Saco Falls in Columbia. The Pleasant River's wild brook trout fishery will even persist into July due to the large amount of cold-water inflow coming into the river from gravel eskers and spring tributaries.
June is also prime time to bass fish. Early to mid-June is the time to find male smallmouth bass aggressively guarding their nests along the shores. This is the best time to introduce someone new to fishing as smallmouth and largemouth of both sexes are found in the shallows and will attack most lures cast into the shore with reckless abandoned. Some of the best bass lakes Downeast are: Big Lake in Princeton, Meddybemps Lake in Meddybemps, Woodland Flowage in Baileyville, Toddy Pond in Orland and Branch Lake in Ellsworth.
For anglers new to the sport I recommend going to waters with numerous amounts of bass early in June and maneuvering fifty to seventy feet from shore with your canoe, kayak or boat and casting into the shoreline with any lures you might have as bass are not that selective. Waters such as Cathance Lake in Cooper, Meddybemps Lake in Meddybemps and West Grand Lake in Grand Lake Stream will not disappoint and will have you hooked on fishing for life.
Reminder: Remember before fishing any of the trout streams above be sure to check your law book for special regulations. The map-based display of special fishing regulations, called FLOAT, can be found at mefishwildlife.com/float or look at the laws online at mefishwildlife.com/fishinglaws. Tight Lines!
Rangeley Lakes Region
From Fisheries Resource Technician Tyler Grant
Looking out my window, spring appears to have been skipped completely and given way to an early summer. Fortunately for anglers in the Rangeley Lakes Region, no one told the fish. June is traditionally one of the best months to get out and fish. Water temps are still cool, and the fish are biting well, so there's plenty of time to get out and enjoy it.
Places to go: With the cool water temperatures persisting, some anglers on our larger lakes are enjoying excellent fishing. Rangeley Lake is a 6,000 acre, coldwater lake located in the town of Rangeley, in the shadow of Saddleback Mountain. There are several great launches making access easy. Anglers who enjoy camping as well as fishing should check out the Rangeley Lake State Park to the south, which has its own excellent boat launch. The lake has wild landlocked salmon and brook trout populations, which are supplemented with yearly spring stockings of both species. Anglers targeting Rangeley's famous salmon should plan to get a very early start, as many will tell you that "the bite on Rangeley ends at 9 am." Anglers using smelt imitation spoons and sewn on dead smelts trolled very slowly are often successful for salmon and brook trout.

Anglers looking for a great place to hike in and fish should check out Mountain Pond. This 35-acre pond is located in Rangeley Plantation, south of Rangeley lake, and is accessible via an excellent hiking trail. The trailhead for this 1.2-mile hike is on the Edelheid Road off Rt 4 in Sandy River Plantation. There is a small parking area for anglers and the trail is well used. This catch and release wild brook trout water is fly fishing only, and anglers have great success catching medium sized trout. There are opportunities to fish from shore, but a float tube would be helpful.
Stream anglers should check out the Magalloway River in June. This historic river flows through Lincoln Plantation on its way to Umbagog Lake and is the main outlet of Aziscohos Lake. It's also well known for producing large wild brook trout. There are several great access points along the river and a series of angler trails makes it one of the more accessible rivers in the area. There is parking available at the Brookfield-owned pumphouse below the Aziscohos Dam, and from there anglers can use the well-travelled trails to explore the many famous pools. The Bennett Rd off Rt 16 provides additional access and places to park and fish. Anglers who choose to explore this river should remember to bring their patience. This highly regarded river is well known and can get quite busy. Try to plan your trip on a weekday or early in the morning for the best success and to beat the crowds. Most of the river is managed as catch and release and fly fishing only for brook trout so be sure to consult the lawbook or check out the online FLOAT tool. The section upstream of Bennett's covered bridge to the red markers is open for young anglers under 16 years old to use worms, dead bait, or lures from June 1 to August 15 making it a great place to introduce kids to angling in a famous location.
Fishing tip: Spring fishing is all about matching the forage available, whether that is smelt, emerging caddis, scuds, or even leeches. Turn over a rock, study the surface or the shallow water. Figure out what is available for the fish to eat and try to imitate it.
Tip for introducing a new angler to fishing: In my experience introducing an angler to the sport is about actually catching something. Experienced anglers can appreciate the chess match that is outsmarting a wise old fish, but new anglers should get to feel that tug on the line, regardless of species that is caught. Some of my first memories of fishing are catching creek chubs in the stream by my old house, or white perch in Little Pushaw Lake.
Reminder: Remember, June fishing is well known for great success and clouds of bugs. Black fly and mosquito season is in full swing in the western Maine area. Be prepared with repellent, or bug proof clothing so you can enjoy your time fishing.
Moosehead Region
From Fisheries Resource Supervisor Tim Obrey
Places to go: June… Maine's buggiest month. Black flies are thick enough to eclipse the sun. Mosquitos passing over are mistaken for jumbo jets. But, if you can make it through that, the fly fishing is at its peak. Mayflies have been hatching for a couple weeks now and soon the first of the caddis and stoneflies will start popping. This is a great time to hit your favorite fly-fishing trout pond. All the fish are active at some point during the day. Early in June, the best activity is mid-morning after the sun starts to warm the water. By the end of the month, you'll want to be on the water at sunrise and that magic last hour of sunlight. I wouldn't want to focus on any small pond, but there are many good trout ponds in the Greenville/Jackman area to keep an angler busy for a lifetime. Just do a little research and give a few a try.
June is also the best time for bass fishing along the southern edge of the Moosehead Lake Region. Sebec Lake is always a favorite. There are plenty of bass in Sebec Lake to keep you busy and there are certainly some trophy fish as well. Brann's Mill Pd in Dover-Foxcroft will offer fast fishing but the bass tend to be smaller, but it's a great place to take the kids. There are plenty of pickerel, perch, and sunfish to keep the rods bending. There's also a nice causeway near the boat access site to allow you to fish from shore if you want to chuck a worm. You might even find a stocked brook trout from time to time. The bass will spawn early in June at Brann's Mill since it is a shallow warm pond. Bass hold off until mid-June at the deep cold Sebec Lake. Spawning season offers some great sight-fishing opportunities for bass on their nests.
Reminder: The Fisheries Staff will be operating the trap in the East Outlet fishway starting in mid-June. We typically tend on a Monday-Wednesday-Friday schedule around mid-morning. If you're in the area and see us up on the deck of the dam, feel free to swing over and check out the fish. We typically see the biggest and best fish in late June then more smaller fish (trout and salmon) through July.
Penobscot Region
From Fisheries Resource Biologist Kevin Gallant
Places to go: June is prime for brook trout fishing. Whether you want to target ponds or streams the Penobscot Region has you covered. Mitchell Pond in T7R9 WELS provides some fast quality brook trout fishing. We have a voluntary angler box set up there where you can fill out the information from your fishing trip and we use that data to manage the fishery. If you are looking for a place to catch some quality fish and contribute data to MDIFW Mitchell is the place for you! We also have a few boxes set up along Millinocket Stream in Millinocket. The stream allows plenty of places to fish from shore for brook trout and landlocked salmon (yes, they are landlocked salmon, even though they are in a flowing stream). Trout and Loon Ponds in T40 MD also provide easy access brook trout fishing, just be prepared to feed the blackflies and mosquitos! The Penobscot River bass fishing is also tremendous in June, fish from a boat or from shore and prepare to catch a lot of bass.
Fishing tip: If you are new to fishing, make sure you take advantage of the free fishing weekend June 5-6. We recommend using a lure that looks like a fish, insect, or worm. Brook trout can't resist something that resembles the food that is available for them at the pond! If you are new to fly fishing the old saying of match the hatch is true. If you have a fly in your box that resembles the bugs you see on the surface of the pond, tie it on!
If you are just getting out for the first time this year remember to replace the fishing line on your poles. Would hate to see you lose the big one due to old fishing line!
Reminder: Even though the air temperature is heating up, in many places the water remains cold so wear your life jacket and it could save your life!
Fish River Lakes Region
From Fisheries Resource Supervisor Frank Frost
Places to go: June is a great month to fish in Aroostook County as water temperature and levels are about perfect for pursuing brook trout and other sport fish. While we continue to see dry conditions for this time of year, rivers and streams are at excellent flows for angling. Early reports from trout ponds around the region indicate that brook trout did just fine in lakes and ponds during last summer's drought conditions… a good sign for sure.
Cross Lake, Cross Lake Township – this water has easy access off Route 161 via Disy Road to a large public lot with ample parking, a boat ramp, and an extensive gravel beach for shore angling. June is a great month to fish here as salmon and trout may be caught from shore while water temperatures remain cool.
Aroostook River, Caribou and Fort Fairfield – wild brook trout and landlocked salmon are present here and are readily caught this time of year. Three public boat launches exist to allow for short- or longer-day trips.
Saint John River, Frenchville – a modern boat launch facility is located along Route 1 that allows easy, convenient boat access. As water levels drop in the spring, anglers may also fish from shore up and downstream from this location. The primary fishery now is smallmouth bass and muskellunge.
Fishing tip: June is a great time to focus on insect hatches. Experienced anglers know when the large hatches take place; trout and salmon will usually take advantage of such times to feed. Every water body is different and will have varying hatches of time and intensity. In early June, late morning can be very productive, as cool water begins to warm. On the Aroostook River mentioned above, hatches of caddis can be particularly good and oftentimes occur in late morning.
Reminder: We are still encouraging harvest of salmon at Eagle Lake, in the Town of Eagle Lake on the Fish River Chain. The current regulation on salmon is no bag limit on fish less than 14 inches and 2 salmon over this length. We continue to monitor the effectiveness of this rule that was put in place several years ago.