Fishing Report
Click the links below for the most up-to-date fishing news and suggestions from Maine's fisheries biologists.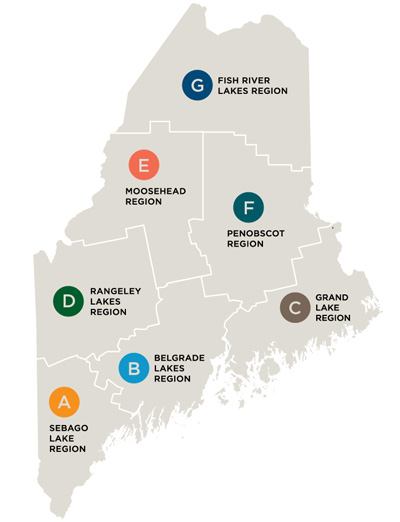 Sebago Lake Region
From Fisheries Resource Supervisor James Pellerin
Waters to target: We are expecting another fast year of fishing at Sebago Lake and hope anglers continue to harvest more lake trout. As of January 1, 2020, lake trout (togue) regulations at Sebago Lake have been liberalized to: no size or bag limit for togue under 26 inches and a one lake trout bag limit for togue equal or exceeding 26 inches. These changes were made to address relatively recent changes in the lake's cold-water fisheries including an overabundance of togue, a decline in forage fish abundance, and a noticeable impact on the abundance and size quality of landlocked salmon. Regional fisheries staff are encouraging anglers to harvest legal togue as opposed to voluntarily releasing them.
Ice fishing tip: Learn to jig!
Update on the season so far: Many of the fall stocked trout waters, particularly those stocked with brook trout were fishing well in December. Although the New Year kicked off with a thick blanket of heavy, wet snow, anglers were out in force. Many anglers chose to fish waters where they didn't have to travel too far from access points due to poor walking conditions, slush potential, and ice conditions that remain questionable. Most small to medium sized lakes and ponds had about five to eight inches of ice, but many retained areas of open water, particularly inlets, outlets, and spring areas. Most larger lakes in the area (i.e. Thompson Lake, Sebago Lake) are still mostly ice-free.
Reminder: About a decade ago fishing opportunities on many South Zone lakes and ponds were expanded to allow almost year-round fishing with some exceptions. One of those exceptions being that many waters managed as put-and-grow trout fisheries have the following regulation: from October 1 - December 31: ALO (artificial lures only), S-7 (all trout, landlocked salmon, and togue caught must be released alive at once). Each year, MDIFW staff observe and receive many complaints that anglers are ignoring this regulation and harvesting trout in December. Please remember to check the fishing lawbook for the specific water you are fishing.
Belgrade Lakes Region
From Fisheries Resource Supervisor Jason Seiders
Waters to target: There are a few new stocked brook trout waters to give anglers opportunities closer to home. Cain Pond in Searsport was stocked with a good number of 12-14-inch brook trout. In the midcoast area, Tolman Pond in Rockport and Kalers Pond in Waldoboro received plenty of 12-14-inch brook trout, as well as some large retired brood brook trout. The retired brood fish can be three to five pounds!
If you are looking to catch lake trout, Swan Lake in Swanville and Sheepscot Pond in Palermo are good bets. Swan Lake has a booming population of wild lake trout, with numerous three to five-pound fish. Sheepscot Pond is currently loaded with lake trout, though most of them are 12-16 inches long. Although many of these fish are sublegal, it is a great opportunity to have lots of action catching wild lake trout.
Megunticook Lake in Camden is a great bet for quality rainbow trout and brown trout. Anglers report good catches of both species, and our recent work there indicates a good number of quality size fish.
Ice fishing tip: If you are fishing for brook trout, use small bait, fish shallow (in one to five feet of water), and fish over gravelly or rocky bottom.
Update on the season so far: The season has been mixed so far. Ice conditions are sketchy, so it has limited the amount of angling on many lakes. We have seen a number of anglers fishing shallow ponds for brook trout and having good success. Additionally, we have seen several anglers seeking panfish such as perch and crappie and having good success for those species. Jigging is the way to go for panfish if you want to maximize your catch.
Reminder: Be careful out there! The ice is thin and can vary in thickness. Also, please pick up when you are done. We lose public access because of trash and other litter. Feel free to call your regional biologist if you have questions or need advice. We're on these waters frequently and can help steer you in the right direction!
Grand Lake Region
From Fisheries Resource Supervisor Gregory Burr

Waters to target: If you are hoping to catch lake trout, head to Beech Hill Pond in Otis. Beech Hill Pond has an abundant lake trout population and a new fishing regulation. As of January 1, 2020, anglers can keep six lake trout under 23 inches at Beech Hill Pond. Prior to this change, anglers could only keep two lake trout under 23 inches. We encourage Beech Hill Pond anglers to keep fish under 23 inches to enhance the growth and condition of the remaining lake trout that will help keep the forage base in balance and robust for all sport fish in the pond. Anglers can expect a fairly high catch rate for lake trout and good catch and release fishing for landlocked salmon. All lake trout between 23 and 33 inches must be released at once and only one lake trout over 33 inches can be kept. It is catch and release for landlocked salmon in the months of January and February.
Ice fishing tip: Don't fish spots on a lake or pond where other anglers have already fished. Fish a different spot and you fill find fresh fish and generally more fish to fish over. Anglers who hound the same fishing spots that others fish are usually destined to have reduced catches. Anglers who explore and fish new shores that have not been fished yet usually have good consistent fishing and may find larger fish in the new spots.
Update on the season so far: So far anglers have been fishing small brook trout waters that are less than 50 acres in size. Ice thickness on these small ponds from the Downeast coastal plains to the interior north of Route 9 are finding three to four inches in the south to seven inches in the north. Some anglers are finding safe ice in coves of larger lakes and are fishing on 3 inches of ice. On all waters that have ice, Downeast anglers are using caution and checking the ice often.
Rangeley Lakes Region
From Fisheries Resource Supervisor David Howatt
Waters to target:
Ellis Pond in Roxbury is a 920-acre water that was recently stocked with three age classes of brook trout totaling 2,075 fish. Most of these are the 12-14-inch fall-yearling cohort. The pond also has smallmouth bass, chain pickerel, and both white and yellow perch. Angler access is very good with an MDIFW-owned access site along the east shore.
Wesserunsett Lake in Madison is 1,446 acres and is annually stocked with 2,000 fall-yearling brook trout and 2,200 fall-yearling brown trout. Largemouth bass, chain pickerel, and both perch species are also commonly targeted and caught by anglers. It is easily accessible on both the east (East Madison boat launch) and west (Lakewood) sides of the lake.
If you are fishing with children, don't forget about the Rangeley Region's kid-fishing waters that are open to ice fishing (these waters are restricted to persons under 16 years of age and complimentary license holders):
Harvey Pond in Madrid receives 250 spring-yearling and 150 fall-yearling brook trout annually. It also received brood fish this year (see above).
Tibbetts Pond in Concord Township receives 100 spring-yearling and 150 fall-yearling brook trout annually.
Toothaker Pond in Phillips receives 350 spring-yearling and 100 fall-yearling brook trout annually.
MacDougall Pond in Caratunk receives 100 spring-yearling and 100 fall-yearling brook trout annually.
Ice fishing tip: I'm a proponent of using small baitfish. If specifically targeting lake trout and other large predators, I usually want to use large bait as that does work best. However, for all other species, I generally use small to medium sized baitfish. Salmon, brook trout, and warmwater fish species (bass, perch, crappie, etc.) won't usually pass up a 2-3-inch snack. Larger (4-5-inch) baitfish are usually less desirable. Golden shiners and dace (if I can find them and they're usually priced lower in bait shops) are my favorites.
Moosehead Region
From Fisheries Resource Supervisor Tim Obrey
Waters to target and reminders: Allagash Lake: We have expanded ice fishing opportunity at Allagash Lake in hopes of anglers harvesting more lake trout. Allagash Lake no longer has the February only ice fishing season and is now open under the General Law season for the North Zone. Anglers can now use five lines instead of just two. Recent studies on the lake indicate that lake trout are very abundant, and growth is not as good as in the past.
Big Houston Pond: The legal length limit on lake trout at Big Houston Pond is now 18 inches rather than 23 inches. The pond was managed with a 23-inch length limit for many years, but we found that very few legal fish were caught.
Please remember that the General Law in the north zone now includes "No live fish as bait." All waters open to the use of live bait will have the special law code S-11 in the new 2020 lawbook (PDF).
Ice fishing tip: The most important component of a good early season ice fishing trip is safe ice. Typically, Moosehead Lake has a lot of bad spots opening week. Places like Big Wood Pond in Jackman have better ice in early January. We also stock a good number of fall yearling brook trout and splake at Big Wood, which makes for some fast fishing for 12-14-inch fish.
We also stocked some retired brood fish in Center Pond in Sangerville this fall. These brown trout are very large. You may want to upgrade your fishing line before heading out on this pond.
Update on the season so far: The small stocked trout ponds in the area have been providing some early fishing action. Places like Sawyer Pond, Fitzgerald (Mountain View) Pond, Harlow Pond, and Prong Pond have seen some activity. All these ponds are stocked in the fall and are favorites for anglers that can't wait until January for some hardwater fishing.
Penobscot Region
From Fisheries Resource Supervisor Kevin Dunham
Waters to target: For early season brook trout fishing, try Flat Iron Pond in Cedar Lake Township, Norton Pond in Brownville, or Perch Pond in Old Town. All three of these waters were stocked with sizable fall-yearling brook trout (about 12-14-inches) this fall and also a few retired brood fish (about 18 inches) and are great places to bring kids to interest them in ice fishing. These ponds are on the small side and tend to have good early season ice conditions.
We're encouraging anglers to help us thin the lake trout (togue) population at Third Debsconeag Lake in T1 & 2 R10 WELS. Numbers of togue at Third Debsconeag have increased to the point that the growth and condition of the population has begun to suffer. Recently we liberalized bag limits on the lake for togue and the daily limit is now six togue with a minimum length of 14 inches, while only one togue can exceed 23 inches. Thinning out some of the smaller togue will help buildup available forage for remaining larger fish and increase size-quality
Ice fishing tip: Don't be afraid to fish close to shore where you may have better luck and can get out of the wind. For brook trout, jig with a Swedish Pimple and worm.
Update on the season so far: The season is still very early. Anglers caught some good trout in Norton Pond in the fall and people are already catching lake trout at East Grand Lake. There is six to nine inches of ice in most places, but please use caution.
Fish River Lakes Region
From Fisheries Resource Supervisor Frank Frost
Waters to target: The Houlton area in southern Aroostook County is a hotspot for anglers looking to catch hatchery brook trout and other species. The Department has an aggressive stocking program on several waters including Nickerson Lake, Drews Lake, Mud Lake, and Spaulding Lake. These waters are located in Linneus, New Limerick, and Oakfield. Nickerson and Drews Lake also boast some great brown trout with fish around 20 inches caught every year.
For anglers seeking a backwoods experience, the Musquacook Lake chain is located close to the American Realty Road, an approximate 45-mile drive west of Ashland. First, Second, and Third Musquacook Lakes are all open to ice fishing and boast some excellent trout and lake trout populations right now based on some of our summer netting surveys. There are six-nine-pound togue available to be caught here and numbers of these larger fish appear to be higher than in recent years. Travel on these woods roads can be dangerous; these roads are plowed by private landowners to move wood products so recreational users must use extreme caution here and the use of the MURS radio system is highly recommended.
Ice fishing tip: Fishing for lake trout (togue) is sometimes best around points of land that extend into deeper water. You can locate these hotspots using maps or just traveling the shoreline on snowmobile. Focus on water depths of 15-40 feet off these landmarks and use large smelt for bait. Large togue cruise these areas searching for food and can often be caught close to the surface as well as near the bottom.
Update on the season so far: Northern Maine has excellent ice conditions to start the season. During our surveys on several Allagash region waters as well as Fish River Chain waters in eastern Aroostook, we have seen ice 8-18 inches thick and typically 12-14 inches. The ice is solid, clear ice with a thin layer of light snow on top…excellent travel conditions for anglers. Snowmobile trails around lakes and ponds, however, could benefit from a few inches of snow. Long Lake in Saint Agatha has been excellent fishing so far. Salmon growth has improved in the past few years and catch rates were excellent during the first week of the season. We have measured fish between the ages of three and six-years-old that look very healthy. Three-year-old salmon have averaged 17.5 inches. The largest salmon we have measured was over six pounds; the largest salmon reported via social media/email was an eight-pound, eight-ounce fish that was not fin-clipped, meaning it was a wild fish.
Reminder: We have seen open water in the normal spots around inlets and points. Martin Stream that flows into Big Eagle Lake from Chamberlain Lake, has a higher water flow now than in the past. Anglers should be aware that ice thickness can vary where these inlets enter. Be aware of the two prominent points where Martin Cove enters the large area of Big Eagle Lake… there are small areas of open water near both points. Birch River inlet on St. Froid Lake also has a large area of open water.