Fishing Report
Click the links below for the most up-to-date fishing news and suggestions from Maine's fisheries biologists.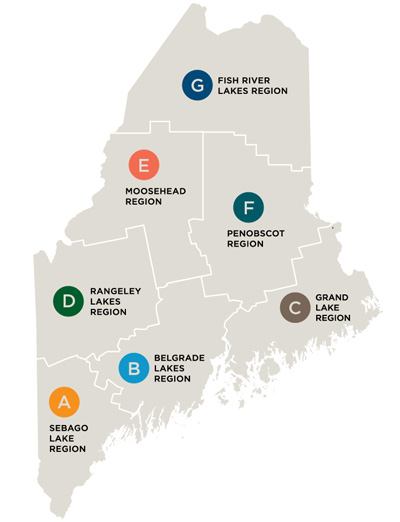 Sebago Lake Region
From Fisheries Resource Supervisor James Pellerin
Waters to target: One of the best early season fishing opportunities is ice-out trolling for landlocked salmon and lake trout. For a shot at both salmon and lake trout in a single trip, anglers may want to try Sebago Lake, Thompson Lake, Auburn Lake, and Kezar Lake. For those wanting to explore some lesser-known waters for lake trout with decent numbers of trout should give Great East Lake, Mousam Lake, or Colcord Pond a try. These same three waters may also give up a few salmon here and there.
Stream fishing is likely to be a bit slower in the region until stockings gets underway and things warm up a bit. I spent a lot of time chasing the elusive stream trout when I was younger and just couldn't wait for opening day. I had fun, but was often unsuccessful in the early season back then. A few things I learned, a lot of trout stocked in streams do not over-winter and need to be restocked each year and those stockings often do not start until later in the season. Keep an eye out on the Department's stocking report posted on our website for local stocking information. Targeting wild trout was more successful for me back then, but even they were difficult in the early season as many were still in over-wintering habitats and the water was too cold for them to be very active. My dad always told me, "When the leaves on the alder's are the size of a mouse's ear" is the right time to go stream fishing for trout. There is some truth to that old saying, and although it is good advice sometimes you just can't wait! For those who cannot wait, some good early season bets would be to target lake/stream shore areas that attract salmon due to currents or congregations of spawning smelt. A couple examples would include: below the Songo Locks in Naples or the Thompson Lake Causeway at the Heath in Poland.
Fishing tip: My tip(s) for spring trolling are to go early in the morning, troll slow, and use live bait (where legal). As the water warms up, you can then pick up the speed, and switch over to lures and streamer flies.
Reminder for anglers fishing Sebago Lake: The protective slot limit on lake trout has been removed in an attempt to rebalance the salmon and togue (lake trout) fisheries. The new regulation on lake trout is: no bag limit for togue under 26 inches and no minimum length limit; only one may equal or exceed 26 inches. The voluntary release of legal-sized lake trout remains quite high, and anglers can play a vital role in restoring the salmon fishery by harvesting their legal togue. Anglers should try some new recipes (i.e. deep fried in beer-batter/smoked) for lake trout. In addition, if you catch more lakers than you can possibly eat or give away then try the drop off freezer at Jordan's Store in Sebago. Dropped of togue are donated to local wildlife rehab centers to feed the animals. Thanks for your efforts and stay safe and healthy.
Belgrade Lakes Region
From Fisheries Resource Supervisor Jason Seiders
Waters to target: Ice fishing is pretty much over in the central Maine area. Any ice that is left is most likely unsafe. Lakes and ponds along the midcoast are mostly free of ice, and folks are definitely taking advantage of the opportunity to get their boat out early. Trout stocking will happen soon, and here are a few areas that should produce decent action:
St George River: This river is heavily stocked, from Appleton to Warren. Brown trout and brook trout are stocked at most road crossings along the way, providing numerous areas for folks to fish.
Medomak River: Similar to the St. George, the Medomak River is heavily stocked at most road crossings. Both brown trout and brook trout can be found throughout the river, and some of the road crossings have great pools that hold decent numbers of fish.
Megunticook Lake: Megunticook Lake is stocked with brown trout and rainbow trout and both provide a great quality fishery. The rainbow trout fishery produces most of the catches on Megunticook, and fish quality is great. Additionally, the view around the lake is spectacular.
Lake St. George: Landlocked salmon and brook trout numbers looked really good when we surveyed Lake St. George last fall. Angler reports from this winter revealed a surprisingly slow ice fishing season. This should mean a great spring fishing opportunity for salmon and brook trout. Salmon growth has improved here, and brook trout growth and survival is the best we have seen in several decades.
Fishing tip: Ice-out fishing can be slow due to cold water and slow fish metabolism. Whatever tackle you choose, whether flies, lures, or bait, fish slowly! If you're fishing for newly-stocked brook trout or brown trout, keep your lure or bait on the small side. You're far more likely to catch a newly-stocked trout on a small spinner than you are by using a big spoon.
Reminder: These are uncertain times. Wherever you go fishing you should expect to see others seeking the same escape that you are. Please be respectful of everyone's personal space and be patient. This might mean waiting to take a turn fishing at a certain pool, or even moving along to another spot. It also means being thoughtful of others and sharing a spot at least six feet apart. We are incredibly fortunate to have wonderful and beautiful resources here in Maine; they can provide a much-needed outlet from all the stresses of our current situation. Be safe, have fun, and catch some fish!
Grand Lake Region
From Fisheries Resource Supervisor Gregory Burr
Waters to target: Open water anglers should concentrate their early fishing efforts on waters that were closed to ice fishing or ice fishing waters that had poor ice conditions. In particular, small trout ponds that go ice-free early due to open exposure to the sun and wind. Here are some of my early favorites to try:
Simmons Pond in Hancock has good numbers of stocked brook trout with some fish up to 15 inches.
Witch Hole Pond in Bar Harbor also has good numbers of stocked brook trout with some fish reaching sizes of 16 inches.
West Pike Brook Pond in Deblois has good numbers of stocked brook trout with fish reaching up to 16 inches.
Little Pond in Franklin has low numbers of stocked brook trout but the persistent angler will catch fish up to 20 inches.
Fox Pond in T 10 SD, off the Black Woods Road (Route 182) can have fast fishing for stocked brook trout with some fish as big as 14 inches and some brown trout reaching 3 to 5-pounds.
I also recommend fly fishing Grand Lake Stream for the first week in April. The dam pool below West Grand Dam can be very productive for post-spawn salmon that over-wintered in the stream. Smelt imitations streamers are some of the best flies to use here.
Fishing tips: Brook trout will start to roam shallow water areas as soon as the ice goes out and will do so for at least the first two weeks after ice out, taking advantage of active insects and baitfish moving along the warmer, south-facing shorelines.
When planning to fish larger lakes it sometimes best to wait a few weeks after ice out and let surface waters warm to over 50 degrees as fish will get more active as the temperature raises between 50 and 65 degrees. The exception to this is areas around the mouths of smelt spawning tributaries where spawning takes place in our area between April 10 and May 1 and can coincide with ice out. These smelt staging areas can turn on fish feeding frenzies even when the water is very cold and the trout and salmon are still mostly lethargic.
Reminder: Best larger lakes to fish in the spring are as follows: Long Pond in Mount Desert, Echo Lake in Southwest Harbor, Jordan Pond in Seal Harbor, Tunk Lake in T 10 SD and Donnell Pond in Franklin. Also, don't forget the fast fishing that can be had trolling for rainbow trout at Jones Pond in Gouldsboro and Flanders Pond in Sullivan. Tight Lines!
Rangeley Lakes Region
From Fisheries Biologist Elizabeth Thorndike
Waters to target: April in Region D can be a difficult month to fish, often caught between ice fishing and open water seasons. For those seeking the hard ice until the bitter end, there are a few waters that typically hold ice into April and maintain road access. Pleasant Pond in Caratunk is a great late season water to fish for lake trout and is known for producing fish over 10 pounds and on certain days jigging can lead to a double-digit total catch. Chain of Ponds in Chain of Ponds Township offers opportunities to catch wild and stocked brook trout along with wild landlocked salmon. Chain of Ponds is made up of five waters closely connected, each offering their own set of unique characteristics, caution should be exercised around the thoroughfares between ponds.

Open water fishing: Depending on flows, rivers and streams will be stocked in the following weeks. Kid fishing waters (S-9 waters) are often stocked early, Wilson Stream, the outlet to Wilson Lake in the town of Wilton and Muddy Brook, and the outlet to Clearwater Pond in Industry are both great locations with easy access to take kids fishing for brook trout.

The Big Eddy, found below the Flagstaff Lake dam in the Dead River provides anglers an excellent early season fishing opportunity for brook trout, landlocked salmon, and rainbow trout. The Carrabassett River flows alongside Route 27 through the towns of Carrabassett Valley, Kingfield, and New Portland and offers multiple locations along the road to fish for both rainbow and brook trout. Easy roadside access provides the opportunity to fish multiple locations with little difficulty.
Fishing tip: Prepare for fishing season early and tie your flies now. It is also a great family activity and a way to get kids involved and excited for when they can get out fishing. Dust off your rod and reel and step out in your yard or a local park to practice your casting so when you finally see that first fish rise this year, you are sure to be accurate!
Reminder: When getting on the ice to ice fish, remember the shoreline typically is the first to melt and when you are ice fishing late season, the ice you crossed in the morning may become thin by the time you leave.
Moosehead Region
From Fisheries Resource Supervisor Tim Obrey
Waters to target: Ice out will come early this year but there may be a few more days of ice fishing in the Moosehead Lake Region in early April. Smaller ponds to the north of Greenville will have ice for a week or so. Fitzgerald Pond and Prong Pond are good bets. There may be a few stocked brook trout still hanging around and Prong Pond has plenty of perch to keep the flags flying. Big Wood and Little Big Wood Ponds in Jackman typically have ice later in the season too. You might catch a few splake, brook trout, or salmon.
If you really want to cast a line into some moving water, then you might try the East Outlet or West Outlet. Both are stocked with brook trout and there are some salmon too. Wet flies or streamers will suffice until the insect activity picks up in May.
Reminder: The problem with ice or open water fishing in this neck of the woods in April is getting there. The gravel roads typically thaw in the warm March sun and can get very soft and suck your truck down to the frame if you are in the wrong place at the wrong time. It looks like we will not see much open water until mid to late April, so it is a good time to get caught up on your fishing prep work. Tie a few flies, change that old fishing line, and start the outboard. It won't be long.
Penobscot Region
From Fisheries Resource Biologist Kevin Gallant
Waters to target: We still have some good ice fishing at Schoodic Lake for salmon and lake trout and Pleasant Lake in Island Falls for salmon and brook trout. 3rd Debsconeag Lake would be a great place to fill your freezer with lake trout. The daily bag limit on lake trout at both Schoodic Lake and 3rd Debsconeag Lake is six fish with a minimum length of 14" and one over 23". Nicatous Lake would provide an opportunity for splake, as well as a variety of warmwater species. Ice is starting to get thin and pull away from the shore in the southern half of the Penobscot region, but we may still have a few weeks left in the northern half.
As for open water in April, one could try Perch Pond in Old Town and Flatiron Pond (T3 R9) for leftover brook trout from the fall stocking. Fishing pressure has been low this winter and we are sure some of these brook trout are getting hungrier by the minute. Bass fishing will also start in April in the southern end of our region, such waters include Pushaw Lake and Chemo Pond. This early season is also a great time to hit the small brooks where you will find some wild brook trout.
Fishing tip: While fishing in cold water remember the fish may be sluggish. Use slow retrieval techniques to entice fish to bite!
Reminder: Wear your life jacket! The water is very cold and it could save your life. And do not forget to keep your boat, motor, and trailer clean of plants. Stay safe and tight lines!
Fish River Lakes Region
From Fisheries Resource Supervisor Frank Frost
Waters to target: Right now (3/30/2020), in northern Maine there is an abundance of ice fishing opportunities while open water options are very limited.
Our most recent flight on the Fish River Chain of Lakes had some of the highest angler counts we have seen since early season revealing that people are really getting out to enjoy spring weather in northern Maine. Popular lakes this time of year include Long, Cross, Square, Eagle, and St. Froid of the Chain. Carr Pond is a more remote water of the Fish River and can easily be accessed by snowmobile. Ice conditions right now are excellent and should remain so for at least another week.
Open water fishing is still a month away in northern Maine. We typically see ice outs on many waters during the first few days of May.
Fishing tip: For early spring salmon fishing, I'd recommend Eagle Lake on the Chain. While many anglers focus on Long Lake for larger salmon, the trend for salmon at Eagle is definitely upward. Expect salmon 14-20 inches with relatively high catch rates. Focus on inlet areas where smelt are congregating to spawn as salmon are gorging on smelt at this time.
Reminder: Ice fishing on B season waters in northern Maine was permanently changed in 2019; the ice fishing season on B waters now runs through the end of April allowing anglers to take advantage of good ice conditions in early April.