Fishing Report
Click the links below for the most up-to-date fishing news and suggestions from Maine's fisheries biologists.
Attention Anglers: Learn a few simple steps you can take to reduce stress on coldwater species, such as trout and landlocked salmon, during warm/low water conditions.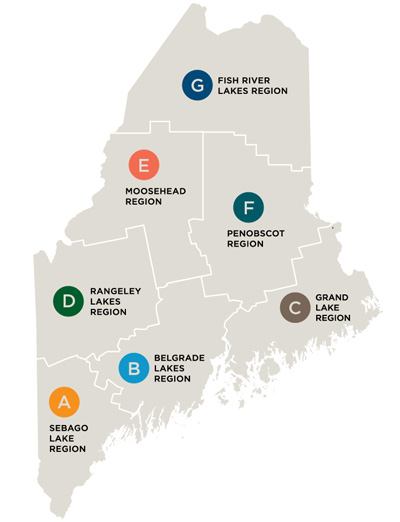 Sebago Lake Region
From Assistant Regional Fisheries Biologist Nick Kalejs
Places to go: September is often a month of transition, with warm, summer weather to start and cooler fall temperatures by the end. As the month begins, action on warmwater species like bass, perch, pickerel, and many panfish should remain strong. A few waters to try might include Hancock Pond, Denmark; Highland Lake, Bridgton; or Lower Range Pond, Poland. Once our lakes begin to cool down, many trout ponds in Oxford County can provide good catch rates of brook trout in picturesque settings. Broken Bridge Pond in Albany and Trout Pond in Stoneham are just a couple of examples. Finally, the return of cooler weather usually means more active fish in rivers and streams. The Little Androscoggin River features many access sites and has healthy numbers of both bass and stocked trout.
Fishing tip: As the weather changes, so should your fishing strategy. For trout and salmon, fish deeper with sinking lines until the lakes mix with cooler water from top to bottom. Then, look for surface insect hatches and try to determine if fish are coming up to feed.
Reminder: Remember that general law fishing regulations on rivers, streams, and brooks statewide changed on August 16 to help protect spawning fish. On these waters, anglers can use artificial lures and flies only, while daily bag limits for landlocked salmon and brook trout drop to one fish for both species. As always, check your lawbook before heading out: mefishwildlife.com/fishingslaws or view the map-based FLOAT tool for special fishing laws: mefishwildlife.com/float
Belgrade Lakes Region
From Fisheries Resource Supervisor Jason Seiders
Place to go:
Great Pond and Messalonskee Lake (Belgrade) – Great Pond and Messalonskee Lake are both producing some fantastic brown trout. These fish are feeding heavily on abundant landlocked alewives and many of these trout look like footballs. As with most lakes and ponds right now, you'll need to fish deep to find some cold water. The most productive fishing on these lakes will be from 30 feet and deeper where you'll find brown trout, pike, smallmouth bass, perch, you name it. Trolling or drifting can be very productive ways to fish these depths.
Swan Lake (Swanville) – Swan Lake is currently full of lake trout. While many of these trout are smaller, you can still pull decent numbers of fish over 18 inches. The fish will certainly be in deeper water; 35 feet and deeper. Trolling is a great way to catch these fish, but you can also try drifting or anchoring.
Kennebec River – The Kennebec offers great bass fishing opportunities, from the Forks to Augusta. The northern sections (Forks, Bingham, Solon) offer wonderful float trip opportunities as well as ample spots to wade or fish from shore. Smallmouth bass are considered invasive in these upper sections, so we encourage anglers to harvest these fish if they desire. The lower sections offer float trip opportunities as well as great fishing for both smallmouth and largemouth bass in the impounded sections. The Shawmut impoundment offers a great opportunity for both species and it has public boat access in Skowhegan and Hinkley. The Kennebec is a large and diverse resource, so please let us know if you have additional questions.
Hermon Pond (Hermon) – If you're looking for some fish for the table, Hermon is a great option. Hermon Pond is loaded with black crappie, most in the 8-12 inch range. Crappie are invasive and we encourage anglers to harvest some fish. This is one of those places where you can easily catch over 100 fish in a day, so sharpen your filet knife! I would recommend small, brightly colored jigs fished on light or ultra-light gear.
Fishing tip: This is a tough time of year to fish central Maine waters for trout, but patient anglers can be rewarded. The key is fishing deep. Some of our smaller brook trout ponds can be very productive right now if you fish the deepest areas. Larger lakes are productive too, if you fish below thermocline. You won't have a lot of luck trolling spoons at 5-10 feet deep right now. Trout are relegated to those deeper, colder areas for the remainder of the summer, so that's where you'll need to focus.
Reminder: Please be respectful of other outdoor enthusiasts. The warm weather brings out all types of water-related activity and it doesn't always mean a quiet, peaceful day of angling. Please be patient and safe, but most of all just have fun! If you have questions regarding a fishing trip, a particular lake, a mystery fish, or any other fish question, please let us know. Thank you and good luck!
From August 16 to Sep 30, the general law for fishing in rivers, streams, and brooks is restricted to the use of artificial lures and flies only. General law length and bag limits apply, except there is a daily bag limit of one landlocked salmon and one brook trout.
Grand Lake Region
From Fisheries Resource Supervisor Gregory Burr
Places to go: September is the month when anglers start turning back from fishing for warmwater species to brook trout and salmon as surface waters cool down and allow coldwater species to inhabit the shallows. To that end anglers will target the small trout ponds as well as the larger salmon waters and troll with streamers and lures.
Waters I recommend for brook trout are: Simmons Pond in Hancock, West Pike Brook Pond in Deblois, Fox Pond in T 10 SD, and James Pond in Charlotte. For salmon: West Grand Lake in Grand Lake Stream, Long Pond in Mount Desert, and Tunk Lake in T 10 SD.
Fishing tip: The trick for fishing in the fall is to troll and cast bright colored lures such as orange and chartuse Rapalas or orange Montreal's and Mickey Finns.
Reminder: Remember that streams that are open to fishing in September only allow the use of artificial lures and flies.
From August 16 to Sep 30, the general law for fishing in rivers, streams, and brooks is restricted to the use of artificial lures and flies only. General law length and bag limits apply, except there is a daily bag limit of one landlocked salmon and one brook trout.
Tight Lines!
Rangeley Lakes Region
From Fisheries Resource Supervisor Liz Thorndike
Places to go: One of the few downfalls of recreating in Maine is summer is gone in the blink of an eye. This open water season has been trying, with warm weather and lack of rain in the western mountains of Maine. Many anglers looking to find comfort on the water with a fishing pole in hand had to change techniques as a result but as summer fades and nights begin to cool, anglers should find fishing will start to pick up on many waters.
If you're looking to fish from shore and target brook trout, consider trying Beaver Pond in Township D. The small pond runs parallel to Route 17 and is stocked annually with brook trout in the fall. The pond is open to fishing through November 30 and provides easy access for launching a canoe or fishing from shore. Prior to October 1 the pond is open to the use of worms and allows an angler to keep 5 brook trout greater than 6 inches.
Bass fishing during warmer months can provide a great opportunity to change up your fishing adventures or even get someone new hooked on fishing. Regional waters like Wilson Lake in Wilton, Wesserunsett Lake in Madison, and Embden Pond in Embden all support bass fisheries worth exploring. Bass fishing can be as easy as throwing a spinner from shore or trolling along the shoreline with a rapala behind the boat.
Mud Pond in Township 6 may look like a small dot on the map but has a unique story. The pond's trout fishery is correlated with beaver activity - when beavers are maintaining the outlet dam the pond holds enough water to support a brook trout fishery. Since the beavers moved back into the area and created suitable trout habitat, the Department started stocking the pond every spring with fry brook trout since 2016. Access requires a ten-minute walk along a relatively flat trail but is worth the effort once you reach this small pond. Choose to fish with worms, lures, or flies – the pond offers opportunity for all angling types!
Fishing tip: As fall approaches trout and salmon are often attracted to brighter colors, try using lures with orange or red on them. When retrieving your lure, don't forget to vary the speed, with cooler temperatures a slower retrieve can entice a bit.
Don't forget here in Maine hunting season is fast approaching for some species and anglers who prefer hiking to their destination are sharing the woods.
Reminder: Don't forget to take advantage of the opportunity to combine a hunting and fishing trip this September as grouse season will overlap with general law open water fishing season.
From August 16 to Sep 30, the general law for fishing in rivers, streams, and brooks is restricted to the use of artificial lures and flies only. General law length and bag limits apply, except there is a daily bag limit of one landlocked salmon and one brook trout.
Moosehead Region
From Fisheries Resource Supervisor Tim Obrey
Places to go: September fishing in the Moosehead Lake Region is all about the rivers. Salmon and brook trout are beginning to feel the urge to move to their spawning sites and the fishing can be fast and furious. This will be the second summer in a row where drought conditions have put a damper on the fall fishing. Flows are extremely low in natural flowing rivers. The upper Moose River and Piscataquis River are very dry. A few of the rivers below impoundments will fare better this fall.
In a normal year, we would start closing the gates at First Roach Pd sometime in mid-April and still have surplus water to release during May. Not this year. Last March, we shut the gates on the dam and have only released the minimum flow all summer. We were able to fill the pond by the end of May and now have sufficient water to release in September. On Sept 2nd we plan to open the gates to 200 cfs which is a good fishing flow. We should have enough water for a second bump in the flow around the middle of September.
Brookfield will be conducting some maintenance on the approaches to the Brassua Dam this fall. They will need to drop the lake soon, so we can expect flows in the 1,200 cfs range starting at the beginning of September. We're not sure how long it will last since much depends on rainfall.
Moosehead Lake is still below the target elevation for this time of year, so we may need to wait a few weeks before we see any increase in flow there. It's the same story at Seboomook Lake and the West Branch ("Foxhole") area. Seboomook Lake is low. We'll just have to wait and see if there is enough water in late September to get a bump in the flow. The current flow is 400 cfs, which is too low for boats to travel up and down this section of the river.
The East Outlet is a great place for anglers of all skill levels. We see many people wading in the river or utilizing drift boats, but anglers can also fish right off the dam or on the grassy lawn next to the dam. No wading gear necessary. This is a great place to learn to cast while having a good opportunity to catch a nice salmon or trout.
Fishing tip: Most anglers use gaudy streamer flies this time of year. The salmon and trout are very aggressive and will readily strike these attraction flies. If the weather is warm, the fish may still be feeding, so it's worth throwing a couple nymphs in the fly box before heading out.
Reminder: Don't rule out pond fishing this time of year. It can be spotty, but as water temperatures cool, the fish will get more active. Wait for a calm evening and you may hit a midge hatch and have some terrific dry fly fishing. All our stocked waters are open through September and October. Find one nearby and check it out.
Penobscot Region
From Fisheries Resource Technician Brian R Campbell
Places to go: As summer ends and fall quickly approaches us, the lakes, rivers, and streams begin to cool. Fish become more active with the cooling temperatures.
Many anglers look forward to some great fall fishing. The Penobscot region offers some great opportunities.
If you are looking to angle some feisty smallmouth bass the Penobscot River is the place to go. From Bangor to Medway the river offers some exciting fishing. The angler can access the river from a myriad of locations. The river also offers some great canoeing and kayaking, with several boat landings at various locations along the rivers path. The Penobscot River also offers great chances to observe a variety of wildlife including bald eagles.
Landlocked salmon and brook trout will begin to become more active as the waters cool and their spawning season approaches. Among the waters we surveyed this summer was the Pemadumcook Chain of Lakes in the Millinocket region. We found some very nice landlocked salmon, brook trout, lake trout, and lake whitefish. If you are considering trying out this lake you will need a boat. There is a very good boat access site off the Golden Road in T1 R9 WELS. There is another landing located off Rte. 11 at North Twin Lake in T3 Indian Purchase Twp.
The West Branch of the Penobscot River will be an ideal area to go looking for some nice landlocked salmon and brook trout. For those that have never visited this area along the Golden Road, there are many spots to fish from the shore. There is also some spectacular scenery, and great views of Mt Katahdin. This also offers a great opportunity to see a moose. Several Special Regulations apply to different sections of the West Branch, so make sure to consult the Maine Inland Fishing Laws 2021 book before heading to the river: mefishwildlife.com/fishinglaws
Reminders: Please remember to discard old fishing line or rubber worms in the trash or recycle them, always pick up after yourself.

Make sure to get out and enjoy the end of summer and fall. Maine offers as you know some great places to visit and many unique things to see. Make sure that someone knows what areas you are visiting and your expected arrival time home. GET OUT AND ENJOY THIS GREAT STATE OF MAINE!
From August 16 to Sep 30, the general law for fishing in rivers, streams, and brooks is restricted to the use of artificial lures and flies only. General law length and bag limits apply, except there is a daily bag limit of one landlocked salmon and one brook trout.
Fish River Lakes Region
From Fisheries Resource Technician Derrick Cote
Places to go: With northern Maine's abundance of rivers, brooks, and streams September can be a hot month for fishing. Cooler temperatures and fall rains make a trip to the north woods a must. With an unending supply of access points, make the waters in North Maine Woods your destination.
The Machias River starting in T12 R8 and ending in Ashland at its confluence with the Aroostook River has several possible trips in it. Campsites at Big Machias Lake Dam, Russell Crossing, Machias River (Jack Mtn. Road), and two sites near the Pinkham Road crossing make single and multi-day trips possible. The Machias is as fishable on foot as it is by canoe.
The Allagash River from Churchill Dam to Umsaskis Lake is another great stretch of fishable water. A foot path from the dam downstream along the west shore of the river provides many hours of pools and riffles to fish. Anglers who have the desire can make a two-day trip of it from the dam to the outlet of Umsaskis Lake. Campsites are available on the river and on the lake to make this a leisurely trip. Both these sections will provide fishing for wild brook trout in an undisturbed setting.
Reminder: From August 16 to Sep 30, the general law for fishing in rivers, streams, and brooks is restricted to the use of artificial lures and flies only. General law length and bag limits apply, except there is a daily bag limit of one landlocked salmon and one brook trout.