Fishing Report
Click the links below for the most up-to-date fishing news and suggestions from Maine's fisheries biologists.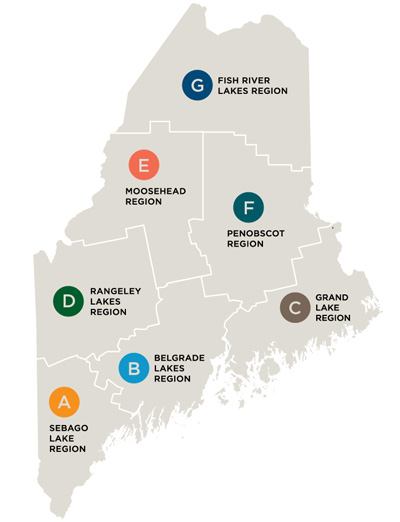 Sebago Lake Region
From Fisheries Resource Biologist Nick Kalejs
Places to go: As we move into May and waters begin to warm, anglers in the Sebago Lake Region can look forward to a mix of opportunities for both cold and warmwater species. Early season lake fishing for trout and salmon is still going strong, while bass will continue to become more active throughout the month. Many of our lakes allow anglers to target trout and salmon early in the day, and switch to bass as the sun gets high in the sky. Hancock Pond produces quality brown trout and has a strong population of smallmouth bass as well. Little Ossipee Lake is stocked with brook trout, rainbow trout, and landlocked salmon, yet also supports good bass fishing. Finally, Pleasant Lake can also provide a nice mix of sizeable landlocked salmon and good bass action.
Update on the season so far: Many of the large, popular lakes in our area, like Sebago Lake, have seen busy boat launches and full parking lots to start the open water season. Lots of lake trout have been caught at Sebago, and we have seen good size quality for landlocked salmon at places like Thompson Lake.
Fishing tip: With so many people out fishing right now, it pays to troll slowly. Not only will you catch more fish, but you will also have plenty of time to adjust to the paths of anglers around you.
Reminders: These days, it is best to find a fishing spot close to home. The Department has some resources on our website that can help anglers find a new spot. Check the stocking report regularly, and scope out the area (and special laws on certain waters—don't forget to check before you go!) using the Fishing Laws Online Angling Tool.
Belgrade Lakes Region
From Fisheries Resource Supervisor Jason Seiders
Places to go: Lake St. George in Liberty offers a great salmon and brook trout fishery that is reasonably close to Augusta. Early reports sound great in terms of catch rates and size quality for salmon. The brook trout in Lake St. George are beautiful and we have seen them up to 18 inches long.
Medomak River in Waldoboro is heavily stocked this time of year, so anglers should be able to find good numbers of brook trout and brown trout. Most road crossings provide good access to nice fishable pools.
Gould Pond in Sidney is producing some really nice brook trout. Fish condition is better than we have ever seen, with fish looking like speckled footballs! It's a great place to fish from shore or from a canoe or small boat. Please be kind to the landowners that allow public access here – we don't want to lose a good thing!
Webber Pond in Vassalboro is a great opportunity for folks looking for warmwater fish like bass, perch, and crappie. As the water warms a bit, this is a great place for tons of action. Webber produces some really big largemouth bass; it's a bass factory. Additionally, black crappie were illegally introduced a few years back and their population has exploded. Crappie are highly invasive and we encourage anglers to harvest as many as they like. They make a great meal for those looking for a fish dinner. If you harvest these fish, please dispose of them properly and don't leave them lying around. Gardeners will find they make excellent compost.
Update on the season so far: This has been one of the busiest fishing seasons I have ever seen. It is one of the safer activities that we can take part in right now, and people are taking advantage of the opportunity. We have received reports of great fishing in our coastal rivers, and the Kennebec River in Bingham has produced several trophy-sized rainbow trout. The water remains really cold, so hopefully the salmon and trout fishing will remain productive for longer than usual.
Fishing tip: Speaking of cold temperatures, keep that in mind while you're fishing. Cold temperatures mean the fish are still moving a bit slow, so your lure or bait should move slow as well. Take your time and be patient. Until the water warms a bit more, a fast-moving lure or bait will likely get ignored.
Reminder: I have seen a lot of folks fishing brooks and streams this spring and it is great to see people utilizing these resources. Please be respectful of private landowners. So many of the fishing opportunities in central and midcoast Maine depend upon the generosity of private landowners allowing public access. It only takes one disrespectful person to ruin it for everyone. Please be courteous to others and don't leave trash behind.

As always, please feel free to contact a local fisheries biologist if you need further information on fishing in your area. Good luck out there!
Grand Lake Region
From Fisheries Resource Supervisor Gregory Burr
Places to go: For anglers looking to catch wild brook trout on rivers and streams these waters are some of the region's best starting in mid-May: West Branch of the Narraguagus River, Pleasant River, Chandler River, Mopang Stream, Crooked River, Old Stream, and the Dennys River.
Also, don't forget to fish Grand Lake Stream as the fly fishing for salmon will get hot in mid-May as new fish come into the stream from the lakes. This good fishing should last until the end of June.
For anglers looking to fish in small brook trout ponds I recommend the following: Simmons Pond in Hancock, Lakewood Pond in Bar Harbor, Witch Hole Pond in Bar Harbor, Upper and Lower Breakneck Ponds in Bar Harbor, Jellison Hill Pond in Amherst, Halfmile Pond in Amherst, Halfmile Pond in Aurora, King Pond in Aurora, Long Pond in Aurora, East & West Pike Brook Ponds in Deblois, Pineo Pond in Deblois, East and West Spectacle Ponds in Deblois, Salmon Pond in T 30 MD, Rainbow Pond in T 10 SD, Anderson Pond in T 10 SD and Salmon Pond in T 10 SD.
Update on the season so far: Anglers who have been trolling for salmon have been having good luck at Donnell Pond in Franklin, Tunk Lake in T 10 SD, Echo Lake in Mount Desert, Long Pond in Southwest Harbor, Green Lake in Ellsworth, and Cathance Lake in Cooper.
Fishing tip: My tip for stream fishermen is to wait until water temperatures reach between 50 and 55 degrees or above for the best trout action. Best flies that work for me are the Woods Special and Marabou Muddler.
Reminder: Introduce someone new to recreational fishing!
Rangeley Lakes Region
From Fisheries Resource Supervisor David Howatt
Places to go: Clearwater Pond in Industry and Porter Lake in New Vineyard/Strong in southern Franklin County have somewhat similar fisheries and, for many in central Maine, are not far to travel to. While both waters are better known for their winter fisheries, spring time action can be good as well. Both waters have stocked brook trout and salmon fisheries and wild lake trout populations. Porter Lake was stocked with 1,100 8"-10" trout in mid-April and Clearwater Pond should be getting 2,500 trout of the same size group very soon.
Wesserunsett Lake in Madison in southern Somerset County can also be good spring fishing. It regularly receives stockings of brook and brown trout. Largemouth bass and white perch are also targeted by many anglers.
While it might be a while before ice-out (averaging May 7th), I have to mention Rangeley Lake in northern Franklin County. Many ice-outs this year seem to be running early, so maybe during the earliest days of May anglers can get onto this water to fish for the quality salmon for which the lake is famous. Last fall, our annual sampling showed a healthy population of salmon with hatchery-origin fish averaging 18.6" and 2.4 pounds. Look for a high proportion of 4-year old salmon (marked with a right ventral fin clip), which made up almost half of our 165 fish sample and averaged 19.3" and 2.7 pounds.
Update on the season so far: The fishing action in the northwestern part of the state hasn't really started yet. Many waters are still covered with some ice and others are just receding. I have heard from one angler that had good action while fishing for brook trout in Crowell Pond in Chesterville/New Sharon at the very southern edge of Franklin County. River and stream fishing always provide some early catches and I suspect this year is no different with snowpack gently melting away.
Fishing tips:
Try something bright. A flashy, brightly colored lure may be just what it takes to coax a lethargic fish to bite in cold water conditions.
Dress warm. I can't ever recall a spring when surveying anglers in the Rangeley area that it didn't snow for a short period of time.
Resort to worms, where allowed. Some days, especially early in the season, that's the only trick that's going to put a fish on the end of your line.
Reminder: Don't hesitate to keep a legal limit of fish to take home. Most of our management strategies need to have some level of harvest in order for the fisheries to reach their optimal potential. Examples are Aziscohos and Mooselookmeguntic Lakes, two of the largest lakes in the Rangeley area, which have salmon growth problems. Liberal bag limits have been established to encourage salmon harvest in hopes of a better growth rate in the future. If you fish these waters, please take some home with you.
Please remember that the General Law in the north zone now includes "No live fish as bait." All waters open to the use of live baitfish/live smelts will have the special law code S-11 in the new 2020 lawbook (PDF) or use the Fishing Laws Online Angling Tool.
Moosehead Region
From Fisheries Resource Supervisor Tim Obrey
Places to go: Well, back in early March I would have guessed for an early ice-out in the Moosehead Lake region. But it seems like spring is having sympathy pains and has decided to go on lockdown with the rest of us! The southern end of this region, including waters like Sebec Lake, will have some fishing in late April, but the ice will likely hold on until early May on Moosehead Lake and points north. The long-term average ice-out date for Moosehead is around May 12, so we will probably be just a tad early in 2020.
May/ice-out fishing is all about brook trout in the north. The biggest brook trout seem to get caught just after ice out, so this is the time to try your best brook trout lakes and ponds. We know from our early spring trapnetting that the big trout are cruising the shoreline for about a week after ice out. When the water reaches 50 degrees, they start to pull away. Most anglers have a couple prize locations where they can find a few big trout, so I won't be naming any small ponds and spot burning. Early May is the time to try your nymph or leech patterns in the small ponds. Of course, if you are fishing the bigger ponds and lakes that have smelts, then a gray ghost, winnipesauke smelt, or other smelt patterns are great for trolling. Simple spoons can also be very effective trolling the shoreline.
We are encouraging people to get out and fish but try to stay close to home, so here are a few ideas for folks living in southern Piscataquis County. The hatchery trucks will be hitting the pavement early this year. There are many put and take ponds stocked throughout the region. The best bet is to check the stocking report and try to fish these waters soon after stocking. Anglers in the Dover-Foxcroft area can find some spring trout fishing in places like: Garland Pond, Snow's Pond, the Piscataquis River (if the flow is manageable), and Mill Brook and Bear Brook in Bowerbank. In the Sangerville/Guilford area, anglers can find stocked fish at Bennett Pond, Big Bennett Pond, Piper Pond, and Whetstone Pond. Also, last fall Center Pond received some retired brown trout brood fish. Jamie Bray, the supervisor at the Palermo Rearing Station and native of Dover-Foxcroft, gave us a hometown deal on some of these monster fish that he and his crew pampered for years. I know there are some behemoths still lurking around Center Pond. You may see me out there chasing after them.
Fishing tip: As biologists, we are frequently asked how anglers can help us with our work. We have just three full time staff to manage the vast fisheries resources across the Moosehead Lake Region and we can't get to every lake/pond/river/stream. We have relied on anglers to keep voluntary record books for much of the information from our smaller waters. The information has proven to be very valuable in detecting changes in fisheries on waters that we might visit only a handful of times during a career. If you would like to keep a record book for us, please shoot us an email at Stephen.seeback@maine.gov. We will send you a book with instructions, and a return envelope with postage at the end of the season.
Reminder: Please remember that the General Law in the north zone now includes "No live fish as bait." All waters open to the use of live baitfish/live smelts will have the special law code S-11 in the new 2020 lawbook (PDF) or use the Fishing Laws Online Angling Tool.
Penobscot Region
Fisheries Resource Supervisor Kevin Dunham
Update on the season so far: With many of our larger lakes ice free by mid-April, open-water fishing action is just getting good with increasing water temperatures in May. While the ice went out on April 14th at Cold Stream Pond in Enfield, fishing has been somewhat slow over the last two weeks. However, I've heard first hand from some dedicated anglers that action is starting to pick up while trolling for salmon and togue.
Places to go: East Grand Lake, located on our border with the Province of New Brunswick and one of the more important lakes in the region, has yet to see many boats, but early reports indicate an excellent spring trolling season. Checking smelt runs around the lake has increased our optimism that we will see some fat and healthy salmon this spring.
Further north Pleasant Pond in Island Falls and Upper and Lower Shin Ponds in Mount Chase are usually reliable for early season salmon. Other spring trolling favorites for early season action include East Musquash Lake in Topsfield for salmon and togue, Cold Stream Pond in Enfield for salmon and togue, Upper Cold Stream Pond in Lincoln for salmon, West Lake in T3 ND for salmon, and Schoodic Lake in Lake View Plt. for salmon and togue, with some handsome fish coming to net.
If river fishing is more your thing, the Mattawamkeag River in the towns of Haynesville, Bancroft, and Drew Plt. has several convenient canoe and kayak access points. River flows should be favorable in May and water temperatures will continue to warm providing great early season brook trout action. The portion of the Stillwater River in Orono from Stillwater Ave. downstream to the Penobscot River offers bank-fishing opportunities as well as canoe and kayak access. Both the Mattawamkeag River and Stillwater River have been stocked this spring with brook trout in the 10" range. The East Branch Penobscot River is still running very high but should be good to fish later in the month as the flows moderate.
Home-schooling these days? Why not schedule a "field trip" and take a youngster fishing? There are several special "youth only" fishing waters in the Penobscot Region and each one is stocked with brook trout. Milo Farm Pond in Milo, Edwards Family Kids Fishing Pond in Lincoln, Rocky Brook in Lincoln, Burlington Fire Pond in Burlington, Hannington Pond in Reed Plt., and Jerry Pond in Millinocket, as well as portions of Mattagodus Stream in Springfield and Cold Stream in Enfield are all great places to teach a youngster about fishing and the outdoors.
Fishing tip: Early spring ice-out conditions are a perfect time to try trolling for salmon. Use a nine-foot fly rod with a tandem fly pattern such as a grey ghost or maple syrup, or even a live sewn-on smelt, and troll slowly on the surface before temperatures warm and fish seek deeper water. It can be quite an experience. Whatever you favor for bait, a life jacket should be the first piece of equipment you grab whether you are heading to a favorite ice-out lake or discovering a new one.
Reminder: Please remember that the General Law in the north zone now includes "No live fish as bait." All waters open to the use of live baitfish/live smelts will have the special law code S-11 in the new 2020 lawbook (PDF) or use the Fishing Laws Online Angling Tool.
Fish River Lakes Region
From Fisheries Resource Supervisor Frank Frost
Places to go: Some waters in southern Aroostook, especially those along the Route 1 corridor, will be fishable soon. Some opportunities in this area include some great waters with both stocked and wild fish.
Meduxnekeag River in the towns of Houlton and Littleton: May is a great month to try the special regulation section of the Meduxnekeag when water temperatures and flows are ideal. Wild brook trout can be caught here as well as a very unique wild brown trout, one of the only wild, riverine populations in the state. We will have a survey clerk working this water this spring so any information anglers can provide is greatly appreciated.
Nickerson Lake in New Limerick: This water is small but very deep and stocking programs here are geared toward high catch rates for brook trout. Some impressive brown trout and lake trout are caught each year as well.
Logan Lake, Carry Lake, and Deep Lake in Houlton, Littleton, Littleton, respectively: These waters are stocked with trout and provide great early season action, even when the ice hasn't completely cleared.
Update on the season so far: While the open water season has been open for a month, there has been little fishing opportunity to date; in fact, there has been some limited ice fishing activity as late as April 23. Northern Maine has an abundance of ice and snow at this time but that is changing rapidly. Based on weather forecasts for the week of April 27, I expect many lakes and ponds to be ice free sometime during the week of May 4.
Fishing tip: Early season fishing often requires anglers to focus on very shallow water to find feeding fish. Sunny, calm days shortly before or right after ice out will result in warmer water close to shore. Here, brook trout and salmon will focus feeding to take advantage of more active prey items and slightly warmer water.
Reminder: Please remember that the General Law in the north zone now includes "No live fish as bait." All waters open to the use of live baitfish/live smelts will have the special law code S-11 in the new 2020 lawbook (PDF) or use the Fishing Laws Online Angling Tool.