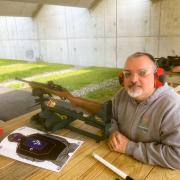 August 3, 2022 at 3:04 pm
Since the modernization of the Summerhaven Shooting Range in Augusta, doors of opportunity have opened, providing safe access for the public to practice shooting and cultivating sportsmanship and participation in a healthy but challenging environment. Reforming the shooting range has delivered more versatile yet comfortable conditions for participants, and simultaneously has offered trained and certified Range Safety Officers (RSO) to provide efficient and sound assistance.
Keep In Touch!
Enter your email or mobile number to receive the latest news from MDIFW.