(Click here to return to the Medical Direction & Practices Board Home Page)
Maine EMS 2021 Statewide Protocols
Maine EMS and the Medical Direction & Practices Board (MDPB) have developed new statewide EMS protocols with an implementation date of December 1, 2021.  
The MDPB has spent countless hours researching, drafting, and revising these EMS protocols.  In addition to monthly public meetings and volunteering many work hours, the MDPB held six statewide public protocol discussion forums.
The protocols below are not for clinical use until 12:01 a.m. December 1, 2021. 
---
The Education Committee, MDPB, and Maine EMS have released the following information regarding protocol updates:
All EMS clinicians are required to attend a 2021 protocol update course and this can be accomplished through 2 options:
1. Attend one of the six live, virtual, protocol update sessions listed below, OR
2. Complete the protocol update via MEMSEd
EMS clinicians only need to do one of the above options.
Protocol Training Announcement (PDF) (10/5/21)
Hospital Protocol Education Powerpoint (PPT) (10/20/21)
    This is aimed at hospital clinicians who provide online medical control and is a high level overview only.
Hospital reference - Areas OLMC may be needed/required (based on 2021 protocols) (PDF) (10/20/21)
---
Please note that the existing smartphone apps will also be updated, but they cannot be updated until December 1, as it will override current Maine EMS protocols in effect prior to December 1, 2021. Users should manually update the apps on or after December 1, 2021.  Maine EMS does not print protocol books.
2021 Protocols - NOT for use until December 1, 2021
Note - These files were updated on October 10, 2021, with various editorial and technical changes.  If you downloaded these files prior to 2200 hours on October 10, 2021, please update your files to the ones below.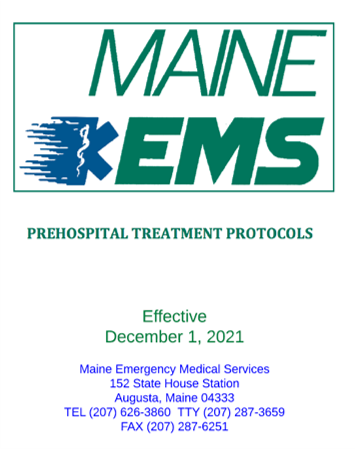 An Index is also being developed for pages 175-179
Maine EMS and the MDPB will also be providing updated change documents during the education of the December 1, 2021 protocols.
2021 White Papers
The MDPB has released several white papers surrounding decisions and changes that will go into effect with the next protocol change.  These white papers are:
---
Clinical & Operational Bulletins
Maine EMS 2019 Protocol Update Resources
EMS Medical Director Guidebook (PDF)
Medical Direction & Practices Board (MDPB) White Papers
Archived Protocols - Reference only, not for clinical use