(Click here to return to the Medical Direction & Practices Board Home Page)
Maine EMS 2021 Statewide Protocol Development
Currently, the MDPB is reviewing and providing updates the Maine EMS Protocols for a planned delivery date of December 1, 2021.  
The MDPB held several public protocol discussion forums. Meetings were conducted via zoom with participants from across the state and held:
August 6, 2020 at 2:00 pm
September 10, 2020 at 12:30 pm
November 5, 2020 at 12:30 pm
January 7, 2021 at 2:00 pm
March 11, 2021 at 12:30 pm
May 13, 2021 at 12:00pm
The MDPB has released the current working draft protocols for proposed implementation on December 1, 2021.  The protocols below are not for clinical use until 12:01 a.m. December 1, 2021. The Education Committee, MDPB, and Education Manager Chris Azevedo are finalizing education for the updates, and a schedule will be forthcoming.  We anticipate a live zoom meeting in each region by the regional medical director and availability on MEMSEd (you will only need to take one session).  Please note that the existing smartphone apps will also be updated, but they cannot be updated until December 1, as it will override current Maine EMS protocols in effect prior to December 1, 2021.
2021 Protocols - NOT for use until December 1, 2021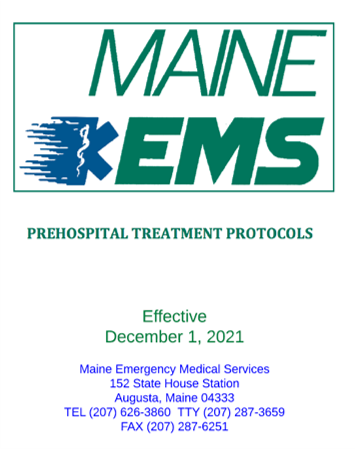 An Index is also being developed for pages 175-179
Maine EMS and the MDPB will also be providing updated change documents during the education of the December 1, 2021 protocols.
2021 White Papers
The MDPB has released several white papers surrounding decisions and changes that will go into effect with the next protocol change (anticipated as December, 2021).  These white papers are:
---
Clinical & Operational Bulletins
Maine EMS 2019 Protocol Update Resources
EMS Medical Director Guidebook (PDF)
Medical Direction & Practices Board (MDPB) White Papers
Archived Protocols - Reference only, not for clinical use