December 21, 2020
Jennifer Newendyke
On 12/17/2020, Cpl. Cote responded to the Cumberland Service Plaza on the ME Turnpike after an employee requested assistance removing two customers who were refusing to wear a mask and refusing to leave the facility after being told to do so.  The two were being argumentative and causing a disturbance.  Cpl. Cote made contact with the two, an adult male and an adult female, and escorted them out of the facility.  They were given trespass warnings.
Tr. Keim responded to numerous crashes during the recent storm.  None of the crashes were serious.
Tr. Keim was involved in a crash, where a motorist failed to move over and struck the rear of Tr. Keim's cruiser while he was at a crash scene.
December 14, 2020
Jennifer Newendyke
On 12/11/2020, Sgt. Porter took a complaint of an employee at the SB Kennebunk Service Plaza Burger King reporting they received threats from an ex-boyfriend, Ryan P. Desmond (35) of Biddeford. The complainant said Desmond threatened to kill anyone that came to see her, crawl through her window to get into the motel room located behind the service plaza, and stalk her. Desmond was located at his grandmother's apartment in Biddeford by Sgt. Doughty and Cpl. Physic. Desmond was charged with VCR and DV Terrorizing, issued a Criminal Trespass Notice for the Kennebunk Service Plazas, and served a PFA by Biddeford PD for the victim. Tr. Doughty from Troop A assisted with taking possession of a shotgun and crossbow that belonged to Desmond and were stored in a camper in Lebanon. Desmond is prohibited from having firearms or dangerous weapons as a result of the PFA.
On 12/13/2020, at 1248 hours, Tr. Reaser received a complaint from Augusta RCC, reference a father crashing his truck into his daughter's vehicle at mile 21 northbound in Wells.  Tr. Reaser arrived on scene and arrested Michael Dicarlo (52) of Berwick, after he intentionally struck his 16-year-old daughter's vehicle to force her off the road.  She apparently took off with his other vehicle after threatening to harm herself.  Dicarlo was charged with Driving to Endanger.
December 7, 2020
Jennifer Newendyke
On 12/05/2020, Tr. Welch cited Zachary S. Dewar (29) of Jay with FT Maintain Control of a M/V after sideswiping a Connecticut-based power company truck that was en route to central Maine to assist with power outages from the weekend snowstorm.  The crash occurred at Mile 41 in Scarborough.
On 12/05/2020, during the storm, Section 2 covered 16 total crashes during evening shift. This included three non-reportable crashes and 13 property damage crashes, according to MTA.
On 12/06/2020, Tr. Welch charged Derek M. Antonucci (31) of Riviera Beach, Florida with Driving to Endanger after he struck a safety truck owned by Reed & Reed, Inc. within the mile 49 construction zone in Portland. 
On 12/06/2020, Tr. Darcy and Tr. Loder responded to a crash just prior to Exit 32 NB in Biddeford. As a result, Spencer Pope (29) of South Portland was charged with OUI. No one was injured in the crash.
Sgt. Porter was notified this week by Androscoggin DA's office that a defendant in a manslaughter case pled guilty in a 2017 case in Auburn. Steven Primavera (36) of New Gloucester pled to Manslaughter receiving 6y/3y/3y and to drug charges for concurrent time.
Cpl. Physic instructed EVOC this past week that was shut down this past spring due to COVID.
December 1, 2020
Jennifer Newendyke
Corporal Jesse Duda (Troop G) was awarded the Slaney CIT (Crisis Intervention Training) Officer of the Year today from Hannah Longley, who represents NAMI Maine. The ceremony took place outside of Portland PD today. 
"CPL Duda has received many nominations for the CIT officer of the Year award this year. I have had the privilege of working in the same communities as CPL Duda over the years and hearing the stories emerge about his work through that time. As a result, when the nominations were made, it was no surprise to me that this is the pattern of interactions that he has developed. CPL Duda has had many examples of his commitment, compassion, and empathy over several years in which he has demonstrated and exceeded the goals that CIT sets forth to achieve. He has utilized de-escalation skills in times of high stress, he has remained calm and empathetic when those around him have raged, he has demonstrated not only compassion in the moment of encounters, but also in his follow up to building lasting relationships with those who are most vulnerable in the communities he serves. CPL Duda is able to see each individual not as a problem to be solved, but as a human in pain in need of connection and care. I am so happy to award CPL Duda with the CIT Officer of the Year and thank him for his commitment to the 1 in 4 Mainers who experience a mental health challenge each year."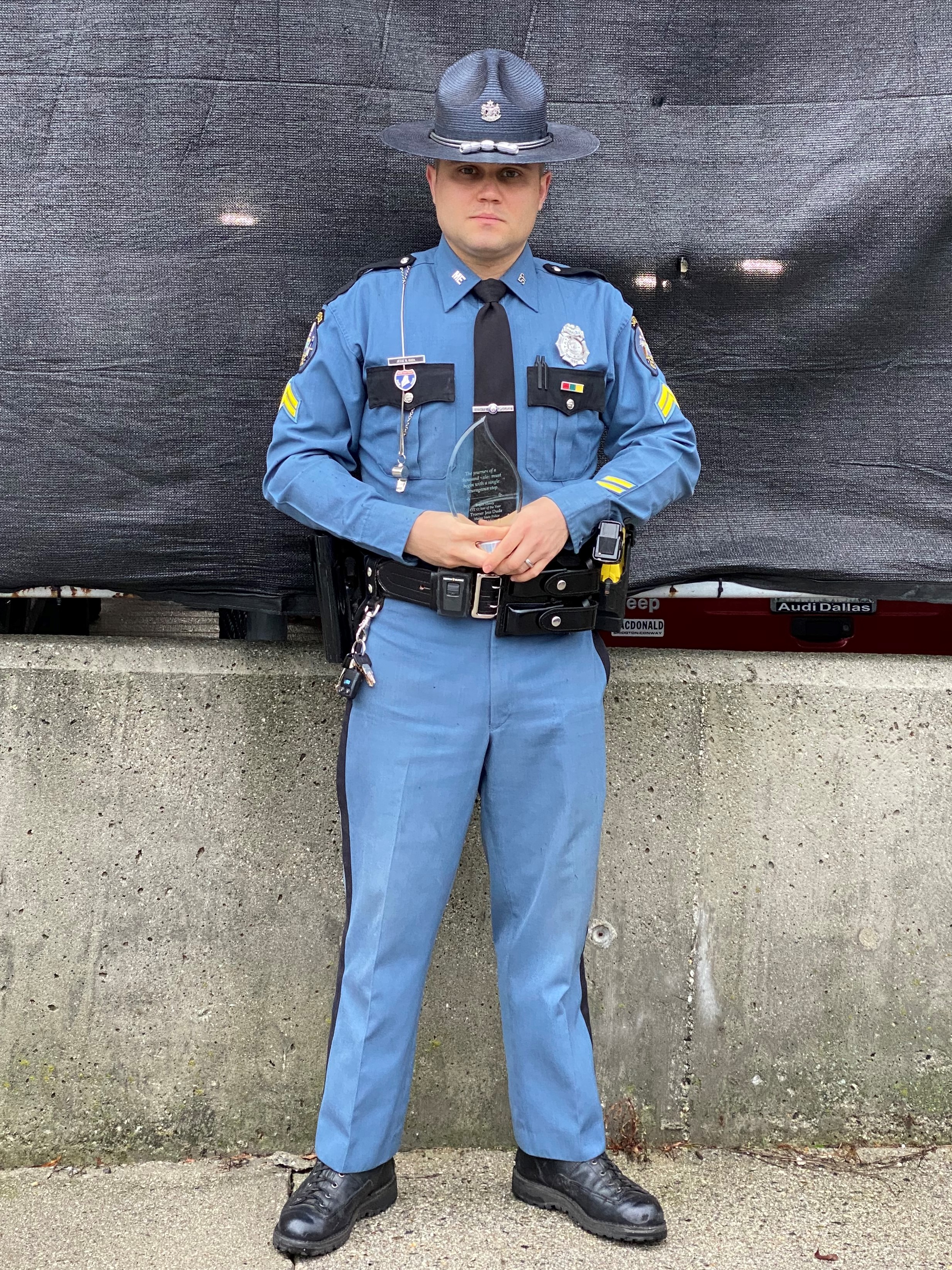 November 23, 2020
Jennifer Newendyke
On 11/16/2020, Tr. Reaser clocked a vehicle traveling at 114 MPH northbound near mile marker 26 in Kennebunk.  The operator, Grouse Shaik (23), was summonsed for Criminal Speed.
On 11/20/2020, Tr. Darcy assisted Troop A with a family fight in Dayton. The male party was intoxicated, irate, and striking his front porch with an aluminum baseball bat, refusing to cooperate with law enforcement. It was learned through interviews with other parties involved that there was not probable cause to arrest the male, so the decision was made to clear once the female party left the residence for the night. There were no further issues.
On 11/20/2020, at approximately 2230 hours, Cpl. Duda clocked a vehicle traveling at 104 MPH northbound near mile marker 53. A 17-year-old male operator was summonsed for exceeding the speed limit by 30 MPH or more.
On 11/21/2020, at approximately 0600 hours, Tr. Harakles and Tr. LiBritz received a report of a vehicle all over the road northbound in York. The caller stayed with the vehicle and Tr. LiBritz made contact with it in Scarborough. Upon further investigation it was determined the plates were illegally attached and the driver, Jamison Dominguez (25) of Portland, was suspended out of ME and MA. The vehicle was towed and the driver was summonsed for operating after suspension.
On 11/22/2020, Tr. Keim received a complaint of a vehicle described as a dark colored SUV that threw trash out their window. Tr. Keim saw the vehicle traveling northbound and followed it as it exited at MM 42 in Scarborough. The vehicle was traveling on the ramp at an excessive speed and passed another vehicle on the left as they exited the ramp, so Tr. Keim activated his blue lights in order to stop the vehicle. The vehicle then made a U-turn, went back through the exit 42 toll booth at a high speed, and continued northbound at speeds of approximately 100 MPH as Tr. Keim pursued. The operator shut off their taillights but did have headlights on. Tr. Keim discontinued the pursuit due the erratic driving and an increase in vehicle traffic around MM 46.
Tr. Kristy LiBritz is completing the Fallen Officers 5K/10K/85-mile race challenge. She will be completing all three to honor our fallen heroes. Part of the proceeds go to the C.O.P.S Foundation to support the survivors.
November 16, 2020
Jennifer Newendyke
On 11/11/2020, Sgt. Burton assisted Cpls. Cropper and Wells (Troop A) with an honorable escort of retired Lt. Trask's hearse from the funeral home in Saco to the cemetery in Portland.
On 11/11/2020, Tr. Keim, Tr. Reaser, Tr. Loder, Lt. Gosselin, and Sgt. Burton assisted the Wells Police Department with a barricaded suicidal subject.  Sgt. Shorey was consulted with several times from the scene as well.
On 11/13/2020, Tr. Darcy stopped a vehicle off the Kennebunk exit after observing the vehicle failing to maintain its lane. The driver of the vehicle fled into the woods. Troopers from Troops G and A responded, as well as Kennebunk PD units. While Troopers were preparing to begin a K9 track with Cpl. Schmidt & K9 Ibo, a Kennebunk PD officer located the male hiding in the woods after utilizing the thermal imager on their cruisers. The male fled on foot and was apprehended by the Kennebunk Officer. As a result, Tr. Darcy arrested Scott York (42) of Hollis for Operating after Revocation and Failing to Submit to Arrest or Detention. He was booked at the York County Jail.
On 11/15/2020, Cpl. Cote investigated a car-deer crash at mile 62 southbound in Gray where the operator fled the scene on foot.  Cpl. Cote ended up stopping a taxi on Portland Road in Gray a short time after the scene was cleared and he found the operator in the back.  He was identified as Ricky Whitney (43) of Warren.  He confessed to being the operator and leaving the scene.  He was charged with Failure to Report Accident by Quickest Means.
Cpl. Physic instructed EVOC this past week that was shut down this past spring due to COVID.
November 10, 2020
Jennifer Newendyke
On 11/03/2020, Tr. Welch stopped Derek J. Lemieux (35) of Biddeford at mile 63 in Gray for an expired registration.  Lemieux was subsequently summonsed for OAS and Operating with a Suspended Registration (Toll Evasion).
On 11/03/2020, Tr. Welch stopped Brady N. Nicholson (32) of Passadumkeag at Mile 66 in New Gloucester for a Suspended Registration (Toll Evasion).  Nicholson was cited accordingly.
On 11/3/2020, a snow squall had gone through the northern end of the Turnpike causing the roads to become wet and icy.  Pike maintenance crews were called out to salt the roadway due to the icy road conditions.  Tr. Davis received a report of a single vehicle into the median guardrail at mile marker 108.  After removing the vehicle from the scene and completing a crash report, Tr. Davis proceeded southbound from exit 109 and observed a crash involving a pickup off the roadway and a tractor trailer jack knifed in the northbound lanes blocking the roadway at mile marker 108.5.  Cpl. Rogers had overheard the crash report and responded from mile marker 111 to assist.  Tr. Davis arrived on scene and met with Cpl. Rogers, who was assisting the driver of the Kris-Way tractor trailer.  The driver had been traveling northbound in the Kris-Way tractor trailer in lane two when he lost control of the vehicle due to the icy roads. The truck crossed from lane two into the median, striking the guardrail.  As the truck returned to the roadway, the rear of his tractor struck a JB Hunt tractor trailer that was traveling northbound in lane two.  The first truck then jackknifed, blocking the roadway. The driver of the JB Hunt truck continued northbound and pulled to the shoulder with disabling damage to the trailer.  A pickup truck had been traveling northbound after the crash and swerved to avoid the tractor trailer and went off the roadway down the grass embankment. The driver of the Kris-Way tractor trailer was transported to Maine General. 
On 11/05/2020, Tr. Keller arrested Richard Gould (54) of Harwich, MA on the ME Turnpike at mile 109 northbound in Augusta resulting from a motor vehicle pursuit that began on the Pike in Sabattus.  Prior to the pursuit, three separate erratic operation complaints were called in on the suspect.  The last one reported that the vehicle went off the roadway and struck a guardrail and then continued on.  The vehicle was spotted by Tr. Kelley in the Sabattus area and he attempted to stop it to no avail.  The pursuit traveled up the Pike and was terminated when vehicle ran over deployed spike mats.  Troop G was assisted by Troopers from Troops B and C.  He was charged with Operating under the Influence, Eluding, Leaving the Scene of a Crash, and Criminal Speed.
On 11/06/2020, Sgt. Porter responded to a modular home almost tipping over in the breakdown lane on I-95 NB in the area of mile marker 63.5. B & B Towing was hauling a modular home when a tire failed on the passenger side of the trailer. The heavy wrecker was towing the modular home that was attached to a trailer with only two axles resting in the middle of the modular home. Both passenger side tires failed on the trailer, and the modular home began to lean over towards the ditch in the breakdown lane. It appears the tires were not weight rated for the load. B & B Towing did their own recovery of the modular home and due to the limits of being over height and not fitting under the overpasses on the Turnpike while on the wrecker, it was brought to Maine Turnpike Authority Gray Maintenance until further arrangements could be made. The driver/owner of the wrecker produced a State of Maine over limit permit as well as an MTA permit to operate on the Maine Turnpike. The MTA permit was purchased at the Rand Road toll. It appears B & B Towing did not follow the route on the permit and may be in violation, which will be followed up on.  Tr. DeGroot from the Commercial MV unit was called out to assist in the investigation. At one point, both NB and SB lanes were shut down to move the modular home through a crossover in order to get it off the roadway. Traffic was affected for about 3 hours. Tr. Parks also assisted on scene.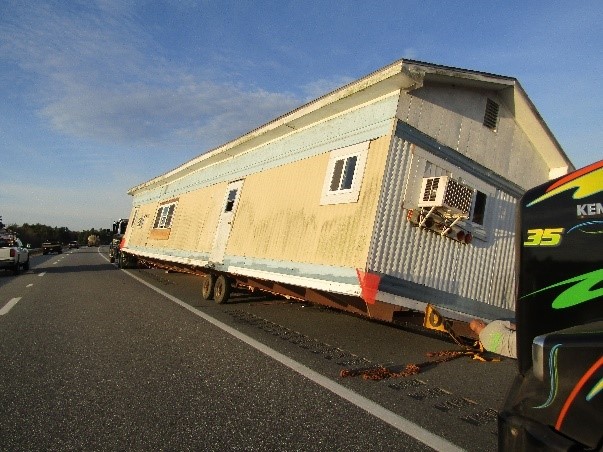 On 11/06/2020, Cpl. Physic attended the Interstate Commission of Juveniles meeting as the law enforcement representative to the council.
November 2, 2020
Jennifer Newendyke
On 10/28/2020, Troopers received a traffic complaint of a female driver who was in the right lane and had passed out.  The complainant checked on the driver and took off.  The complainant called back to say the vehicle had pulled over with its hazard lights on.  Moments later the complainant called back to say that same vehicle just sped by them.  Cpl. Physic spotted the vehicle operating erratically and initiated a traffic stop. The vehicle stopped in the middle lane.  Tr. LiBritz quickly alerted approaching traffic and Cpl. Physic was able to get the vehicle out of the roadway.  Cpl. Physic had the driver, Mariella Uwiamana, do field sobriety tests. Cpl. Physic arrested Mariella and transported her to the York County Jail, where she refused to take an intoxilyzer test and was charged with OUI.  
On 10/30/2020, at 0655 hours, Cpl. Cloutier checked a vehicle with no lights on, in the breakdown lane at mile 63.5 in Gray, that was stolen the previous day in the Alfred area. Donald Woodruff, who was the suspect in the vehicle theft, was located sleeping in this minivan in the third-row bench seat.  Mr. Woodruff was arrested and Tr. Lane (Troop A), investigating officer, took custody of Mr. Woodruff.
On 10/30/2020, Tr. Keim stopped Joshua Ronghi (18) of Southwick, MA for speeding. Ronghi was going 107 MPH in a posted 70 MPH zone.
On 10/30/2020, Cpl. Physic stopped for a vehicle that was broken down.  Cpl. Physic made contact with the driver, Vanessa Cormier. After talking with Vanessa, Cpl. Physic shifted to an OUI investigation.  Cpl. Physic put Vanessa through field sobriety tests and placed her under arrest for OUI.  Cpl. Physic transported Vanessa to the Saco Police Department where she refused to take the intoxilyzer test and was charged with OUI.
On 10/31/2020, Cpl. Cote made a traffic stop at mile 35 southbound in Saco.  He charged Roxanne Silvia (32) of Standish with Violation of Conditions of Release and Refusal to Submit to Arrest or Detention, Christopher Webster (40) of Standish with Violation of Conditions of Release, and Tauri Barnes (38) with Violation of Conditions of Release.
On 11/01/2020, Tr. Welch, Tr. Davis, and Sgt. Wilkinson were dispatched to a pedestrian on the highway. Upon their arrival the female was highly intoxicated. Information was learned she "jumped" out of a vehicle due to a verbal argument with her boyfriend. The female was uncooperative throughout the roadside investigation. Subsequently, she was taken into custody and charged with Refusing to Submit to Arrest or Detention and Criminal Trespass.
October 27, 2020
Jennifer Newendyke
On 10/21/2020, Tr. Darcy stopped a vehicle northbound on the turnpike in Wells. As the vehicle came to a stop, the driver and the passenger switched seats. As a result, Jason Batista (38) of China, ME, was charged with Class C Operating after Revocation. His probation officer was informed of the new criminal conduct as well.
On 10/22/2020, Tr. Darcy attempted to stop a vehicle northbound on the turnpike in York for having falsely attached plates. The vehicle took off and a pursuit took place. Sgt. Burton and Cpl. Wells (Troop A) joined the pursuit along the way. Cpl. Duda attempted to spike the vehicle in Saco, however the driver of the offending vehicle changed lanes last minute. The chase was terminated just prior to the Scarborough town line. Moments later, Sgt. Burton located the vehicle stopped in the breakdown lane just prior to exit 42. The passenger was taken into custody (and later released) and it was learned that the driver fled into the woods. The vehicle was searched and other than evidence of drug use, nothing illegal was found. Troopers from Troops G, A, and B, along with Scarborough PD units and Portland PD units, set up a perimeter in a neighborhood where the male was last seen. Tr. Fancy & K9 Dutch (Troop A) tracked the suspect for several hours along with a Portland PD K9 unit. Eventually, the search was called off as the suspect had not been located. The next morning, Scarborough PD received a call from someone stating that the suspect was in their backyard (the neighborhood had been notified of the incident through a reverse 911 call). The PD took him into custody and notified MSP. Tr. Darcy responded and transported the male, who was identified as Jonathan Stewart (38) of Sanford, to the CCJ in Portland where he was booked on the following charges: Class C Eluding, Class E OAS, and Class E Attaching False Plates.
On 10/22/2020, Tr. Loder stopped a vehicle in Kennebunk after the Augusta RCC received a call from a woman stating that Daniel Boucher left the Alfred Shelter after learning they didn't have a bed for him.  The caller was concerned because Boucher had been drinking, was recently arrested for OUI, and was not supposed to be driving.  Troop A was initially given this information, but the RCC passed the info on to Tr. Loder after the caller called back to say Boucher was at a rest area with a Citgo station nearby.  After checking the southbound plaza in Kennebunk, Tr. Loder was heading over to check the northbound plaza when he saw Boucher's vehicle on Route 35 and stopped it.  Boucher was arrested for Operating after Suspension (3 OUI-related suspensions) and VCR (2 sets of bail conditions) then transported to YCJ.  There was no indication that he had been drinking or using drugs.
On 10/23/2020, Tr. Vanadestine stopped two vehicles racing at criminal speed (109 MPH) on the turnpike NB in Augusta. Both were juveniles late for hockey practice and were summonsed for no driver license and following too closely. A parent was called for one male.
On 10/25/2020, Tr. Vanadestine stopped Dominic Barbosa of Portland on the Turnpike SB in Biddeford for criminal speed (102 MPH), driving to endanger, passing on right, and following too closely.
October 19, 2020
Jennifer Newendyke
On 10/13/2020, Cpl. Cote attended a BMV hearing in the case of Gregory Forget of Buckfield who he had previously arrested and charged with OUI.  Forget's suspension was upheld at the conclusion of the hearing.
On 10/14/2020, Tr. Darcy stopped a vehicle off exit 32 in Biddeford. The roadside investigation led to a search where a small amount of fentanyl and paraphernalia was seized. The driver was charged with OAS and the vehicle was towed from the scene. The two occupants were from Hollis.  Sgt. Pappas, Tr. Loder, and Biddeford PD assisted.
On 10/15/2020, Section 4 received a complaint of vehicle that was operating extremely erratically.  Tr. LiBritz spotted the vehicle and pulled it over.  Cpl. Physic came to the scene and Tr. LiBritz told Cpl. Physic about the observations of the driver.  Cpl. Physic put the driver through SFSTs and arrested Burke O'Donnell.  Cpl. Physic called in a DRE who determined Burke was under the influence of narcotics and not able to operate a motor vehicle safely.
On 10/17/2020, Cpl. Cote stopped Mary Ellen Remington (30) of Livermore Falls on the ME Turnpike southbound in Gray.  She was charged with Operating after Suspension.
On 10/18/2020, Cpl. Cote arrested Emily Nelson (21) of Buckfield on the ME Turnpike by the Saco tolls.  She was charged with Operating Under the Influence.  Her BrAC was over the legal limit.
Sgt. Porter instructed at the Scarborough Firearms Range all week.
Tr. Kristy LiBritz starting coaching with the GNG Diamonds Cheerleading Rec Program for their 2020-2021 season. It is for grades PK-8th and is a competitive, team-based sport. This year may look different as competitions could be virtual, but it is a great way to keep kids involved and stay active.
Subscribe to Troop G