September 23, 2019
Katharine England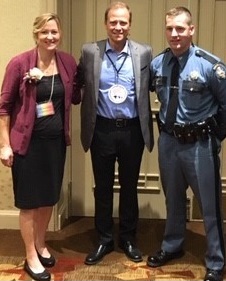 Trooper Eric Sucy recently received the Jan Arsenault Award from NFI North. This award is given to individuals who contribute to NFI in ways that aligned with the work of its namesake, Jan Arsenault. According to materials in the program, Arsenault was known for her selfless manner and engagement with employees and the larger NFI community.
NFI noted that Sucy "became more than an emergency responder, he became an outstanding volunteer and friend to all the young people at Sidney River Bend [School]. When he visits, either during an official call or just for fun, he emphasizes the characteristics of what it takes to be a healthy and productive member of a community. He's known to stop by randomly to teach a classroom lesson, discuss the finer art of fishing or engage in a pick-up game of basketball in full uniform.
"Trooper Sucy's style and manner of community policing speaks to the type of volunteer he is. Trooper Sucy supports our mission of caring, respect and safety, both on and off-duty. This past year, he joined the Sidney River Bend advisory board, and through his involvement, we have already extended our connections with the larger community."
When he went to accept the award, Sucy gave some background about his involvement with the Sidney River Bend School, where the students in grades 8 through 10 had a strained relationship with law enforcement. Unfortunately, Sucy and other Troopers and deputies would be called there to assist frequently, something Sucy sought to change.
"I would be lying if I told you I wasn't frustrated with the call volume. I felt like I couldn't get away from the place and neither could my fellow Troopers and Deputies," he said. "It hit me one day, instead of dread going there, I would try to fix it so we did not have to go there as much. In my mind, hopefully ever."
Sucy increased his visibility on campus, showing up when there wasn't a call, which puzzled staff and students alike. Though, when he first started doing this, many of the kids ran away at the sight of a uniformed Trooper because they "hated" cops.
"I had to teach them that they had a bad experience ONE time and not all experiences are alike," he said. "Quickly, I formed a relationship with residence and staff. They realized, or I think they did, that I was there to help and not for show. The kids that ran and hid when I first showed up, now were wearing my Stetson and joking and laughing with me."
But it wasn't just about forming good feelings, Sucy said he wanted to hold the residence accountable for their actions. That the bad experience they had with a cop originated somewhere, and the students agreed that it had generated from their own actions.
Visits that started out from a few minutes grew to an hour and included Sucy talking about his work, laughing about life or listening to students sing. And they would tell him about their lives and families and life events they were proud of.
And it was working. Supervisors and coworkers asked what he was doing at River Bend, and his fellow Troopers were thanking him. Police call volumes to the school plummeted, and Sucy couldn't recall the last time he had to respond in an official capacity.
Sucy recalled forming bonds with the kids at the school, and one in particular.
"I could tell when I spoke with this young man, he was listening. He looked at me differently than most. To this day, I don't know if I can explain it, but it was special. He wanted to hear what I had to say and he wanted to strive and be a better person," Sucy said.
He quoted Admiral William McRaven to the youth, giving him advice about making one's bed:
" 'If you make your bed every morning, you will have accomplished the first task of the day,' McRaven said. 'It will give you a small sense of pride, and it will encourage you to do another task, and another, and another'
"Admiral McRaven goes on to talk about that you can't perfect a large task if you can't perfect the small ones. But most importantly, he speaks of the possibility of having a bad day. Well, at least you go home to a made bed and you can start again the next day," Sucy said.
Sucy told the young man that if he spent 30 minutes cleaning his room, he would be able to play with the bells and whistles in Sucy's cruiser (minus the firearms, of course). Sucy checked in about a week later, and the young man's room was clean, and staff confirmed he had spent the full 30 minutes cleaning it. And this change was not temporary.
"I still go back and visit my friends at Sidney River Bend, but I will say it is not the same since this young man has left. I walk in and still have that hope that I will get to see him. I am proud of him and truly miss him," said Sucy. "For as much as I hope I have taught the residents at Sidney River Bend, I know for a fact, they taught me a lot about myself, which I am grateful for."