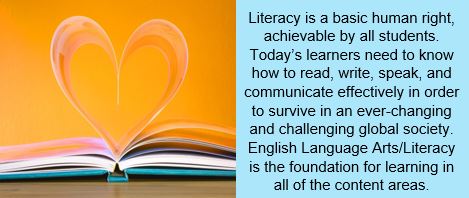 The Maine Department of Education is committed to the development of strong language and literacy skills for all Maine learners because literacy is the foundation for learning across disciplines. With world-class English language arts and literacy standards (updated 2020), Literacy for ME: a Statewide Literacy Plan, and support for Early Learning and Development, Maine DOE provides learners of all ages, as well as their families, communities and educators, with a pathway to achievement.
View continuity of learning resources for ELA:
https://www.maine.gov/doe/continuityoflearning/ela 
To provide anytime, anywhere learning options and resources for educators, students and their families, the Maine Department of Education, in collaboration with curriculum coordinators, Maine educational community organizations, museums, learning centers, and Maine educators, is creating a library of asynchronous learning modules that are aligned to Maine's Learning Results. MOOSE is an acronym that stands for Maine Online Opportunities for Sustained Education. This website contains a learning library of assorted project-based learning experiences. Modules are self-paced and offer variety and choice in activities and topics.
Professional learning 
---
Subscribe to the Literacy listserv for primarily elementary topics. This is a receive-only service and does not allow conversations. Contact Dee Saucier at Danielle.M.Saucier@maine.gov for more information. 
Secondary ELA teachers (grades 6-12) receive weekly updates. Contact Morgan Dunton at morgan.dunton@maine.gov if you have not been receiving notices but would like to be included on this list. 
Literacy Links is Maine DOE newsletter for educators that provides research-based information related to a number of aspects of literacy education. The archive for Literacy Links Newsletters provides access to many previously published newsletters.