Updates & News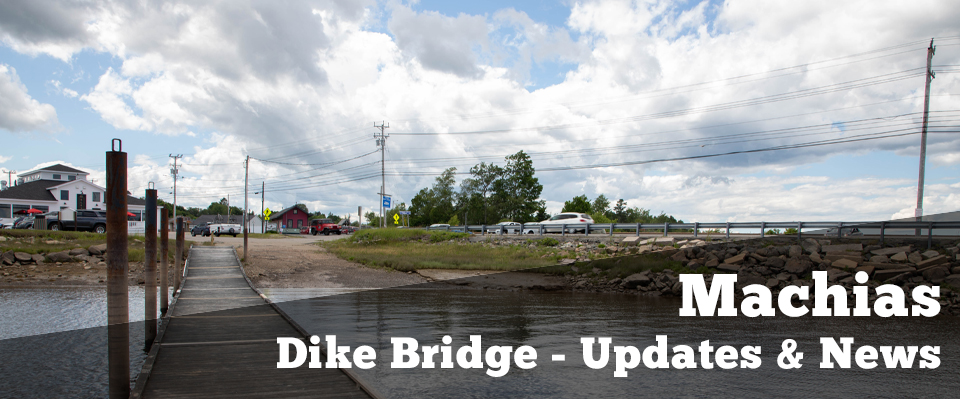 Updates
Select an update below to view details.
12/29/2022
MaineDOT is continuing to work on the Machias Dike Bridge Feasibility Study including preparation of an Environmental Assessment (EA) under the National Environmental Policy Act (NEPA). MaineDOT anticipates publishing and holding a public meeting and public comment period on the draft EA some time in 2023. The study schedule and alternative evaluation remain dynamic as MaineDOT gathers additional information including public comments on study alternatives. Consistent with NEPA, MaineDOT and the Federal Highway Administration (FHWA) continue to evaluate the transportation alternatives that meet the project purpose and need which could impact the study schedule. For instance, during a June 2022 public meeting, MaineDOT received a number of substantive comments regarding the former municipal landfill and spent several months conducting an in-depth analysis, the results of which are available at the Machias Dike Bridge Project page. Current study efforts include the following:
Receiving and responding to questions and comments on study materials including, but not limited to, the Machias Landfill Report.
Discussing and receiving feedback with municipalities, project stakeholders, and partner state agencies.
Sharing input received and requesting additional information from federal resource agencies. MaineDOT and FHWA are planning on submitting a biological assessment for the in-kind replacement alternative in early 2023 in pursuit of a biological opinion detailing the effects of that alternative on the endangered Atlantic salmon. The consultation process and biological opinion will help inform the NEPA process. We anticipate this process will take approximately months.
Please note that MaineDOT has not changed its position on a bridge as the study preferred alternative. However, MaineDOT understands the importance of the Dike Bridge and Causeway to Downeast Maine. In particular, MaineDOT has received a lot of feedback regarding potential property impacts of alternatives under consideration in Marshfield and Machias. Therefore, the department will continue to gather information and will evaluate the transportation alternatives based on feedback and, in particular, new substantive information received during the EA process. Any individual or party with questions on the study or wishing to make any formal project comments should continue to contact Martin Rooney, MaineDOT's Feasibility Study Project Manager, via the information below.
Martin Rooney
Bureau of Planning - MaineDOT
Phone: 207-624-3317
Email: martin.rooney@maine.gov
09/14/2021
Reduced number of alternatives on the matrix by grouping by structure type. To eliminate duplication from previous studies and allows for clearer comparison of potential impacts.
Evaluation of alternatives shifted to box culvert alternatives or bridge alternatives; less preference for in-kind due to potential impacts to Atlantic salmon and its critical habitat.
Data collection on wells, hazardous materials and waste sites, and tidal exchange continues to refine flooding/property impacts of the box culvert and bridge alternatives.
Hydraulic modeling refined to characterize fish passage improvements with box culvert and bridge alternatives.
Coordination and technical assistance from NOAA underway to identify potential effects to Atlantic Salmon critical habitat (safe, timely, and efficient fish passage).
Expanded survey of National Register-eligible properties to include areas potentially affected by a bridge alternative and any potential improvements at Stride Bridge.
Coordination with Maine Historic Preservation continues, as well as with FHWA Historical and Cultural experts.
Considering feasibility of Sea Level Rise accommodation for bridge and culvert options.
Legal Research underway to understand railroad requirements and design implications for alternatives.
Legal research underway on options for compensation of property owners related to flooding.
Characterize existing uses of the causeway and community needs
Tracking other efforts in the area (Downeast Salmon Federation Schoppee Marsh
News Releases