Madawaska/Edmundston International Bridge and Border Crossing Feasibility and Planning Study
The Existing Bridge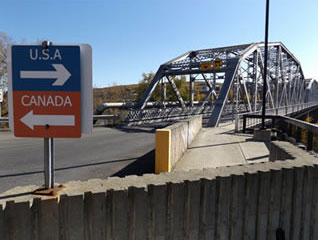 Preferred Alternative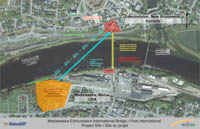 Click on view larger image
With the Madawaska-Edmundston Bridge nearing its 100th year, United States and Canadian agencies worked together on a feasibility and planning study to ensure that the vital travel and commerce link between the two communities/countries is minimally disrupted as the infrastructure is upgraded.
The purpose of this project is to provide for the long-term safe and efficient flow of current and projected traffic volumes, including the movement of goods and people between Edmundston, New Brunswick and Madawaska, Maine.
The proposed project is needed because:
The existing International Bridge is nearing the end of its useful life based on condition and functionality.
The existing Madawaska Port of Entry is substandard, inhibiting the agencies assigned to the Port from efficiently and effectively fulfilling their respective missions.
New U.S. Land Port of Entry (Offsite)
Project Partners
Documents
Meeting Information
12/12/18 Public Informational Meeting
01/31/18 Public Informational Meeting
06/28/17 Public Informational Meeting